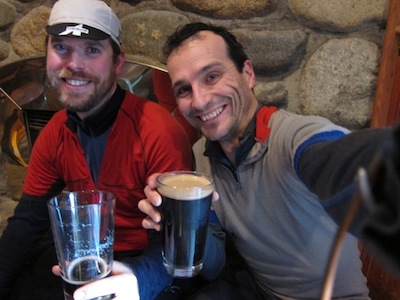 Michel (right) and club pres. Jeff celebrate Saint Patrick's Day
at the Sasquatch Inn control, 101km

Sasquatch Stomper
(Early Bird 200 km - March 17, 2012)
Photos and text by Michel Richard


Karen and I had been obsessively looking at the weather to determine whether to make the long haul from Chilliwack for this ride. The forecast called for showers and moderate temperatures, pretty good for this time of year. Others must have been thinking the same thing as there was an impressive turnout at the start.
| | |
| --- | --- |
| | |
| Café Calabria start control | Tracy & Kevin handling the sign-in |
The ride started overcast but pleasant as we headed west on Broadway and the Lougheed. But half an hour in we started getting sprinkles that eventually became steady rain. Karen and I hadn't ridden our bikes for several years along Lougheed, so this was bringing back lots of memories. Sharing the road with heavy traffic, rain pouring down on us … good times.
The turn onto Hayward was a welcome break from the heavy Lougheed traffic and the climbing would warm us up. It was great to see Tracy at the secret control with a trunk full of goodies. Karen and I especially enjoyed the ginger molasses cookies. After this stop, the climb up Keystone was was especially beautiful and peaceful and in spite of the 1C temp had us nicely warmed up, for the rest of the journey.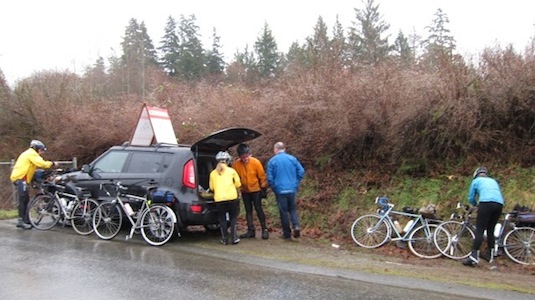 Tracy and customers at the secret control, 55 km
When we got to the Sasquatch Inn, Alex was waiting for us, and Susan was fixing a flat. We went inside and were warmly welcomed by the staff, as many other randonneurs were warming up with hot food and drinks. Meanwhile, Jeff was celebrating St Patrick's day with a Guinness. Seemed like a good idea to me, so I got one too. All filled up we turned around and headed back to Vancouver.
| | | |
| --- | --- | --- |
| | | |
| Irish Sasquatch | Bob warming up | Ride organizer Alex |
Along with the heavy rain we had to battle the winds on the return leg and as usual the worst stretch was Nicomen Island. It eventually stopped raining on the way back and it looked like it would be dry all the way in but Laura Penner jinxed us by mentioning it out loud. So of course it started raining again on us on Barnet Hwy. We were on a high on the Adanac bike route as the finish was in sight and were rewarded by an amazing sky.
| | | |
| --- | --- | --- |
| | | |
| Beat Up Flag on NIcomen Island (tough life) | Vancouver sky on Adanac bike route | Shiro at Café Calabria Finish Control |
Karen, Ali ( our ride companion all day ) and I feasted on great food and topped it off with yummy pistachio ice cream. We drove home to Chilliwack with great memories shared with friends and happy with the fact that we'd be able to sleep in tomorrow.
A la prochaine,
Michel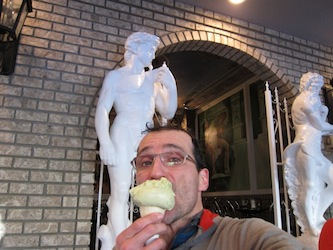 Michel celebrating with pistachio ice cream
---
Go to: Results

March 18, 2012