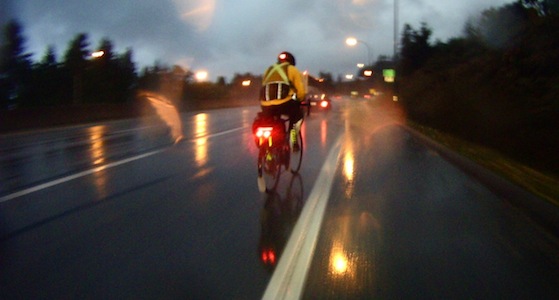 Eleveth Hour 200k Ride Report
November 11th Brevet
by Tracy Barill

15 riders came out yesterday for another 'epic' ride with cool temperatures – typical of this time of year – but with ample rain and more than ample wind gusting to 90k/hr in Richmond according to news reports. Today was nature's alter-ego to the fairly serene sunny and cool pre-ride five volunteers experienced 5 days ago.

Of the 15 riders who started – including two from Vancouver Island and two who had not pre-registered but woke up to 'ideal let's go for a 200k bike ride weather' – 13 finished and all in good spirits. Bad luck, with a series of flat tires and possibly a faulty air pump, was the reported demise of Neil Stuart on the way to the first control in Porteau Cove. Martin Williams, a fellow Islander who was riding with Neil, elected to bow out of this one as well perhaps to make an earlier ferry than was originally planned.

The route was praised by most and even the weather was praised by some. Adversity tends to be endured by most all Randonneurs and apparently embraced by those who praise weather that includes heavy rainfall, hail, high winds and temperatures in single digits. Volunteers were much appreciated through the day, providing full support at four controls along the route including a secret control by Andy Reimer on the tail end of the Queensborough bridge. Barry Chase and I started the riders off – they were met by Gary Sparks at Porteau Cove, Jeff Mudrakoff at Prospect Point and Ben Coli at blustery Iona Beach. Ed Person welcomed many of the riders back and I hung around for the those who chose to draw the most (time) out of the ride.

Chris Cullum arrived at the end with a scraped nose and a dented helmet [photo] after blocking a large falling branch in strong winds from either fellow riders or neighbouring vehicles – with his head. Thank fully there was surprisingly few other mishaps except for tire flats. Deirdre Arscott, Eric Ferguson and Sylvia Lee were the lantern rouge on this one. They arrived to live music at Bean Around the World – fitting for their efforts over the day. Bean Around the World at Lonsdale Quay was again an excellent host, opening early today for the ride (as done last year as well). Breakfasts and later dinners were enjoyed by several riders.

I was inspired by each of the riders and the volunteers today, feeling privileged to be a part of this shared experience. I look forward to future rides and adventures in 2012.
---
November 12, 2011