Interior Make-up Brevets
by Bob Goodison
The Interior Make Up weekend drew less riders than expected, due partly to the fact that many riders were making an extra effort to get their PBP qualifications in as early as possible, and partly because several of the Interior riders had ridden a demanding 1000 km brevet the previous weekend. There were a total of four riders, riding three distances.

Paul Mathias and Bob Goodison rode the 200 km, finishing the "A River Runs Through It" route in 8:40 in warm, sunny, breezy conditions. Despite very high river levels, the McLure ferry was running, making the"plan B" detour unnecessary. Those who rode the route in the spring would be impressed with the roadwork that has happened in the meantime- all the holes in the pavement at Black Pines are fixed, and the McLure ferry road and Hwy 5 from Mclure south have fresh smooth pavement. Also, the wind was reversed- Tailwind to Chase, headwind to finish.

Darren Maclachlan solo'd the 300 km route through Sicamous and Vernon, finishing in 12:29, to complete his super randonneur series.

Fresh off the 1000 km of the previous weekend, Ken Bonner braved headwinds (again), bad road shoulders, and 18000 feet of climbing to finish the Williams Lake 600 with a time of 34:06.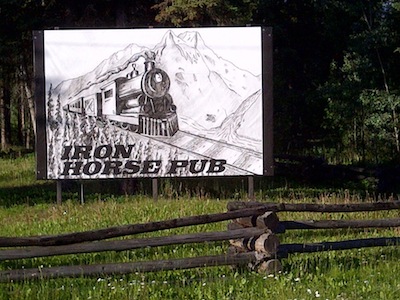 Info control on the 600 km route
Photo: Ken Bonner
---
Go to: Results
July 12, 2011