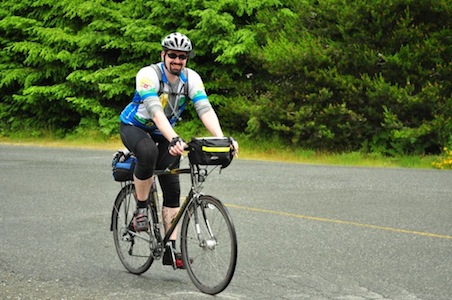 Jerome
Namaimo Populaire - Organizer's Report
by Lee Ringham

After a hiatus of several years, the 2011 Nanaimo Populaire was held on 25 June 2011. Thirteen riders, twelve of whom completed the 100 km route and one who tackled the 50 km route, set off from The Buzz coffee shop shortly after 10.00. The weather was a touch cool with sunny and cloudy intervals. There was roughly 90 minutes of rain at the Nanaimo River control, between 12.00 and 13.30.

The 100 km route took riders north to Nanoose, back through Nanaimo, out to Nanaimo River Road, through Cedar and back to Nanaimo. The 50 km route cut out the Nanoose and Cedar loops. Both routes were new, as I could not access Stephen Hinde's existing (and very good) routes due to computer issues.

The riders seemed to enjoy the route, judging from the comments I received at the Nanaimo River control I manned with Patrick and I hope that several of them will be interested in our upcoming 200 km next weekend.

Now to some anecdotes about the riders:
The 50 km rider was Gerry M. Riders at the Tour of Cowichan 200 way back in April may remember Gerry, as he accompanied his daughter Kristie, who completed that brevet on a mountain bike complete with front shocks. This time he rode solo and admitted to struggling a little on the hills, "but it was great".

Jeromy Lavigne flew from Ottawa just to attend this 100 km Populaire. Not content with riding a mere 100 km, he took a right (instead of a left) out of the Nanoose control and added a 17 km jaunt to Parksville to his ride!

Chris and Clarence missed the early ferry from Horseshoe Bay. However, they caught the 08.30 boat, sprinted to the start and left 45 minutes after everyone else. By the manned control (at 54 km) they had overtaken several riders on the road!

And now for a truly inspiring rider – Peter McAffery, who completed the 100 km ride. Peter looks like he is of retirement age. He is tall and lean and exudes a joy for life. He related to me, in typical dry English style, that two years ago in March he was knocked off his bike by a Telus truck in Cedar. The accident "broke my back, broke my pelvis, knocked a chunk off my femur and RUPTURED MY AORTA. The paramedics declared me dead and I spent eight weeks recovering in intensive care". Peter walks with limp and has trouble swinging his leg over his bike, but he looks smooth and powerful once underway. He completed the ride in under 5 hours! His tale, when related, left Patrick, Jenny, Cathy and I rather stunned. Wow!
| | |
| --- | --- |
| | |
| Rainy Control | Peter McAffery |
The volunteer ride included Patrick, Cathy, Stephen, Carol and myself and covered 50 km. Due to various work commitments, health issues and a general malaise towards cycling, it was Stephen, Cathy and Patrick's longest ride of the year!

It was good time, and I hope to make the Nanaimo Populaire a more regular fixture on our schedule.
---
June 26, 2011