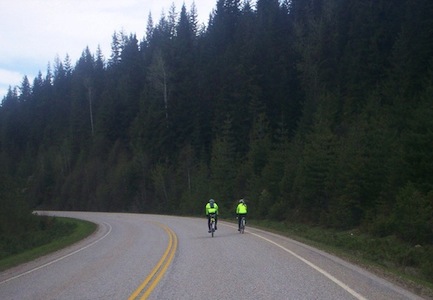 Photo: Bob Goodison
Dam to Dam to Dam
Southern Interior Spring 300 km Organizer's Report
by Richard Blair
Eleven riders participated Saturday May 14, 2011 in the Southern Interior's 300k brevet starting and finishing at Revelstoke on Highway 23 passing by the Revelstoke Dam enroute to the Mica Dam where the route turned back for yet another glimpse of the Revelstoke Dam before completing the ride. The route was hilly, with Ian Fillinger recording 10,007 vertical feet of climbing, while the metric recorders of Randy Benz and Roger Holt measured 3,226 metres and 3,228 metres respectively. I figure we can split the difference and agree to 3,227 metres! The weather was brilliant, with afternoon temperatures in the mid 20 degrees Celsius range. There was from time to time, a bit of a headwind for the riders, but it did not create any difficulties for the volunteers staffing the controls. The paved highway was in pretty good shape, but showing some winter damage in the form of potholes. Views of the reservoir behind the Revelstoke Dam coupled with the jagged peaks of the Monashee Range provided a magic vista up and back. At least until the sun went down. As in the pre-ride there was a brilliant animal count: bears, porcupines, deer, and mountain caribou kept the riders company throughout the ride. For Bob and Susan Goodison who staffed the control at the 75k and 225k mark, the caribou were welcome entertainment as they wandered around the control throughout the day. The animals far outnumbered the vehicles on the highway which was a welcome change. Although a challenging ride, the consensus seems to be that another 300k brevet should be organized on that particular route over the next few years.
The order of finish over the 300 plus ride was as follows: Ian Fillinger, 10 hours; Shawn and Chris Wenger, 11 hours 25 minutes; Ryan Kurz 11 hours 43 minutes; Randy Benz. 13 hours 25 minutes; Bob Goodison and Richard Blair, both volunteers who prerode the brevet on April 30, 2011, timed at 15 hours 25 minutes; Bud MacRae, 17 hours 15 minutes; Mike Eder and Connie Van der Ree on a tandem in 17 hours 43 minutes; Trevor Tayler, together with Ali and Roger Holt at 17 hours 47 minutes.
____________
Note from Cheryl Lynch in database bunker: "Shawn is now #2 on the fastest F300 list, pretty much blowing all the other sub-12h out of the water, except the outlier 10:43 by Anna way back when."
---
May 16, 2011