Wet, Wetter, and Wettest
Organizer's report for Coast2Coast 300 of EdH Week
by Graham Fishlock
When Ken Bonner envisioned the EdH Week in 2007 and identified it as "Hell Week", he must have had the weather in mind we experienced during the Coast2Coast 300. Wet, wetter, and wettest best describes the intrepid riders as they came into the lobby of the Best Western Hotel in Chemanius that marks the finish.

The event started in a slight drizzle but soon transformed into sheets of cold rain that lasted throughout the day. Generally, the only change came in the form of heavier rain and some very strong winds. Evening temperatures dropping to 4 degrees made the rainfall extra challenging.
30 riders pre-registered, 25 started, and 20 finished. By the time riders reached the Lake Cowichan control, they were already soaked and cold. From there, they had to climb a small pass before descending for 35 km into Port Renfrew. The Coastal Kitchen Cafe in Port Renfrew offered a very welcome and warm refuge after reaching the West Coast. From here, the route heads back over the spine of Vancouver Island to the Cowichan Valley. The rain continued while the wind became a major obstacle.

Despite these conditions, there were some very noteworthy results. Ian Fillinger finished in a time of 11 hours and 47 minutes followed by Keith Frazer and Ken Bonner. Two of the best achievements were accomplished by Ben Coli and Shiro Ogawa who finished their very first 300 km brevets-----a day I am sure both will never forget. Equally impressive was how so many riders still came in cheerful and upbeat. Nigel, Cheryl, Guido and Jeff seemed happy as larks at the finish and would certainly win the award for the "Most cheerful finishers."

I am embarrassed to admit that Rob Welsh, a friend from Minnesota, and I rode the route several days before. We had nothing but blue sky, dry roads and moderate temperatures having to wear my sun glasses all day. It was an entirely different route that day. Witnessing the determination and commitment amongst so many riders in very challenging conditions during the EdH 300 made me proud to be considered a randonneur and even more proud to be a B.C. Randonneur.
Special thanks to the Utopia Bakery in Chemanius, the Tourist Information in Lake Cowichan and especially the Coastal Kitchen Cafe in Port Renfrew for their assistance. The assistance of Jenny, Patrick and Rob was essential and appreciated by all. The conscientiousness and thoroughness of the EdH co-ordinator Martin was superb!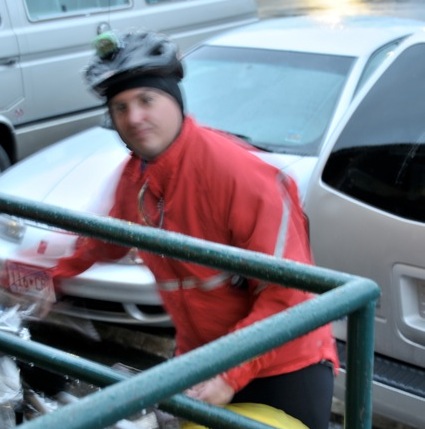 Coast2Coast 300 survivor Ben Coli at the Cowichan Lake control, 102 km
Photo: Martin Williams
Volunteers:

Patrick Wright
Jenny Watson
Rob Welsh
Martin Williams
---
Ride date: April 10
Go to: Eau de Hell Week Results
Go to: Eau de Hell Week Photos
April 11, 2011