Victoria Spring 200
April 2, 2011
by Jim Runkel
It was the best of times, it was the worst of times...weather wise that is. The ride started out dry but reports of rain bands drenching riders at various points along the route were reported.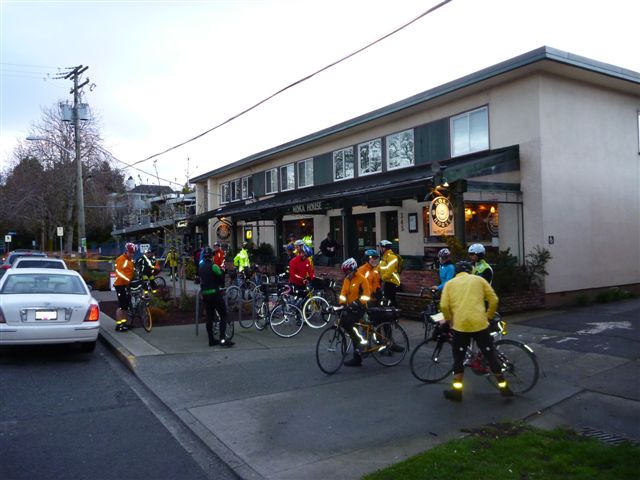 22 riders (+2 pre riders) started out at 7am sharp from the Moka House in Cook Street Village. In the end 18 finished + 2 preriders. Weather certainly played a part in the late afternoon, evening. It was cold and the rain came down hard. This ride also represented the spectrum of riders that come to these events. We had the intrepid Ken Bonner at one end, and a few brand new riders, including one who had never ridden ANY previous events before.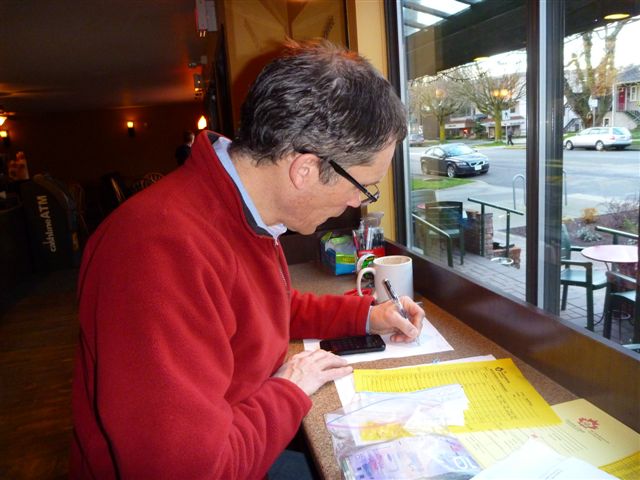 As new organizers, this brevet continued our learning experience. We made a logistical mistake, by thinking we could both run the secret and run the final control....somehow...but it became clear this would not work, and a panicked called to my good wife Brigitte and boy Joel, resulted in them standing in at the end, to receive the first fast riders, while Philip left me, with no car and only an umbrella (which I needed) at the secret control while he quickly went to take over the closing control!
Two pictures at the secret show the changing weather...from bright sunshine (look at the road) for those early enough
To rain, and cold (with no car anymore) for the later arrivals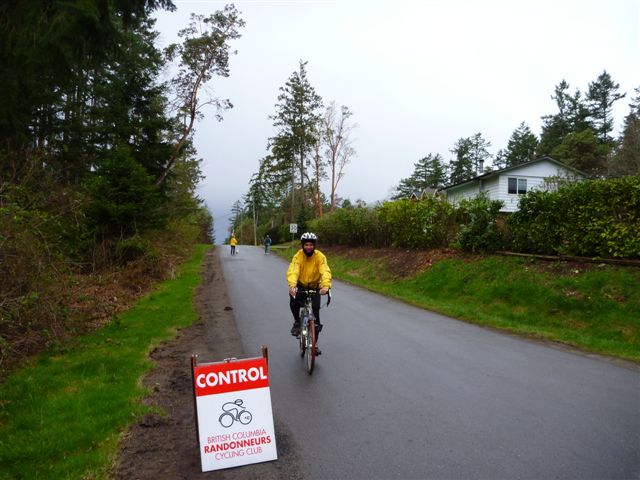 I also found out that FONT SIZE on the route sheet was a source of irritation. In future, I will be sure to print in a larger font....sorry!!!
While I was standing, waiting for Brigitte to come and pick me up and Philip was receiving riders at the finish, I was looking out for the last two riders, both new. Nathan was on his first brevet ever. He passed through my control at 4:01 and finished at the Moka House at 745 pm. But what makes it even more special, was having his 80 year grandfather -in -law, an avid cyclist, who up until recently, did a yearly climb of Hurricane Ridge in WA state...one time listening to OPERA on a small FM radio he carried with him, his grandmother and significant other, all waiting for him at the end, and there to give him a great big welcome!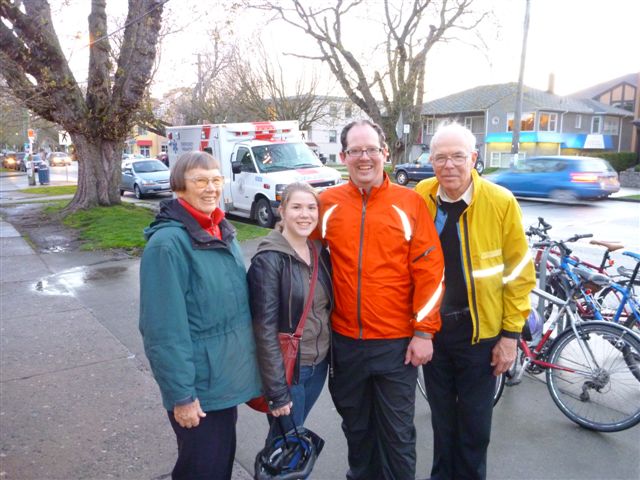 And then the final rider, Jessie, also a brand new rider, having only done the New Years Day pop, riding on her own, through weather that was now very wet, coming through the Secret at 4:51 p (it closed at 4:58!) still smiling and determine to finish the monumental undertaking. It was 820 pm and she was not in yet, and Philip was getting ready to start calling her contacts to find out if they had heard from her. Finally at 8:28 (closing time was 8:30) Jessie came in. It was a very emotional moment for her and with tears being shed, and hugs being given, we checked her in, and gave her the pin as a symbol of her determination....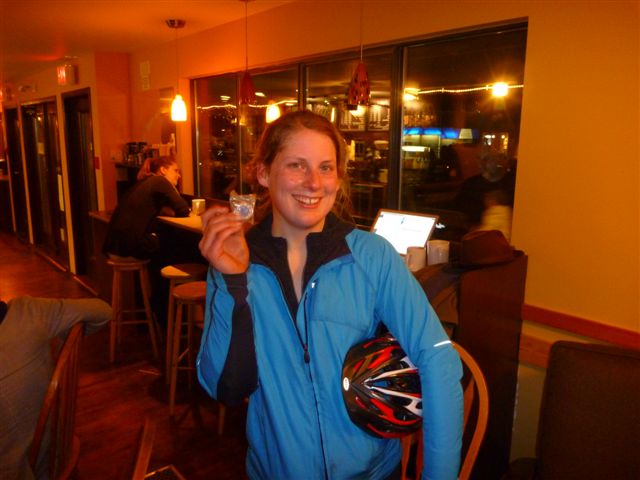 And she says she will be BACK for more!!!!
So thanks again to all the riders who made this event fun. We enjoyed meeting you all, seeing some old faces and some new. And thanks to the MOKA HOUSE on Cook Street for again allowing us to start and end our ride at this establishment, and to the ROCK BEACH GRILL at Sea Otter Cove, for graciously signing off all riders through the first control.
Jim and Philip
---
Ride date: April 2
Go to: Results - Photos
April 3, 2011