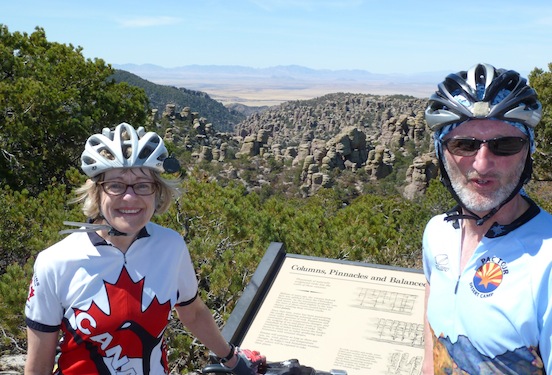 Desert Camp 2011
by Susan Barr
After a long cold, wet winter, with rides cut short because of frozen fingers and feet, a week of replenishing my vitamin D stores seemed like the ideal antidote...even if it meant missing the Spring Social and the first 200 km of the year.

I'd first been to Desert Camp in 1996, its inaugural year, and also made the trip seven years ago (the last time I was on sabbatical and could take time off during the academic term). This year, there were seven different weeks to choose from (www.pactour.com), some based in Sierra Vista (about 130 km from Tucson) and some travelling to new locations on a daily basis. I chose the "Chiricahua Challenge" that went from Tucson to Tombstone (day 1) to Willcox (day 2), did an out-and-back to the Chiricahua National Monument and back to Willcox (day 3), returned by a different route to Tombstone (day 4), did an out-and-back to the historic copper mining town of Bisbee and back to Tombstone (day 5), and then returned to Tucson (day 6).

When I signed up, the rider roster indicated that "Graham F" from Canada would be coming. I suspected that "F" might stand for Fishlock, and sent a quick e-mail to confirm that was the case. Graham was planning to ride with his friend Rob from Minnesota (who will be in BC for Eau de Hell Week), and I was going to be joined by my friend Janet from Montana. At the last minute, both Rob and Janet weren't able to do the trip, so Graham and I rode together most days and managed to keep the testosterone/estrogen surges to a minimum. In addition to the two of us, Canada was well-represented by another Vancouver rider (Tom is not a BC Randonneur – we tried working on him, but....) and a contingent of six Manitobans, who brought along two former Manitobans now living in Fairmont BC. The rest of the group was a mix of pasty white types (like us) and those from California with year-round tan lines. Some were in serious training mode; others of us were primarily on vacation.

We had a week of cycling nirvana, thanks to cycling legends Lon Haldeman and Susan Notorangelo, their daughter Rebecca Haldeman, her partner Christopher Stegeman, and crew members Debby Henning (who'd loaned me a bike when I rode a 400 km brevet in Wisconsin about 8 years ago) and Gladys Gallo (whose husband Victor, is a Race Across America veteran and still going strong at 77 years of age). The weather was perfect: I rode in shorts, didn't wear my balaclava at all, and even started out one morning without arm warmers. Most days reached highs of about 30o C, but it was extremely dry and thus not uncomfortably hot. The routes were perfect for early season riding and being on vacation, averaging about 130 km per day. Some days had a moderate amount of climbing and others had Arizona's secret training weapon: HEADWINDS! For the most part, the roads were very good: they were in relatively good shape with just enough chipseal and frost heaves to make one appreciate smooth stretches of pavement; didn't have much traffic; and had (mostly) considerate drivers.

The support was *outstanding*. Sag stops, spaced every 30-50 km, were mini cycling oases with bike racks, seating, shade, and copious amounts of excellent food. All food groups were well-represented – both the traditional ones that show up in Canada's Food Guide as well as the 'sweet' and 'salty' ones that are so important to riding. Lunches were a real highlight. There was always a variety of salads, sandwich fixings, vegetables, fruit, salty snacks and desserts, and on several days, "hot off the grill" burgers, hot dogs and grilled-cheese sandwiches.

The climb up into the Chiricahua National Monument (www.nps.gov/chir/index.htm) was one of the best days of the trip. The climb itself wasn't difficult, and the scenery unfolding in front of us was spectacular. The day trip to Bisbee was another memorable one, both for the cycling and for the chance to visit the "Bisbee Cycling Brothel" (www.bisbeebicyclebrothel.com). The owner, who opened the shop especially for our group, has amassed an incredible collection of vintage bikes -- Alex Singers, Gillots and more – and took great delight in talking about them. He exemplified the best of small town America: Graham wanted to buy a wool cycling cap and found out that the shop didn't take VISA. No worries; just send a cheque when you get home.

Next year, if you're craving a reprieve from winter, I'd highly recommend a trip to Desert Camp. I only wish I could do it every year!
March 20, 2011