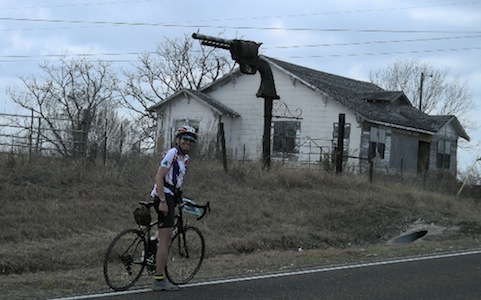 Texas Permanent
San Marcos Stretch Report
by Michel Richard (et Karen Smith)

Conditions: Mostly overcast with sunny breaks; high of 24 Celsius; lots of wind
We were planning to visit Karen's brother in Austin after a trip to run the New Orleans (N.O.) Marathon and thought this would be a good opportunity to get our February permanent done in warmer weather. By chance, the Hill Country Randonneurs of Austin had a permanent called the San Marcos Stretch that came within 6 km of his house.
We thought of bringing our own bikes down, but we instead found a shop that rented good road bikes for a reasonable price. We had all the arrangements made well ahead of time, we just had to hope for good weather. Well, I seriously pulled my hamstring while running on the track 3 weeks before our departure, so the N.O. Marathon was definitely out of the question, and I wasn't feeling too hopeful about a Permanent. Karen was also having a setback with her knee, so she was not confident either. On top of these doubts we were obsessively watching the weather on the web and were noticing with increasing dread that New Orleans and especially Austin were having colder temperatures than Chilliwack, consistently below freezing.
Thankfully, by the time we got there the weather patterns had worked themselves out and we had temperatures in the 20's with little or no precipitation. After a fun visit to N.O., we got to Austin. We got picked up at the airport by Karen's brother, Don and headed straight to the bike shop. They put on our pedals and adjusted the seat heights and we were ready. As Don's car wouldn't fit our bikes, we had to ride to his house while he carried our luggage. Luckily, the route to his place was along established bike routes and went over some of the roads on the Permanent. Plus the 25km ride would give us a chance to get used to the bikes and make any necessary adjustments. The bikes were twitchier than our regular rides and the SRAM shifting wasn't what either of us were used to, but they sure were light.
We modified the start location to be close to Don's house, but otherwise did the standard San Marcos Stretch Permanent. The route looks like a figure eight on the map and we were starting it between the two loops, doing the smaller northern section first.
We left the house at ~ 6:50 under overcast skies and mild temperatures. We were wearing short sleeves and shorts, which made it slightly chilly for that time of day. We reached the start in about 15 minutes, and started right away.
Our start location was in the suburbs and involved a lot of navigation and sharing the roads with morning commuter traffic. That slowed us down and made us ride cautiously, especially on unfamiliar bikes. A lot of riding also was on highways with wide shoulders, thankfully since the speed limit was 65 mph. We made a 50 km northern loop along rolling hills in Texas's Hill Country. This is an area dotted with homes that you see on Lifestyles of the Rich & Famous. Our turnaround was at Bee Caves and common sense told us to ignore the route sheet and turn around to come through the Austin suburbs again.
By this time, five things were becoming dominant in our conversations. There's a lot of traffic around Austin. The roads are very coarse and 'buzzy'. Our saddles are very uncomfortable. It's very windy. And, our saddles are very uncomfortable!
After crossing the outskirts of Austin we started our bigger southern loop. This led us onto quieter country roads which was a welcome change. The terrain was also flatter, which unfortunately also left us more exposed to the wind. We would be fighting this wind for most of the rest of the ride. The lasting visual impression I have of this southern loop is of big skies and views that went on for miles.
Our Lytton Springs control was at a country store that looked abandoned, let alone open. But it was indeed open so we went in, and although tempted by the large jars of pickled pigs feet,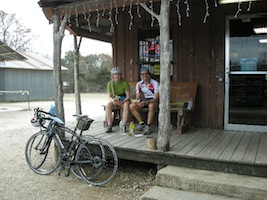 pickled eggs or cheese balls on the counter, we settled for the standard fare of pastries and potato chips. After filling our bellies and bottles it was time to swap saddles. We had both been squirming on the ones we had, so it couldn't be any worse and at least we would be irritating or crushing different parts. Then off we went, hoping for the best. The damage to our nether regions had been done, but we both seemed to be happier with our saddle swap.
One of the most interesting occurrences on this ride happened when we stopped to photograph a large roadside revolver that we thought perfectly epitomized the Texan character. Well no sooner had we got rolling again, that from the accompanying house came running three big mean growling dogs straight at us. That stopped us in our tracks and as we were yelling out our loudest commands to try and get them to head back to their yard, the master finally opened up his front door. He also yelled at them for a while before they were reluctantly convinced to abandon their quarry. That made me appreciative of the fact that the owners of such dogs are usually unemployed and at home midweek and midday for just such incidents.
On the approach to San Marcos, our third control we were on the worst road of the ride. We were on a sixty-five mph highway. And had to ride in the driving lane with heavy truck traffic, or a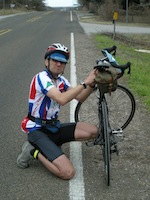 rough, gravel strewn foot wide shoulder. Makes me wonder if this is the stretch that they were referring to when they named the route. They figured if you survived this stretch of road you were going to make it all the way. After that nerve wracking experience we made a quick control turnaround at the grocery store by eating and drinking what we had been carrying with us. By this time we were becoming concerned that we might not get to return the bikes back to the shop before they closed at seven. And our lights were not ideal for serious night riding. We had to get going.
Our fast transition time was wasted when we got lost leaving the San Marcos control. This wasn't our first navigational error and the lost time was really adding up. We fell victim to missing road signs or names changing or being different on the opposite side of the road. At least when we were finally back on route we had for the first time today, a tailwind. We might make it back after all. Things went smoothly right until the end of the route. Now we had to get back to the shop.
We had forgotten the directions to get back to the bike store at the house and we didn't have the time to retrieve them. We thought that we might be able to remember the road names, but the combination of fatigue and failing light conspired against us. We were lost and the clock was ticking. So I did what no man ever does, I admitted defeat and asked for help. A young mother on her way to get dog food with a toddler in the back of her SUV offered us directions. We were off again but soon felt doubtful. She must have anticipated this, because just as we were to ask directions again she appeared out of nowhere to rescue us. She had driven ahead of us, parked her vehicle and was on the sidewalk flagging us down and offering to drive us there. We couldn't refuse. After removing the wheels, thankfully there were no fenders, the bikes were stuffed inside and she rushed us to our destination. We got there with less than five minutes to spare.
After returning the bikes, we got picked up by Karen's brother and headed to a TexMex restaurant where we feasted on enchiladas and margaritas. Another memorable day in the saddle behind us.
Post Ride Reflections:
1. Guardian Angels do exist and sometimes they drive SUV's.
2. Bring your own saddle.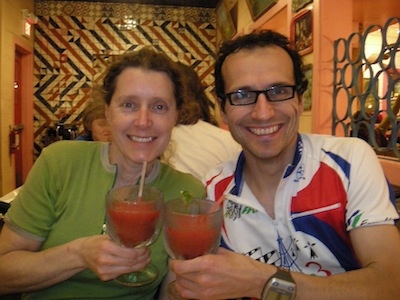 ---
Ride date: February 16, 2011
Go to: Permanents Results
Link to: Route Information (Hill Country Randonneurs web site, Austin Texas)
February 23, 2011