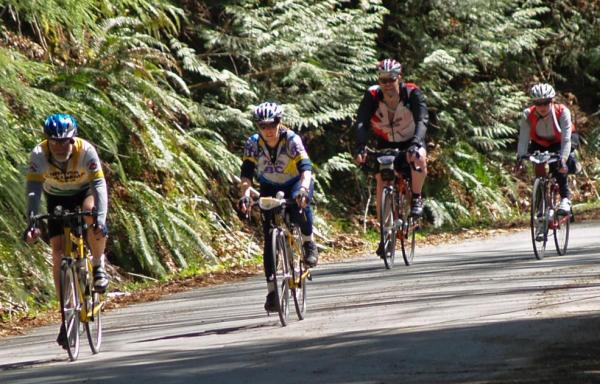 "Eau de Hell" Week 2008 Organizer's Report
by Ken Bonner
The 2nd Eau de Hell Week looked promising from the pre-ride experience. Below freezing night temperatures, cold blowing rain for major portions of each ride and only one disappointing brevet where it rained just prior to the start and again at the end. Good chance of sleet, hail or snow for the Eau de Hell Week.
Unfortunately, the weather person did not cooperate and informed the general public that pleasant weather was forecast for the Eau de Hell Week. Avid Eau de Hell Week riders cancelled out in the 'hundreds' after learning that the weather would not be challenging. Those 41 riders who did decide to make the best of a bad situation rode the 200k in temperatures hovering around 21 C (70F). The next day, things did not improve much. 15 riders challenged themselves over the 300k with 11,500 feet of climbing with nary a drop of rain in sight in temperatures hovering around 15 C (60F).
A day of rest, then 7 riders were left to see if the Devil could stir up trouble. Not a chance, again, no rain, hail, snow or sleet. Temperatures were about 10C (50F) – (any one see a trend beginning with the temperature?) However, one of Hell's Gremlins did manage to eliminate a left turn and the road to be turned onto – which caused some distress amongst the riders. Alex, our enthusiastic Club Treasurer, thinking the organizer had finally put a challenge in the ride, rode up a gravel hill until he could make no further progress … Dave, our lone recumbent rider on the EdH brevets ended up in a winery, but determining that the wine was not of suitable quality to his sensitive palate, he turned around and eventually found his way. Manfred and two buddies, Scott & Jeff spent some time in heated discussion trying to determine which of three directions they should go, when a local came along and pointed them in the correct direction. (During the 2007 Eau de Hell Week, in this same general vicinity, Manfred had a less cordial response when he asked directions from locals in a pick-up truck – they might have been smoking 'loco-weed'!)
Another day of rest – warm sunny temperatures – just hanging around charming Chemainus, town of murals and cafés.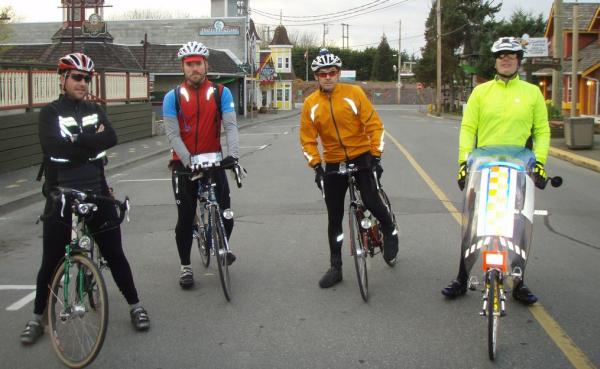 600 km Starters... Finishers
Finally, the EdH Ride for Gold 600 – the final 200k of which in last year's edition, riders determined was the worst ride of their life! Once again, the weather was promising, although a little chilly (about 8 C (46F). 60% chance of rain with wind – YES, the spirit of Eau de Hell Week has come to be with us again!! Unfortunately, the EdH spirit was a little weak, and the riders all commented on the spectacular bright moon appearing between clouds scudding across the night sky as they returned from Gold River.
This year's Eau de Hell Week finishers are: