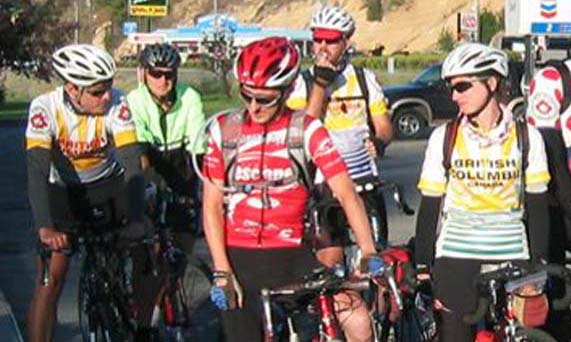 Chasing Alex
by Eric Fergusson
It was the final ride of the 300-200-300-200 km Princeton hell week - August 3-6, 2007.
Over breakfast at Willy's Restaurant, Ali was musing, "You know, one thing I really liked about the Alberta hell week [2003] was that we all rode together for a while at the start of the rides." Sigh.
Meanwhile Roger was talking about the route: "Well, we go up... and then down into Tulameen. And then up again... and then down [back into Princeton], and the road's not great... then we go up again..."

It was great route, and my favorite of the four. Both the road to Tulameen and the one up to Three Lakes were new territory for me and both were exceptionally scenic. Challenging riding too.
Finally Ali got her wish at the beginning of this ride. We started as usual at the 24-hour Chevron, and we then moseyed out of town reeeeaaal slow like. Down the main street, past the saloon, across the old bridge and then left out of town. (OK, I don't think there was a saloon.) For this final ride everyone seemed content with the comfortable pace... nobody in a hurry, nobody rockin' the stage coach.
Wow. That first hill just ahead seemed a little steep for so early in the day, especially considering the 800 km already in our legs this weekend. So it was a little surprising when Alex suddenly accelerated up the thing. Sigi too was going up there at a good clip, but Alex's move looked more like a breakaway. This was definitely not in the script. I'll admit that at first I was a little irritated, but then I realized the truth of the situation... that suddenly Alex had given meaning to my day! I switched to steady grind mode and took off after him.
Roger was right, the road was pretty rough in places, and there were some pretty steep grades. But it was scenic as promised, and there was almost no traffic. When I got to Tulameen Alex was only a couple of minutes ahead.
So it was back to Princeton, and then up the second untested stretch of pavement of the day - the Old Princeton/Sutherland Road. This one was more of a steady climb but with steep grades in a few places. Despite those pick-up trucks carting ATVs whizzing past, this road too was pastoral and scenic. About half way up on a relatively flat stretch a horse (behind a fence) ran alongside me for about 100 metres. Beautiful.
As I approached the control distance, there was Alex coming the other way down a steep straight stretch. He crossed the road to say that he had left a half a jug of water for me at the Three Lakes Store. I had been climbing pretty well over the last section, so was a little surprised that the gap between us had grown - I made a quick turn around at the control and booted it back down towards Princeton.
On this route it's a relief to reach the Three Lakes control - the rest of the ride is downhill or flat. (Almost.) When you're almost to Princeton, the route turns left on to the Old Headly Road. This road I knew. I had ridden it with John and Danelle on from John's (John Bates) updated South Okanagan, North Cascades 1000km from 2001. The road seemed pretty rough at the time. I think there had been some repaving because it now seemed much more rideable, and today there was a tail wind... woosh.
Barb Pope (with the kids) was the controller at the Stemwinder turn around near Headly. When I arrived Alex was hangin' around with Barb and the gang. It looked like I had made up a little time over the last lag, or at least at the control if Alex had been there for a while. Alex didn't seem to know that he was supposed to be in a hurry to get out of there because I was chasing him. I told him he had a great ride going and that he should finish it off. He left.
Barb helped me with some routine refueling while Danika and Casey showed me their bug capturing system. Edward was doing happy baby stuff on a blanket. I left the control 2-3 minutes after Alex. Only 33 km along the highway 3 flats to the finish in Princeton.
I was feeling great. The conditioning that had eluded me all year had finally kicked in for Princeton Hell Week, and now I was going to make it work for me. There was no question in my mind that I was going to catch Alex. I put my head down into the mild headwind and took off after him.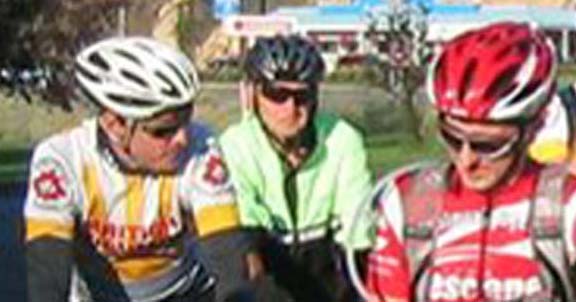 That stretch of Highway 3 alternates between long straight stretches, and sections where it hugs the bends in the Similkameen River. I knew that on one of these long stretches I would see a speck in the distance, and then gradually I'd be able to reel Alex in.
I was pushing at my limit - my riding was focused, and my speed was consistent and fast. It was a surprise therefore, that those long straight sections kept coming without the expected speck in the distance. As I approached Princeton I wondered if Alex had had a mechanical, and had gone away from the highway to make the repair.
There was no sign of him at the finish control. I wondered what had happened.
It turned out that despite my efforts Alex had finished ten minutes ahead of me. So he had actually picked up a whopping 7 to 8 minutes on this last section. I spoke to him on the phone a few hours later. He said that he had kept some energy in reserve, but also done something else (that I hadn't). There was heavy traffic on Highway 3 that afternoon - holidayers racing west back home after the long weekend. There was a kind of a regular pulse of vehicles that would have given all of us an air current boost. But Alex had been systematic about. He had ridden very close to the fog line. As a car came by, he upped his speed... as the next car came by he pressed again using the momentum from the first car to increase his speed further, and so on. He would have been able use those boosts to reach higher speeds, and then it would have been a matter of maintaining that momentum. So that's how he stretched out the gap between us! (... or it could be that he's just really strong.)
It was a great way to end a fun series of rides. Roger and Ali had done an excellent job organizing, and had still managed to finish the entire series themselves. Bob and Patty Marsh's hospitality was extraordinary. Roger and Ali are thinking of offering this series again some time in the future. Put this one on your must-ride list, kids. Thanks to Roger's route, and Alex's break for freedom, this final ride was particularly fun for me, and the highlight of my season.
---
Photo: Bob Marsh
(Fraud Alert: this photo is actually from the start of the other 200km - full version here)
Elevation Profile: Alex Pope
(Other Hell Week profiles, etc., on Alex's MotionBased pages here)
November 6, 2007