Paris-Brest-Paris 2007: A Once-in-a-Lifetime Experience
by Susan Barr
The Background
Since becoming a randonneur several years ago, I'd been aware that Paris-Brest-Paris (PBP) came around once every four years, and seemed to be the "Olympics" of endurance cycling. Friends who had completed it invariably raved about it -- but I wasn't convinced it was for me. I enjoy long days of cycling (note the emphasis on days, in this case defined as "not nights"). And I also have to confess to being a bit of a princess: I don't enjoy riding at night, I need a lot of sleep to function well, and I don't sleep well unless I'm 1) in a comfortable bed, 2) in a darkened room that is very quiet, and 3) have an extended period of "pre-sleep", which is time before going to sleep with minimal stimulation. None of which seemed to be consistent with PBP. So there was definitely a lot of ambivalence about the idea. Last summer, however, I realized that I didn't want to look back and regret not having done PBP. And if I was going to do it, being "almost 53" was probably better than being "almost 57".
With that decision made, I set out to plan as close to a "princess" version of PBP as I could. A year before the event, I decided that my goal would be to finish, having done as little night riding as possible. That meant I would choose the 84-hour (5 am) start. Although having 90 hours to complete the event would allow more of a buffer, starting at 10 pm just wasn't consistent with my biological clock. I made my flight reservations and was able to reserve in Business Class (on points!). I reserved a hotel room in Loudeac for the first and second "nights" of the event, and found a bed-and-breakfast in Mortagne au Perche for the third night. I'd heard about a bag drop in Loudeac (princesses need clean clothes every day), and decided to spend several days before PBP in Mortagne au Perche (where I stayed in the same wonderful bed-and-breakfast as I'd use on the third night, and where I was able to leave some clean clothes for the final leg back to Paris). So all that was left was to qualify…..
In retrospect, I couldn't have chosen more appropriate qualifying rides. I did the 200, 300, and 400 km brevets during the Vancouver Island Hell Week in early April. One might classify those rides as "fairly hilly", and the conditions as "somewhat miserable" ( I was borderline hypothermic more than once). I also did the Vancouver Island 600 km, a Fleche, the Portland to Glacier 1000 km (under conditions of extreme heat), and several other 300 km and 200 km rides. So I left for France feeling that my training had gone well, and that I was ready for anything that France could throw at me (princesses can be very naïve).
The Ride
Ross, Jim and I left the hotel at 3:45 a.m. Pitch-dark and cool, but not raining. Some creative route-finding ensued, but we made it to the stadium without mishap, and encountered Wim and Clyde, who'd left the hotel earlier than we had. We lined up in the stadium, and I'm not sure when the actual "start" happened, as we moved forward several times and then came to a complete stop. But it was probably about 10 minutes after 5. There were over 700 people in our "wave", and I think we were nearer to the end than to the beginning. The cycling was chaotic with some riders trying to weave their way to the head of the group, and my heart was in my teeth - I was just hoping I could remain upright and survive the first 30 km or so.
The weather that first day was "unsettled" - we went through periods of heavy rain and wind, when I was quite cool despite multiple layers, but the sun also made an appearance. The day passed by in a bit of a blur: I remember the feeling of being in familiar territory as we went through Mortagne au Perche, where I stopped at the boulangerie for an almond croissant and a pain au raisins. Then there was Villaine la Juhel, with a real carnival atmosphere. Then Fougeres, then Tinteniac. I tried to move through the controls efficiently - get my card stamped, buy and snarf a cheese sandwich, fill my Camelbak and water bottle, use the washroom - and get back on the bike. I was being very "efficient" until about 30 km from Loudeac, when I realized that I was missing part of what made PBP more than just a bike ride. So I stopped at the side of the road sometime after 11 pm and was welcomed into someone's basement. Three generations of the family were present - they made me tea, fed me cookies, and graciously responded to my feeble efforts at conversing in French. Wonderful.
I arrived in Loudeac at 12:30 a.m. It was a zoo: people everywhere, trying to sleep. It took me awhile to find my drop bag, and then the next challenge was to locate the Hotel des Routiers. I rode through deserted city streets, and finally just happened upon it. I should mention that in the days leading up to PBP, I'd been somewhat concerned about whether there would actually be any room in the inn, and had visions of arriving in the wee small hours of the morning to discover that "someone was sleeping in my bed". I'd made my reservation over a year ago, and despite my offer to send a money order to pay in full for the 2 nights' accommodation, Madame le Cozannet had assured me that wouldn't be necessary. So when I arrived at the hotel and tried to check in, I wasn't completely surprised when my name was nowhere to be seen on the rooming list they had at the front desk. After some discussion, though, it became evident that the rooming list was actually for American cyclists booking through Des Peres Travel, who had reserved virtually the entire hotel almost a year ago. And sure enough, a reservation was eventually retrieved for the one person who had reserved more than a year ago, and there was a room for me. Big relief.
I had a few good hours of sleep, and left the next morning slightly after 6:30 am, just as it was starting to get light. It drizzled for awhile in the morning, but by the time I reached Carhaix, the sun was out and the winds were getting frisky. The climb over Roc Trevezel was pleasant; impressive terrain, and the deep purple heather in bloom was quite beautiful. The weather continued to be decent until it got dark, and then it started to drizzle/rain again. It was absolutely dark - no lights from buildings, and the roads didn't have either centre lines or side lines. The rain was very effective at "sucking up" the light from my headlight. I did the descents with my brakes almost full on, as it would have been easy to have missed a turn and gone sailing into the trees.
I was back at the hotel in Loudeac by about 11 pm, and was looking forward to a good night's sleep. But shortly after 2:30 am, a dog started to bark - and continued to bark, and continued to bark. At about 5 am I gave up on the idea of any further sleep, and decided to take advantage of the remaining darkness to avail myself of the services of the first aid station at the Loudeac control. In my vast experience in brevets over 600 km (this was the third one), I have always had "butt issues" by the end of the second day, and this ride wasn't altering that pattern. I think I ended up as something of a teaching case, as four people were clustered around to view the proceedings, which consisted of applying Second Skin to a substantial part of my posterior anatomy. When they were finished, I thanked them and got ready to leave. At that point, one of them said "Vous allez continuez??", and the subtext couldn't have been clearer if it had been shouted from the rooftops: "Are you ABSOLUTELY crazy?" When I said yes, I was going to continue, heads were shaken but I was wished "Bon courage". And I needed it.
There were a number of "highs" and "lows" on this day. The highs included seeing a surprisingly large number of people I knew - both from BC and elsewhere. I rode for awhile with Doug Slack, who I had ridden with on the Fireweed double century in Alaska last summer (another cold wet ride!). Another high point was stopping for coffee and cookies near Tinteniac, and having what amounted to almost a conversation en francais. I asked the woman whether she knew anyone riding in PBP, and she said that she didn't, but that she'd been coming out to support the ride for over 40 years - first as a child, then with her children, and now with her grandchildren (who'd spent yesterday baking the raisin cookies I was eating). Overall, the support of the people was wonderful and really uplifting… as well as only slightly sexist. Let me elaborate: As we'd go through towns, people would be standing by the road, applauding and saying encouraging things like "Bravo", "Bon courage", "Bonne route". But when they'd see a woman (we made up only about 6% of the riders), they'd notch up the encouragement substantially. Can't say that I was unhappy about it! There was a particularly wonderful reception coming into Villaine-la-Juhel (and I remember thinking that it would have been great if that was the end of the ride). The low points included persistent pain when sitting (I spent another hour or so getting "repairs" at the first aid station in Tinentiac), as well as increasing nausea. It had started yesterday, and wasn't backing off. Eating was becoming an unappealing chore, and it felt as if food was getting stuck in my esophagus. I arrived in Mortagne au Perche just after 11 pm, but the idea of pushing through to the finish really didn't even enter my mind. My B&B (http://laguetterie.mysite.wanadoo-members.co.uk/index.jhtml) was waiting for me, and I reached it a few minutes later (it was less than a kilometre off the route). Ray and Trish had left breakfast supplies for me, as well as my "drop bag" with some extra food.
I started out at about 6 am on the last day, moving slowly and feeling queasy. But I did manage to forget about my derriere and my stomach, at least temporarily. Just north of Longny there was a sign on the road ahead: "Gravillons!", which I interpreted to mean 'gravel'. I rode around the sign, and because there were quite a few riders behind me and a car approaching from the other direction, I cut back to the side of the road as quickly as I could. It turned out to be a bit too quick: the "gravillons" was actually an oil slick; my rear wheel went out from under me; and I went down fairly hard. As I lay on the road, I was thinking "please, don't let me have broken my hip". The gods were on my side - I hadn't. Just a slightly shredded Goretex jacket, and a bruise the size of a watermelon on my hip. So after a few minutes to gather myself together, I was off again. I rode into Dreux with an Australian couple, and shortly after leaving Dreux, connected with Keith Patterson.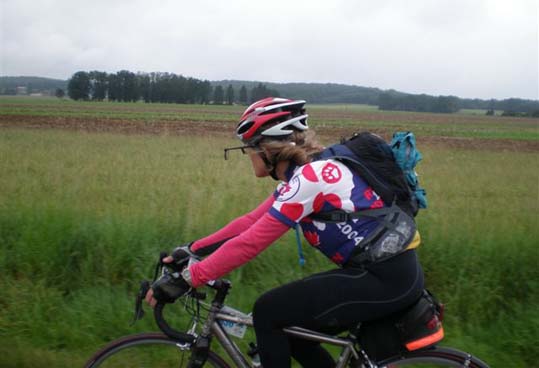 Keith Patterson snapped this photo of Susan on the final stage between Dreux and St. Quentin
We rode together into St Quentin, and along the way, were joined by Darren Inouye. The last 10 km of the ride felt anticlimactic, with numerous stops at red lights and making our way through a major construction zone, but right at the finish there were lots of people out and it was quite celebratory.
So I'd met my goals: I finished in less than 84 hours (I think it was 80:44), and did very little riding at night. I wanted to feel elated, but I actually just felt relieved (and sick). I didn't hang around at the finish, but rode back to the hotel with several others - and within half an hour of reaching it, was forcefully expelling fluids out of both ends of my gastrointestinal tract. I don't know whether it was food poisoning, a virus, full body shutdown, or (most likely) some combination of all three, but it wasn't how I'd imagined celebrating the finish.
Words of Thanks
Cheryl Lynch: for the ride to the airport and totally awesome muffins (as well as organizing our entries). Danelle Laidlaw: for arranging the hotel in Plaisir. Bob Koen, Nigel Press and Jeff Mudrakoff: for assistance when my Lumotec light decided to stop working the day before the start. Ray Parker: for the Mactac that meant my route sheet didn't turn into a sodden mass of pulp. Ross Nichol: for getting me to the start and keeping me company during what was, for me, a somewhat terrifying first part of the ride. Everyone I rode with: for the pleasure of your company. Keith Patterson and Darren Inouye: for finishing the ride together with me. Jim and Brenda Fidler: for picking up my drop bag from the Holiday Inn. Brian Westerberg: for saving me from the mother of all spiders. Deirdre Arscott: for going to the pharmacy for Gravol. The people of France: for your unbelievable support, hospitality, and enthusiasm - it was what kept me going and got me to the finish, and is ultimately what I'll treasure when I remember PBP 2007.
September 10, 2007