Harold intended this to coincide with the June 16-19 1000km. The photo is from Cycling Weekly, May 17, 2007.
Hoy's 1000
by Harold Bridge
On the weekend of the Lower Mainland 1000 km randonnée it is fitting to write about the pain & anguish that can occur at the other end of the scale. I refer to the standing start 1,000 metre time trial. I believe that from now on the event will no longer be included in the Olympics or World Championships. Given the history of the UCI that probably due to the fact a Brit now reigns supreme in that exacting disipline.
For about a decade Frenchman Arnaud Tournant was 'King of the Kilo'. He was also a formidable sprinter, but the controlled disipline required for a strategic event as the 'kilo' uses power in a very different way to that of a tatical match sprint.
In 2001 Tournant decided he should have the honour of being the first rider to get the standing start kilo record under the magic 60 seconds. He knew he would need every thing to be just right, including the altitude. Thus his attempt took place on the 3,400 metre (11,155 ft) high Alto Irpavi velodrome in La Paz, Bolivia. He was succesful with a time of 58.785 seconds.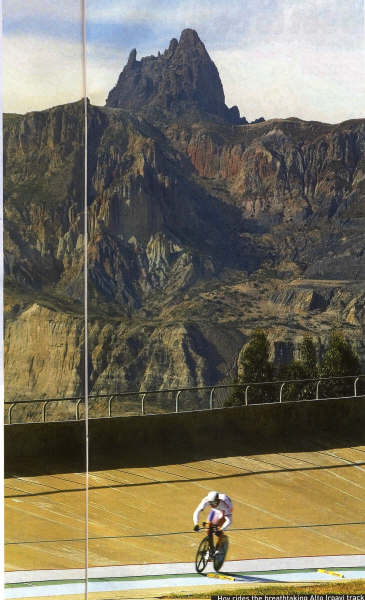 Tornant's reign came to an end at the 2004 Olympics by one thousandths of a second when he was beaten by Scot Chris Hoy. Poor Arnaud was so upset he threw his silver medal away! Since then Hoy has gone on to bring the sea level record done to within a thread of the 60 second target. This encouraged him, (despite the cost of flying drug control & UCi officials, mechanic & so forth to the attempt), to go for Tournant's ultimate record. Early in May he flew to Florida for training in the same time zone as La Paz. What was to be a 7 hour flight to La Paz turned into a 24 hour disaster due to engine problems. But Chris kept his cool & made his first attempt on the Saturday despite a flag flapping wind & cool conditions. He failed, but did become the second man to get under the 60 second barrier. Using Tornant's splits as a guide Hoy decided to go out a bit faster and after 2 of the 3 laps of the 333.3 metre track he was 0.873 seconds ahead of Tournant. Then: "My head exploded - it was all I could do to keep pedalling". It was calculated he lost the record in the last 130 metres.
Sunday morning was ideal & he made a second attempt. He backed off a little on the acceleration from the start but put in a blistering second lap. But to no avail, he missed the record by 5 thousandths of a second, or 23mm! All that and no record. But a go at the flying start 500 metre record was a consulation prize & he brought that down from 25.850 seconds to 24.758 seconds.
1,000m Splits:
Saturday Sunday
22.350 22.553
17.647 17.621 (68kph!)
19.106 18.706
59.103 58.880
For the kilo record attempt he used 51x13 (nominal 104" gear). For a flying start event he would have used something higher. But on a tightly banked track he couldn't afford to use a gear very much bigger. When Hoy had put his all into these attempts he had oxygen tubes up his nose for 20 minutes to help recovery.
Stick to randonnées.
July 11, 2007