"The Atmosphere Was Electric"
Victoria Populaire 2007
by Gary Baker
What timing! After so many days and weeks of liquid sunshine Sunday, March 25th came in with a blaze of sunshine; making a perfect day for the Victoria Populaire. The atmosphere was electric ( it must have been from all that pent up energy from rained out rides) with approximately 80 riders set to go at 10AM. With double the number of riders anticipated it may have seemed a bit overwhelming for Ray and his band of eager volunteers, but they did a fantastic job from start to finish!
So, to all who worked on this first of what no doubt will become a 'tradition', thank you for a great event and for doing such a great job!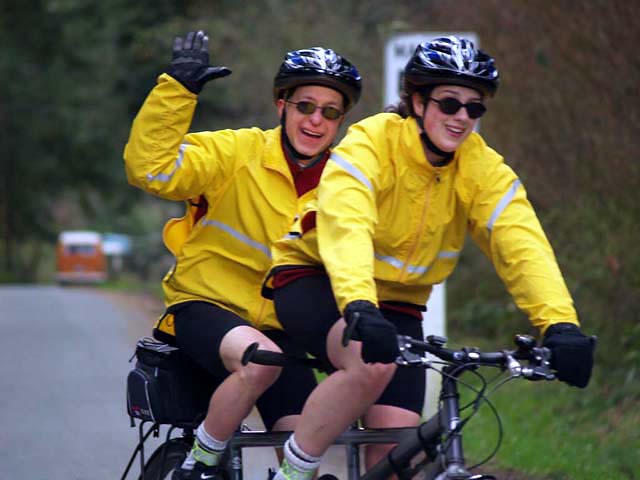 Mike & Brynne Croy on the 100 km course.
Photo: Stephen Hinde
---
And there was some additional commentary on the discussion list:
I just wanted to pass on my thanks to Raymond Parker and his elite team of volunteers for a great start to the season with the Victoria Populaire. Great weather, a spectacular 105K loop, a well placed secret control and loads of rolling hills were all well received. The head wind experienced over the entire course seemed beyond all but randonneur logic. Elevation climbed for the loop was somewhere between 905-945 meters. Not knowing any better, I figure 12 loops like this might closely approximate PBP - a somber thought.
Thanks for the memorable experience.
Cheers,
Tracy Barill
~~
Well put Tracy - Thank you Raymond and the rest of the volunteers. It was a great introduction to the sport and we had a blast. Looking forward to the 200km.
Mike and Brynne Croy
March 28, 2007