Organizer's Report
by Ken Bonner
The theme of the 2nd VanIsle 1200 turned out to be 'firsts':
- First major local media coverage – CHEK TV; Victoria Times-Colonist; internet-based Island Sports Net
- Major route change (200 km. in-out from Gold River)
- Increase of bag-drop controls from two to four
- Significant short detour (, scenic one way, tough climb the other)
- No female riders
- First finisher (Bob Goodison) set a personal best for 1200 km.
- Day long road closure on only highway to Port Hardy (overturned fuel truck) which opened just as Bob Goodison arrived on the scene
- Record number of 'first-timers' who finished with only a maximum of a 600k brevet as a qualifier
- Swedish rider Jan-Erik Jensen and his family included the 2nd VanIsle 1200 in his world-tour of 1200 km. brevets
- Registered rider (Graham Fishlock) who, at the last minute, switched from being a rider to a volunteer at Chemainus
- The Club's webmaster (Eric Fergusson) managed to complete his first VanIsle 1200 (Achilles problems pulled him out of the 2006 VanIsle. As part of his training, Eric completed the Ultimate Island Explorer 2000 km. to ensure a successful VanIsle 1200. Obviously it worked!

Of course, the most significant 'first' is 78 year old Dave Gillanders FIRST successful completion of a 1200 km brevet. Dave was a golfer and when he retired at age 65, decided to take up randonneur ultracycling. He has not stopped since. Dave completed the very hilly VanIsle 1200 with veteran randonneur, Bob Koen. Bob is rumoured to have observed Dave very closely during the ride, taking detailed notes for his long term goal of riding faster than Dave when Bob turns 78 years of age :) . Interestingly, there was a 50 year spread between the eldest participant and the youngest. Dave Gillanders of course was at the senior end of the scale, and Ryan Golbeck at 28 years of age was at the other end.

Due to the high quality of volunteers, many riders commented on the excellent support they received from volunteers who were mostly experienced randonneurs. The 'first' related to volunteers is how Lana Turner from Gold River was recruited to staff the Gold River Control. At the mid-point of the Eau de Hell 'Ride for Gold 600', I was bemoaning to the Gold River Chalet Manager (Lana at the time) about how difficult it is to recruit volunteer staff for the Woss and Gold River Controls. "I'll do it" she said. It took me a few minutes to comprehend that she was offering to help. Lana left me a note for when I picked up the Control supplies. She enjoyed meeting the riders and their support persons. Several riders commented that Lana was very helpful, as were all the volunteers.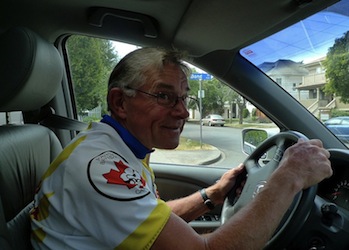 Organizer Ken pilots the event van before the start.
Photo: Dave Cambon

August 2010