Zero to 1200 – Lessons Learned!
by Guido Van Duyn
A year ago I got back into cycling and made a commitment to ride everyday to and from work. I thought about setting a cycling goal for myself and I remembered having ridden a BC Randonneur 50K Populaire about 15 years ago with a friend. I seem to recall it as being a very long distance during which my rear became very sore. It was in this way that I discovered the story of PBP and the 1200K Randonee which captured my imagination and became my goal before I'd even ridden my first 200K brevet! My plan was to ride the LM Spring Brevet Series and qualify to ride the Van Isle 1200 in July. I completed the Spring Brevet Series in June but it wasn't easy, in fact it was a lot harder than I thought it was going to be! I contacted Ken Bonner and he warned me that a 1200 was much, much more than 2 x 600. I took a week to think about it and in the end decided to go ahead and sign up for the Van Isle 1200.
The morning of the first day my alarm went off at 1:30 a.m. I got on my bike and pedaled off to be at the Tim Horton's for the 2:00 a.m. ride assembly. At 3:00 a.m. we set off with Ken Bonner leading us to the foot of the Malahat Drive. We climbed in the dark and it was still dark by the time we got to the first control in Mill Bay, I had not put my helmet light on before we left so I had difficulty reading my control card. A helmet light is essential for night rides, not only does it light up the road in front of you, it also allows you to read street signs cue sheets etc. The sun came out to reveal a beautiful day and a fabulous ride ensued through Cowichan Bay, Chemainus and Nanaimo. It was fun meeting riders from out of town on the first day. Tom Russell and Ken Knutson from California, Arthur Reinstein from Toronto. Bill Olsen, Mark Olsen and Michael Fox from Minnesota, New Jersey and Iowa who all rode with sandals and flat pedals without cleats! It was a very pleasant ride north on the Old Island Highway to the Campbell River control staffed by Dave Cambon, Dewain Emrich and Martin Williams. The ride to Gold River was also very nice, motorists are very courteous giving a wide berth when passing and the staff at the Strathcona Lodge information control were very interested in the ride and insisted on signing my card and sending me off with two popsicles! I arrived at the Gold River Chalet km 374 around 11:45 p.m.
The second day after my sleep stop in Gold River I almost left too late. I was on my bike at 4:20 a.m. but it was barely early enough to make my control times throughout the day. I had to race back to the Campbell River Lodge where I made it with about 45 min to spare. I then treated myself to a large breakfast and didn't hit the road until 10:30. I struggled all day with tough climbs and strong headwinds riding by myself on the road north to Port Hardy. Dave Macmurchie and Carole Hinde were a welcome sight when I rode into Woss at 6 p.m. At this point my feet were really hurting and I longed for flat pedals and sandals! I arrived in Port Hardy, km 698 just after midnight and after getting my card signed at the Esso checked into the Port Hardy Inn where the management had been kind enough to provide us with complimentary sandwiches and donuts!
The third day started much better. I was on the road fairly early at 4:30 a.m. and to my pleasant surprise was caught up by several other riders which made the day's ride a lot more enjoyable. I rode with Colin Fingler and Arthur Reinstein for a while then with Bob Koen and Dave Gillanders into Woss. After a short rest I headed out with Bob and Dave for the ride to Sayward which featured many climbs though at least on the way back we had a tailwind! Colin was in Campbell River having just finished dinner when I arrived so after a short rest we rode together down Island and parted ways in Courtenay where I was staying at km 980. Colin opted to take his sleep stop in Qualicum.
I felt good on the fourth day knowing the finish was near and that I had a good chance of finishing my first 1200. The ride at dawn down to the Qualicum control was absolutely beautiful, I grabbed a sandwich at the Shell station and sat on a bench by the ocean eating and watching the sunrise. I enjoyed the ride into Nanaimo, it was fast though there was a lot of traffic down by the waterfront and not much room to ride. I met up with Ed Person who was finishing up his lunch at Tim Horton's and having a good ride. I found the last 100K from Nanaimo to Victoria a tough slog, there was still a fair bit of climbing and I was hurting all over especially my butt! Finally I whizzed down the other side of the Malahat, I passed by Mark Olsen who had gotten a flat from all the debris on the shoulder of the road. A little further ahead were his brother Bill, Mike Fox and Arthur who had all ridden down together from Campbell River having left just after just after midnight. When Mark joined us, we rode in together to the finish at Tim Horton's in the Saanich Shopping Plaza!
Now I understand the meaning of the phrase "time in the bank". After my Van Isle experience I have a much better feel of what the days are like on a long brevet. The first night is crucial, a short sleep and up and out right away with time only for a bottle of Boost or Ensure and a banana. After 600K it gets a little easier to make the controls and build a time cushion but there is still really only time for one sit-down meal a day. I ate a lot of bananas some peanut butter and jam sandwiches and drank a lot of Hammer Perpetuem mixture which went down very easily and didn't upset my stomach. What works for a one day brevet might not work two, three or four days of riding. Whether it's sore feet, sore hands, a sore bum or a sore stomach, I've learned that comfort is very important when your goal is to complete a long brevet!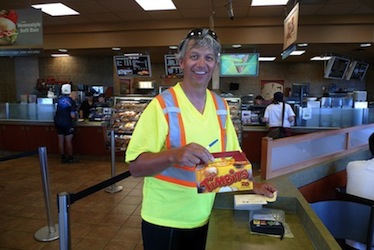 Guido at finish
photo by Dave Cambon

August 2010