The Art of Finishing Last
As executed to perfection on the 2010 VanIsle 1200 km brevet
by Bob Koen
"Anyone can finish first"

Ken Knutson to Ken Bonner after they finished last and first respectively at the 2009 Ontario Granite Anvil 1200.

I could do that, thought I, quietly, to myself as I watched the two Kens shake hands. I am pretty sure that I won't be challenging Ken Bonner for first place at any rando ultra event any time soon. Nor would I want to challenge for first anyway since I think that getting faster at these things simply equates to sleeping less and therefore having a lot less fun during the event. But last place. Now there is something that I can strive for. I realized that I was in a good position to accomplish that goal after having spent significant portions of both the Gold Rush and Granite Anvil in 2009 as the last rider on the road. I immediately planned to achieve this goal at the VanIsle 1200 in 2010. I thought that I might achieve it earlier at the 2010 Cascade 1200 but I didn't want to set my sights too high. I knew that the Cascade was likely to be a more out of control situation for me than the VanIsle, so I wisely decided to just try to finish the Cascade, then go all out at the VanIsle. As further incentive I knew that there was an actual physical prize in addition to the honour and glory of the title. Ken Bonner has been known to award a bottle of fine red wine to the Lantern Rouge. That bottle of hooch was gonna be mine! I started training right away.

Dave Gillanders played into my scheme perfectly early in the year when he asked me to ride the VanIsle with him and help him achieve his goal of finally finishing a 1200 km brevet. Anyone who knows Dave knows that he is not the slowest rider in town despite his advanced age. At 78 Dave could have been randonneuring shortly after the Romans built the first decent roads. Despite having a reputation for punishing many riders with much younger legs during the annual series of 200 to 600 km rides, Dave has never managed to finish a 1200 km ride. He has tried 5 times but has always managed to blow up spectacularly, usually late in the game. He DNF'd at 1040 km at Mortagne aux Perche during PBP 2003 and managed to get past the 900 km mark on the 2008 RM1200. I knew that he could finish a 1200 if he just paced himself over the duration of the ride rather than ride it like a race until his legs wouldn't turn anymore or he fell exhausted into a ditch somewhere. Since it was obvious that he wasn't going to pace himself I agreed to ride with him. I figured that I could use the ruse of pacing Dave as a cover for my real goal of taking the coveted Lantern Rouge trophy at the VanIsle.
The ride
The ride started out well enough in spite of the fact that it was much too early in the day to be starting a 1200. I didn't see the sense in starting at 3 am. Why start in a sleep deprived state? That just puts riders in a hole right from the git go and it only gets worse as the days go on, at least for us back of the pack types. Only much later did I realize that the 3 am start meant that the final finishers would be riding over the Malahat on the return trip in daylight thus getting one of the most dangerous sections of the route done when they could still see and be seen clearly.
The riding the first day was very pleasant. It was quite hilly in the morning until we reached Parksville. Then it was pancake flat for most of the way to Campbell River. A steep and long climb from there took us west into Strathcona Park and the site of our first overnight. We checked in and dropped our bags into our room. Then we headed out for the last leg of the days ride down to Gold River and back. It got dark during the stretch to Gold River, but not before we watched the first of the A team making their way back from the turn around point. We arrived in Gold River at about 11:30 pm, had a bite, and started back. It was a beautiful starry night making the night riding a truly pleasant experience. I believe that this is another experience that makes me glad that I am not part of the aforementioned A team. Truly great night riding can be had on these long distance rides, but not if you ride so fast that you get to sleep all night. Of course on those rides where the weather doesn't cooperate I tend to see this issue from a different perspective.

We arrived back at our room at Strathcona Lodge at 2:50 am. This gave us a whole 2 hours to sleep. We could have slept for perhaps another hour but I knew that the second day would be tough and I didn't want to get too close to the control cut-off times in case things went wrong. I wanted to start the day with at least an hour still in the bank, just in case.

We had a pleasant early morning ride back to Campbell River. Shortly before arriving the wind switched on. It went from dead calm to strong northerly winds in an unbelievably short time. We arrived and checked in with the control staff for the second time and then went for some breakfast. The only nearby place that we could find was a gas station McDonald's outlet. Normally I would never eat in such a place, but during a brevet all calories are good calories and where you get those calories is of minor importance. I had two egg filled breakfast burritos and the largest coffee they served. That wasn't enough so I went back for an Egg McMuffin and a muffin. That did the trick so we headed out. Soon we were slogging up a long incline into a raging headwind and making very slow forward progress. At this point we were passed like we were fence posts by a fellow wearing a London – Edinburgh – London jersey. This turned out to be Jan Erik Jensen from Sweden. He is a very strong rider but seems to have enough sense to make good use of brevet time and spend lots of time at controls. He is the sort of rider who could get a day job at most controls and still make the cut off time at the next control. He could very well be a founding member of the A team. Someone should look into it.

The wind continued to be strong throughout the second day. It impeded our progress markedly and when combined with the hills on this part of the route it meant that we were not gaining significantly on the clock as we proceeded northward. We checked in to Sayward Juction and Woss well within the time limits but not nearly as early as I would have liked. The plan called for us to ride up to Port Hardy and then back 40 km to Port McNeill. We had booked a room there. However, when we got to Port McNeill shortly before 9 pm we had a dilemna brewing. Dave was cooked. Dave was done. It was pretty clear that Dave was going no further that evening. We had a little over three hours in the bank at this point. Dave's daughter Megan was supporting us and took charge of the matter. We piled into her car and zoomed into town and got our motel room earlier than expected. In the case of Port McNeill the control point was at the road junction where the road into town joins the highway. Town is about 2 km away down a long and in places steep hill.
Dave and I slept for 3 hours and then got transported by the angel Megan back up the hill. It was now midnight and the Port McNeill outbound control was closing. We mounted up and had a great night ride up to Port Hardy and back. The three hours of sleep had done wonders for our strength and these miles just flew by. When we got back to Port McNeill we had another hour and a half in the bank so we went straight back to bed and got in another much needed REM sleep cycle. We were now over the 600 km mark of the ride so the brevet clock was now running more slowly than during the first 600 due to the extra 10 hours allotted for the final 600 km.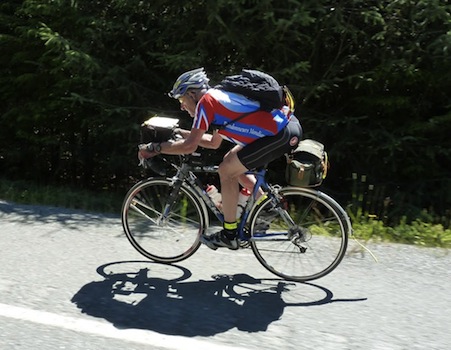 Dave was a new man after that. During the few times I managed to catch up to him on the third day of the ride I could hear him muttering something about "the power of sleep". The power of sleep certainly put new power into his legs. We flew down the road to Woss, got in a brief nap there, and then continued on over the bumps to Sayward Junction. Megan fed us lunch at Sayward. Chicken soup for Dave, chicken soup and beer for me. Then we headed out for Campbell River over the Roberts Lake segment. Again it was a case of watching Dave disappear up the hill. Unfortunately I also watched as a 40 foot flatbed semi narrowly missed me and then came so close to Dave that I feared that he was a goner. This is the worst section of the Island Highway. I believe that it is even more dangerous than the Malahat descent into Victoria.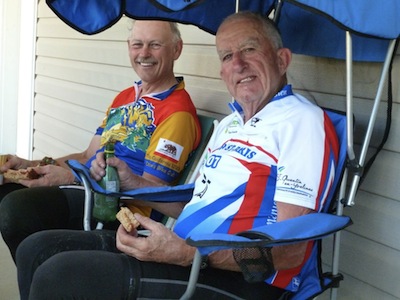 Our plan had been to finish the day with a sleep at Qualicum Beach. But by the time we reached Campbell River we had over 5 hours in the bank thanks to strong legs and favourable conditions and the slower brevet clock. So we decided to cancel the Qualicum Beach room and stay in Campbell River. Megan had already found us a room in Campbell River but the Qualicum Beach motel had refused to cancel the reservation since we hadn't given them enough notice. Fair enough. We settled in for a 4 ½ hour sleep and then left at midnight. Once again we were on schedule for Lantern Rouge by leaving yet another control just at closing time. We rode through the night along the old Island Highway. It was magic. There was virtually no traffic on a road that is clogged with holiday makers during the daytime. We sped through the night and arrived at Qualicum at 6:30 am with another good chunk of time in the bank and a paid for motel room. Time for sleep number 5 of the ride. We stopped at our motel and woke up the owner to get our room. No rooms were available. He had rented our ground floor 2 bed room to none other than Ken Knutson, apparently thinking that he could get two rentals out of the same room. Some strong words ensued and we finally managed to get a room with one bed on the 2nd floor. We settled in for a one hour nap and then headed out for the final day of the adventure.
Day 4 continued to go well enough. We made good time to Nanaimo. By the time we got there a ripping tailwind had developed and life was looking good. We had lunch at the control there and bade farewell to Megan. Her job was done and ours was nearly done. Or so we thought. The day was getting quite warm by this time. The heat always saps my strength and it did the same to Dave. Things started to go all pear shaped as the afternoon progressed. We traveled slower and slower and stopped more and more. Even stopping for multiple ice cream cones and a nap in Duncan didn't seem to help much. We finally crawled over the Malahat as the shadows lengthened. We stopped at least 5 times on the way up the Malahat. I was very worried about the descent because it is a very dangerous piece of road, and also because Dave had never done it before. I now appreciated the night start on day 1 because it meant that we were not doing the Malahat at night. Fortunately nothing happened and we got down safely.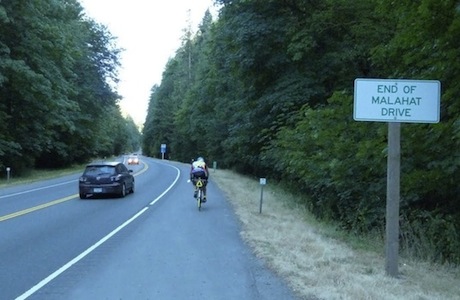 We were good boys from there on in and did all of the required highway entrances and exits, including the steep little kicker on Tillicum road about a kilometer from the finish. We finally arrived at the finish at about 7:50 pm. Here I pulled a real swiftee on Dave by arranging to get my card signed a minute later than his, thus guaranteeing my place in history by finishing last on the VanIsle 1200. Dave's place in history was also guaranteed by simply finishing, possibly making him the oldest person in BC, North America, or the world (pick one) to finish their first 1200 km brevet. Kudo's to you Dave!
I got quite a fright a few minutes later when Deirdre and Bob arrived to congratulate us. They told us that they thought that the Olson brothers and Michael Fox had arrived in town but had decided to go on a pub crawl before checking in at the finish control. That would have been the ultimate dirty trick but it turned out that it didn't happen and we were indeed last.

Mission accomplished.
August 2010