VanIsle 1200:
In Which Bob Gets Whacked With the Mallet O' Understanding
by Bob Goodison
Is it possible to look forward to a ride and fear it at the same time? My mind was full of questions in the weeks leading up to the VanIsle 1200. Why the 3:00 am start? Surely 5:00 am would get us over the Malahat before it got busy. Why all the fuss about rumble strips? I have often hit them here in the interior with no problems. Why did Dave Cambon, in his pre-ride comments on the VanIsle website go on about the non-stop traffic of the island? I was also concerned about the 9 page route sheet, as I have a history of adding bonus kms given the opportunity, and Randy had told me how lost he had gotten on the 2006 version, while declining to join me for 2010. Plan A for my navigation (stick to Ken like glue until Campbell River) fizzled when he did an organizers pre- ride and didn't join us on July 21.
Also alarming was the fact that it had taken him over 82hours to complete due to horrible headwinds. Adjusting for time differences between Ken and the rest of us on the last Rocky Mountain 1200 I determined that no one would finish within the 90 hr time limit.
At 3:00 am July 21, we rolled out of the Saanich Plaza into the cool dark morning, with Ken leading us through the first few rather complicated kms. On the descent into Goldstream,riding in a pack, shifting to the big ring, my chain went over the top and derailed. OH @%&*%#$%! But I managed to get it finessed back on without stopping. Also, on smooth pavement, I noticed the thump thump of an unevenly seated front tire and vowed to check it if it didn't blow off the rim before daylight. I never did check it and it never got any worse. I will try to remember to fix it before my next ride. A few kms later as we approached the Malahat one of my questions was answered. Comparing Interior rumble strips to Malahat rumble strips is like comparing a poodle to a pit bull. I hit them once, that was enough. Once north of the Malahat, they were no worse than what I'm used to. The name Malahat comes from the French word mal, meaning bad, and the English word hat, which means hat. I passed most of the other riders on the climb, then some of them re-passed me on the descent so fast I thought they were cars. So far, no navigation issues- just follow everyone else. Also, so far, no significant wind.
From the first information control at Mill Bay (35.5 km) to Control # 4 at Chemainus (87.6km) I rode with an excellent group who were going exactly as fast as I wanted to go. Jeff Mudrakoff, Mark Olsen and I were taking full advantage of the gps unit that Henk Bouhuyzen had on his bike. The scenery on the backroads we were cycling was spectacular. Somewhere between Mill Bay and Cowichan Bay we passed what smelled like a really good bakery, but it was too early to stop. At Chemainus our group broke up. The others went for breakfast, but I didn't want a long stop so early in the ride. I had visions of huge headwinds up island and wanted as much time in the bank as possible. A couple of kms out of Chemainus I passed a rider (Sam?) pumping air into his front tire- the last VanIsle rider I would see for some time, although I talked to a number of Tour Canada riders I caught north of Nanaimo. Shortly before Nanaimo I had my first missed corner, picking the wrong one of two roads with the same name, sending me up a dead end street and adding about ½ km. I had a close call in Nanaimo (or was it Parksville?)- I pulled out to pass a street sweeper, just as he pulled out to pass a parked car without signaling. I pulled out of the Nanaimo control just after Eric, Ryan and Keith arrived, and had a scenic enjoyable ride to Campbell River.
I had been hoping to hit Campbell River by 4:00 pm, so I was thrilled to get there at 3:00. At the control, Dave told me a tanker had hit an elk and the highway was closed just south of Sayward Junction. I wasn't too concerned, since we wouldn't get to that point until the next morning. I made a peanut butter and jam sandwich and set out for Gold River, after checking in at the Mae Mae motel. I explained to the lady there that I might get in really really late the second night, and asked if the checkout time could be extended. She offered to have my room cleaned last, which would give me until 12:30, an extra hour and a half. Up to this point, I had been thinking it would have been possible to do on Not far out of Campbell River, I learned what island hills are all about. I found myself in the granny gear, thanking Skookum Cycle for not having th 11-32 cassette I asked for and selling me an 11-34 instead. After the info control at Strathcona I rode along Campbell Lake, a long lake that seems longer because you follow it to Buttle Narrows, then cross a bridge and ride up the other side. Eventually I got to the long descent to Gold River. Knowing you have to come back up them takes a little of the fun out of descents on an out and back section, but also makes the climbs a little easier to take. I should have flipped my route sheet earlier, and so missed the right turn to the Gold River control by a couple of kms and had to backtrack. There is some perverse law that says if you miss a corner it has to be on a steep downhill that you have to climb back up. This one was no exception. I spent a little time at the control filling bottles and snacking. Eric arrived just as I was getting ready to leave for the final leg before my first sleep.
As I left Gold River, my brain and legs said I should put on some speed to get a little extra sleep in Campbell River. My stomach said "No way. I'm going to cramp up, feel nauseous, and stop giving any energy to your legs." So, I dropped it down a few gears and spun easy, and by the time I got back to Strathcona I was feeling pretty good again. On one of the descents before Campbell River in the dark, I came out of a corner to find myself in a patch of broken pavement that resembled cobblestones. I continued on, somewhat shaken, and a little slower, into the Campbell River control. At the control, Dave told me the highway north was still closed, but was expected to re-open by morning. He advised me to check in for an update before heading out in the morning.
I felt like a new person after a shower and a three hour sleep. At about 4:30 I found Henk at the control. He had slept in Gold River. The highway was still closed but might open by the time I got there. If not, it wouldn't be the first time I had hiked through the bush around an accident scene. Henk was not ready to leave, so I once again set out alone, into the first headwind of the ride. Just before7:00 am I rode up past a long line of traffic to the road block. The RCMP officer said it would open in about an hour and a half,maybe more, maybe less and no, they wouldn't let me go around. I got out my Deep Woods Off wipes and settled in for the wait. Maybe Henk would show up with a deck of cards. I talked to a lady who was really stressed. She was with the mobile mammography van and had to catch the ferry from Port Hardy to Bella Coola. Appointments were all booked and she had no way to contact people to change them. Fortunately, at about 7:20 they let us through. Henk still had not shown up. About 10 km later was the control at the convenience store at Sayward Junction. Unfortunately, all those people who had been in the line-up all night had descended on the store. To say it was busy was an understatement.
In the interior, the wind and the hills have a gentleman's agreement. There is rarely a headwind on a climb, although it's common to get blown almost to a standstill at the crest. On the first climb out of Sayward, I found this is not the case on the island. I fought against the wind in the granny gear, until I got into a rock cut where the wind was bouncing off the walls in every direction, making it hard to keep the bike on the road. Fortunately, the wind was fickle. It would be a headwind, then a crosswind, then gone for a while, only to return as a stronger headwind. I recently learned something about myself. The more boring the road, the more headwinds defeat me. Since these roads were all new to me, I noticed the winds less than usual. The same winds on the Yellowhead or highway 5A north of Merritt would have left me whimpering on the side of the road. I rode into the Woss control still feeling pretty good. I felt even better after snacks, mocha, and chicken broth at the control, and started back into the wind.
The only disappointment on the ride north was the lack of the expected ocean views. I repeated the "miss the turn to the control and go down a big hill" trick in Port Hardy just so I could see the town and the waterfront. I found the control at the Petro Can, and refilled with ice cream, a sandwich and more liquids. Anything light, such as an empty water bottle or food wrapper was instantly gone across the parking lot in the fierce wind. I headed back south eagerly anticipating the strong push back to Campbell River. I met Henk on the return, probably about an hour behind me, then Eric, Ryan and Keith. Thirty km south of Port Hardy, my tailwind ended, and I had a very calm ride back to Woss. About ten km before the control, a very large black bear crossed in front of me, emphasizing Ken's instructions not to sleep on the roadside. When he noticed me he took off in a hurry, spinning out on the loose gravel shoulder. I made it back to Woss before dark, checked in, snacked and left again, looking forward to bed in Campbell River.

It wasn't long before it was dark and I was wearing everything I had with me, and still feeling slightly cold. Staying awake was a real issue. I kept snapping back to reality, heading towards the ditch. There were car lights faintly in the distance, around a bend, when I heard a shriek that made the hair on my neck stand up. The car passed, and I went around the corner to see a deer scrambling up the bank, and the air was full of the stench of burning rubber. I made a mental note to keep speed down on descents. The store at Sayward was closed, so I signed my own card and continued. I rolled into Campbell River at around 3:00am and checked in.

In Campbell River I had a crash that could have very easily ended my ride. I was enjoying a hot shower in my motel when my feet suddenly went from under me and I found myself wedged between the toilet and bathtub with the shower curtain under me. I had hit my shoulder on a towel bar, and bruised my butt on the edge of the tub on the way down. I hung the curtain back up as best I could and went to bed a little more sore than expected.

I woke up at 7:30am or so feeling better than expected, stopped to say hi at the control and went foraging for breakfast. I was enjoying an outdoor seaside breakfast in perfect temperatures at Tim Hortons when a chain smoker decided to sit upwind of me. That was the motivation I needed to get my ass in gear. Riding in the beautiful morning I totally missed the last left turn on the detour and added another couple of kms to my bonus total. The ride south was fun but uneventful, with light crosswinds, pleasant temperatures and lots of other cyclists out. Then, I got to Parksville, Nanaimo, and Duncan and it stopped being fun. Now I knew what Dave was talking about concerning the traffic. This was why the 3:00 am start, not the Malahat. These towns in the middle of the day are no place for a cyclist. I was cut off more times in a few hours than I have been in the interior in the last ten years. Nanaimo is one long section of traffic lights and urban sprawl. Each traffic light has an advance left turn green for each direction, so if you miss a light, you have a long, long wait, and I missed them all. Duncan does not have the advance left turn greens, so traffic was almost gridlocked. I was starting to sprint through an intersection (I had the right of way), and a dump truck leaned on the horn and turned left in front of me. Apparently size and a loud horn gives one the right of way.

I stopped one more time just before the Malahat for more liquids and ice cream and settled in for the last bit. Although it was hot, I had no trouble with the climb, and it was nice, shady and cool on the other side at Goldstream. One more climb, and it was into the last bit of navigation. I was glad it was daylight as I made the multiple turns through bike bypasses and underpasses to the finish. I made no mistakes here, but had to stop to study the route sheet a few times to reassure myself. I pulled into the Tim Hortons finish control at 7:45 pm and ordered one of everything (almost). I felt better than I had after any 1200, or even 600. My total bonus mileage from missed turns was about 12 kms. I had paid attention to what my body was telling me it wanted, kept fed and hydrated, used lots of e-load electrolyte capsules, and hadn't pushed myself too hard too early. I had as usual, packed more than necessary, but wouldn't have been comfortable leaving any of it behind, as things could have easily gone very differently. I had no flats or down time for repairs. Though long, the route sheet was excellent and easy to follow. Instead of a column for compass direction, Ken had included a column showing the distance from the previous control, a real advantage, once I had thrown off my mileage with my first missed turn. I would like to see this on all route sheets. My time on the bike was 50:06, for an average speed somewhere between 24 and 24.5 kmh. My total time of 64:45 was 3:24 faster than my previous best 1200 time, yet I had not ridden harder, only smarter. I wonder, will this lesson stick, or will I have to learn it a few more times?

Thank you Ken, Dave, Dave, Dewain, Carol, and all the other volunteers for helping make this my most enjoyable ultra to date.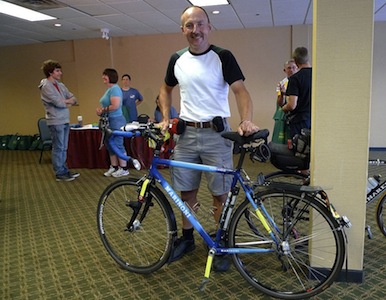 Here's Bob enjoying the bike check before the ride.
Photo by Dave Cambon
August 2010