(First published in the Nov/Dec issue of the UMCA magazine)
COLORADO "LAST CHANCE" 1200
by Ken Bonner
There is an "upstart" in the 1200 k randonnee neighbourhood! The 2001 inaugural event saw a finish list of 3 riders and the 2002 boasted 8 finishers. At this rate of growth, it will not be long before Last Chance will over-take Paris-Brest-Paris in number of participants.
For some folks, when hearing about the Colorado Last Chance, images of long, scenic, mountainous climbs embroidered with the multicoloured leaves of autumn flash into their minds.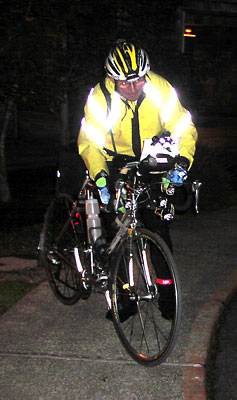 For other folks, the name says it all … the last chance of the season to complete a North American 1200 k randonnee.
Last Chance, like all 1200's has its own unique personality. Fueled by the creative efforts of a small but dedicated group of randonneurs from the Rocky Mountain Cycling Club lead by John Lee Ellis (Colorado Regional Brevet Administrator), Last Chance not only provides a last opportunity (for DNFers, a lost opportunity) to complete just one more randonnee for the season, but also to visit a unique part of "small town", USA, including a spot on detailed maps, labelled Last Chance (mile 118.6 of the Last Chance route).
There are no long, scenic, mountainous climbs. According to the promotional information this course was designed for tandems and fixed wheel enthusiasts, describing the terrain as "rolling to strongly rolling, characterized by wide expanses and areas with few trees". Recumbent riders might also enjoy this course given the constant head-side winds (we are back in Kansas, Toto!).
Although the rider will experience what feels like constant climbing, the total climbing only amounts to about 15,000 feet. However, grinding into the wind (which has no crest) with occasional, very occasional, fast tail-winds is more than the equivalent to the total climbing of the other well-known 1200s.
In addition to the terrain and wind, there are other unique features Last Chance offers
· small and personal - folks gathered together for an intimate pre-ride dinner which featured an informal opportunity to talk with John Hughes, Director, UltraMarathon Cycling Association
· accommodation and restaurants abound within a very short distance of the start
· townsfolk along the way are friendly and curious about the event and the riders
· extremely variable weather - in 2001, the ride had temperatures into the 90's and finished in the low 40's with rain & snow showers around Boulder and threatening tornadoes in southern Kansas; in 2002, night temperatures were in the high 50's with some day stretches in Kansas reaching over 100 degrees
· "goat-head" thorn country …. stay on the pavement or your tires will look like a porcupine, only a lot flatter!!
· long distances between control points -- a great deal of the course travels across what was once known as the Great American Desert, consequently, towns of any significance are quite a distance apart, resulting in many of the control points being from 70 to 80 miles apart. One needs to carry plenty of fluid and food.
· straight-forward course --there are a few points where the rider's course instructions could be more clear, but by and large, it is difficult to get lost on the "out and back" route which mainly follows U.S. 36.
· low traffic volume --Route U.S. 36 does not have a great deal of traffic, but does have a regular (about every 15 -30 minutes) stream of truck traffic, travelling at an estimated 65-70 mph! In some spots there are reasonable shoulders, but mostly not. The truck drivers normally provide lots of room when they pass, but because of their speed (both coming towards the rider, and when passing) the rider will experience a tremendous blast of displaced air as each truck, & often trailer, passes by!)
· unique turnaround control - the rider mails a post card from the Kensington, KS, Post Office
· old west/Rocky Mountain vacation opportunity -- stay awhile and explore some of the attractions of the small towns and/or the Boulder/Denver/Rocky Mountain environs at a more leisurely pace
Most of us know something about Boulder, Denver and the state of Colorado, but what do we know about Kansas (besides Dorothy, Toto and the Yellow Brick Road)? Since the rider will spend close to ½ their travel time in Kansas, the following are some of the high-lights
Kensington, Kansas is significant for a couple number of reasons
· has a land area of .831 square kilometres, a population of about 553 persons, comprised of 280 families
· is positioned 39.76 degrees north of the equator and 99.03 degrees west of the prime meridian
· its heritage Post Office is of great interest to Last Chance randonneurs, as it is the ½ way turnaround point!!
Kansas State is also known for the following
· being part of the old Wild West, with such towns as Abilene and Dodge City enlivened by such characters as "Wyatt Earp, Bat Masterson and the Dalton Gang
· producing famed aviatrix Amelia Earhart who mysteriously disappeared on an early attempt to fly around the world
· home of interesting rock formations such as the Elephant Rock near Oberlin (mile 290.4 and 455 on Last Chance)
Finishers and their times for the 2002 Last Chance are
Bonner, Ken ----------------59:05
Friang, Jean-luc -----------78:35
Fusselman, John ----------82:36
Hahn, Russell --------------84:40
Henderson, Charlie -------79:57
Kestner, Marcia ------------82:47
McLeod, Grant -------------82:36
Thomsen, Bonita ----------84:40
As in all 1200 k randonnees be prepared …. Make sure you have enough miles behind you, you have not skimped on equipment, clothing or food you may need and that your bike is in sound mechanical condition. This is not the time for experimentation! According to one report, one of the Last Chance participants thought they could overcome the puncture hazard of the dreaded "goat-head" thorns by lining their tires with the tread of old tires. Seemed like a good idea at the time, unfortunately, in the middle of the ride, the edge of the "old tire lining" gradually wore through the regular tube and tire, resulting in untimely tire problems!!
The next Colorado "Last Chance" 1200 k randonnee is planned for 2004. Put it in your randonneur itinerary for a "two thumbs up" cycling experience!!
Ken Bonner
Victoria, British Columbia,
Canada
Member of:
BC Randonneur Cycling Club
RUSA #894
UMCA #1698
- ~~~ -
The photo is not actually from the CLC 1200... but it could be. (It was dark at night on the CLC 1200 too!) It's from the SIR fall Olympic Peninsula 600 some weeks later, and I'm just using it for decoration. I pinched it from a SIR photo gallery - here. The photo was taken by Bill Dussler at the Quinault control. [Eric F, Feb. 2003]