This was the text and photo from a program that was handed out at Roger's wake at Mooses Down Under, Saturday, March 1, 2003.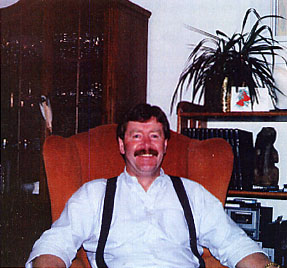 Roger Neil Street
June 14, 1947 to February 25, 2003
Roger was born at a very early age in Croydon, England, on June 14, 1947, the third son of missionary parents who were on furlough from China at the time of his birth. The first five years of Roger's life were spent in Lanchow, China where his parents had returned to missionary work with his brothers Brian and Ray.
Following five years in China and three years in Japan, where he attended his primary grades in a one-room schoolhouse, Roger arrived in Alberta, and attended the Prairie Bible Institute's high school in Three Hills. Roger lived in a home with 35 other missionary kids, while their parents returned overseas.
Roger's high school graduation was deferred for one year after he was caught on the gymnasium roof spying, as the girls were being lectured on the social interactions expected of them by this religious private school. On finishing high school Roger joined his brother Brian and their retired parents in Toronto, Ontario. It was here his fascination for figures resulted in a career as a Chartered Accountant and his two lovely daughters, Leslie and Heidi.
In 1972 Roger felt the call to "go west young man!" He took a trip to the Yukon with Brian later that year. On replacing the third engine in the VW bug in as many weeks this photographer and accountant had emerged as VW mechanics. The replacement engine was delivered from Edmonton to a roadside garage where they placed a wager with the owner that if they could install the engine within 20 minutes would he go for double or nothing on the hourly hoist rental. Agreement was reached and 18 minutes later the work was completed, to which his only comment was "do you boys need work?" "No" was the reply, Vancouver calls. A memorable evening in the Howling Dog saloon in Fairbanks, Alaska made Roger have to rethink his navigation skills as three attempts were made to locate the pub owner's home directly across the road, who had promised a night on a warm floor rather than in a leaky tent. After four weeks of touring including 15 days on the Yukon and Teslin River, Roger returned to Vancouver.
He joined the accounting firm of MacGillivray & Co. in Vancouver and became a partner shortly thereafter. In 1985 he and two partners formed a new company, Steele & Co. which has become a very successful accounting firm.
In the late 1970's Roger quit his 2 1/2 pack per day smoking habit, cold turkey, to pursue a healthier and more active lifestyle. His many interests and accomplishments have included time living abroad, sailing and racing the "Loon", a 27 foot CS sailboat, scuba diving, singing with a barbershop choir and spending the last 10 years pursuing his passion for cycling all over the globe, including the Australian Outback, twice completing the Paris/Brest/Paris race, and cycling coast to coast in Canada, just to mention a few.
On February 25 Roger took his last bike ride, leaving us far too early and with much sadness. Roger's rich life has been shared by his love, his best friend and his wife for the past 26 years, Sharon.
Ride on Roger, you will be with us always!
[Author Unknown]