This article originally appeared in the Fall 2000 issue of Quick Release , the Cycling BC newsletter.

____________________________________________
2000 Rocky Mountain 1200
A Brief Review
by Eric Fergusson
39 riders from six countries headed for the hills on July 27 this year at the fourth running of the Rocky Mountain 1200.
It was a fast year at the front of the field with the first three riders finishing under Glenn Smith's 1998 course record of 59:25 (hr/min). Victoria's Ken Bonner, who's setting the world on fire this year, was first finisher with a time of 55:36.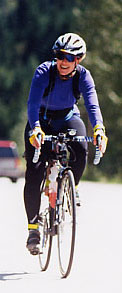 Hubertus Hohl from Germany was second in at 58:20. Brain Leier from Manitoba crashed as a result of a hit and run accident early in the event, but bounced back to finish third with a time of 58:37.
The generally favourable conditions no doubt contributed to the high finisher's ratio (35 finishers - only four DNFs). If there is one regret, it is the fact that women were under-represented in the field. Only two women started, only one finished. On the other hand, a gold star to the lone woman finisher Karen Smith (85:38) who prevented the event from becoming a boys-only club.
The Rocky Mountain 1200, though newer and still much smaller than Boston - Montreal - Boston, and Paris - Brest - Paris, has built a solid international reputation, a process accelerated by the formidable organizational and marketing skills of this year's ride director Danelle Laidlaw. With the combination of the spectacular scenery and the challenging topography, the Rocky Mountain 1200 seems to have a promising future.
The ride is held every two years (on the even number years). The next Rocky Mountain 1200 will be in July 2002.
Photo of Karen Smith by Bob Boonstra, July 2000.
0