Other Information for:
Permanent 74 - Happy Elephant 201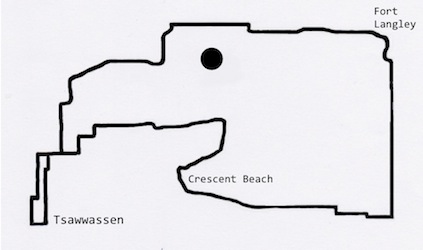 This route is a slight reworking of permanent # 26 "Bean Brothers." The new route was designed to cover more or less the same territory using fewer busy roads and truck routes. Weekday truck traffic can be heavy on parts of permanent #26, so for weekday riding #74 is recommended. There is however more navigation on #74, and a gravel path section. The new route moves the start from Kerridale to central Vancouver - Broadway and Heather. [Eric F, November 2010]
January 15, 2011: Mini Report in newsletter by Ryan Golbeck
Route note from Eric Fergusson, January 2011: There's been an intersection modification at 149.0 km. The cross street is no longer marked "Telegraph Trail" (Bear Right). Turn right on 198 Street ( I think it was 198) - it soon becomes Telgraph Trail. If you miss it, turn right on 192 Street and you'll rejoin the route (left on bike path) at Golden Ears Way just after the Surrey/Langley waste transfer depot.
October 25, 2011: Photo Gallery. Photos: Eric Fergusson
December 8, 2011: Report. Chris Cullum
Route notes from Chris Cullum, December 2011: 80th Street near the Boundary Bay Airport (at 69 km) is closed for the construction of a new overpass. Continue straight on 72 Street, then right on Hwy #10.
_