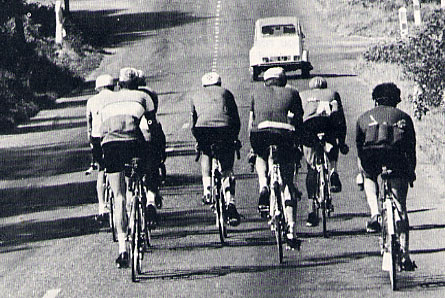 BRESTWARD HO!
It was towards the end of July, 1956. The Tour de France had finished a few days earlier, Britain's lone rider Brian Robinson in 14th position. According to "script" Brian should have been 13th. On the last morning he was sharing that spot with team-mate Charly Gaul--Brian was a guest member of the Luxembourg selection--and the famous climber gave strict instructions that the British rider should finish a few seconds ahead so that he himself would not occupy the unlucky spot. Always ready to oblige, the Yorkshireman prepared to attack three miles from the Parc des Princes. Instead of going away to the front, however, Brian dropped off the back of the heaving bunch to change a buckled wheel, leaving the Gaul to finish a reluctant 13th on final classification.
Brian Robinson had ridden brilliantly during his second Tour de France and at the Parc signed a dozen contracts for track races and road criteriums during the next six weeks. Unlike the surprise winner Roger Walkowiak, mountain king Gaul and points winner Stan Ockers, Brian's series of rides did not begin the next day. He had a week to wait and arranged to spend it at an hotel popular with racing cyclists, at Poigny-la-Foret, near Rambouillet 30 miles south-west of Paris. I booked in too.
The first night Brian and I talked about the early stages of the Tour in which he had got off to a great start by taking third place on the opening day. Next morning while he took a quiet ride through the woods, I typed out the story. In the afternoon Brian read through the script, made a few corrections here and there as he stretched out on the bed, and then dropped off to catch up with the sleep he had missed during the marathon race. While he rested I borrowed the well-tested Gitane and ambled round the by-roads for an hour or two. In the evening, more Tour talk and next day the programme as before. Brian's personal account of the 1956 Tour de France formed the greater part of the fourth edition of my "Coureur" quarterly magazine.
At the time the hotel was owned by Pierre Viel, an old-time six-day race soigneur who had handled some of the greatest teams in the business. Every night after we had finished our meal he pulled up a chair and begin working on Brian.
"Another call for you from the organizers of Paris-Brest-Paris" he would begin. "They are anxious that you should realise the importance of this race and what a great opportunity it is for you. You are a young professional, but as yet you lack a really resounding victory. If you won Paris-Brest-Paris you would be made for life. It's a race right up your street. You are a man of long distances--you won a stage of the Tour of Europe two years ago after a breakaway of over 200 kilometres. The organisers are calling back tomorrow. Shall I tell them to put your name on the list? Think it over seriously. Paris-Brest-Paris [is] a race for YOU!"
"No" said Brian "I have signed a dozen contracts and it would be foolish to break some of them to ride that long road race."
Despite his decision, Brian wanted to hear more about this unique event, and before talking Tour 1956 we several times went back to 1891 to the days when newspapers had seized on the promotion of road cycling racing as a sales-boosting medium.
"The longer the race the better" I explained, for although I was not around in 1891 I had talked with old-time riders of the period. With a long competition pre-race interest could be built up over a wide area of circulation and special editions brought out during the event. Early in 1891 one paper had the idea of running Bordeaux-Paris and was under the impression that the riders would take two days for the 360 miles. They had a shock when the Englishman G. P. Mills came in first with 26 hours! The race created enormous interest. Rival papers schemed up fresh ideas. Then one announced the promotion of a test of stamina that would make Bordeaux seem like a sprint race. Paris-Brest-Paris over 1200 kms (750 miles).
" When talking about the race today we always emphasise 'all in one go', but in 1891 this was not necessary. Stage races had not yet been thought of. It was decided that it should be held every ten years. That first Paris-Brest-Paris was a fantastic success, the winner Charles Terront taking just under three days for the 750 miles and finishing nine hours ahead of the next man.
"The race was the idea of Pierre Giffard who later became the great newspaper rival of Henri Desgrange, the 'Father of the Tour de France.' It was through searching for something bigger and better than Paris-Brest-Paris that Desgrange stumbled across the idea of a Tour de France in several stages. The suggestion was timidly put to him by his right-hand man Geo Lefebre, and the first Tour was organised in 1903. It was won by Maurice Garin who two years earlier had won the second Paris-Brest-Paris.
"Paris-Brest-Paris was then organized every 10 years and always attracted a first class entry. As well as a test of human endurance it was a great test for the bicycle. Sales of a marque shot up after any road race win, and particularly after such a tough one as Paris-Brest-Paris. In 1931 the winner was the great Australian rider Hubert Opperman who outsprinted his handful of breakaway companions on the Buffalo velodrome.
"Because of the war the next P-B-P was not held until 1948, and then the normal sequence was resumed in 1951. Because of the growing difficulty of getting entries, it was suggested that riders might show more interest if it were held more often than once every 10 years. So now in 1956 they are trying again after five. By the way the organisers are chasing you up it looks as if they are in trouble again. I spoke to Rene de Latour on the 'phone this morning and he thinks that it will be cancelled, and Paris-Brest-Paris finished for good."
Cancelled it was. Yet a week or two later, tucked away in the corner of the sports pages were small Paris-Brest-Paris reports couched in phrases I did not understand. They spoke of Cyclotouristes, Cyclosportifs and Randonneurs, Audax, and were sometimes illustrated with photographs of groups of riders dressed like racing men (and women) but riding bicycles fitted with mudguards, luggage carriers, dynamo lighting and supplementary electric torches lashed to various frontal parts.
The following year (1957) I attended my first "Poly" day at Chanteloup-les-Vignes on the western outskirts of Paris. Although the big event of the day so far as the general public was concerned was the 95 miles professional race, the "Poly-day" was in fact a Festival of the Bicycle which included an open-air lightweight cycle exhibition. Before the professionals contested their race on the five-mile circuit which demanded 16 ascensions of the 1,000 yards 1 in 8 hill, there were several events for cyclo-sportifs. By the end of the interesting day I had learned a lot more about this category which I summed as being "hard-riding tourists."
At that time I was busy working on the first numbers of the monthly "Sporting Cyclist" and was unable to find time to do any serious cycling. But everything comes to him who waits long enough. Ten years later, in May 1967, I found myself at Chanteloup again. As a competitor in a 12-hour trial for Randonneurs starting at 6 p.m. on the Saturday and finishing a few hours before the professional race! After climbing that hill 35 times I knew even more about cyclo-sportif riding--and had begun to show interest in their version of Paris-Brest-Paris. Several of my companions of the night had ridden it the previous year.
"If you can ride 12 hours overgeared (as I was) on this circuit, you can easily do Paris-Brest-Paris one enthusiast said "The next will be in 1971. You've got four years in which to prepare."
While I cannot say that for the next four years I thought of nothing but Paris-Brest-Paris, it was always at the back of my mind. My annual mileage varied between three and seven thousand miles and embraced several long rides on a Saturday followed by six hours pedalling through the night, and then perhaps another 80 miles on the Sunday.
During the first six months of 1971 I managed to get in only 2,500 miles. Then for five weeks my C.T.C. Cyclists' Diary showed a complete blank. The cause: Tour de France. Of course it is possible for a journalist to ride during the Tour, indeed I have borrowed bikes and had many enjoyable trips on rest days. In 1971, however, it just did not work out. I was doubtful now whether I would be fit enough to ride Paris-Brest-Paris, entries for which closed the day after the Tour finished. I took a chance and sent off my form before leaving Paris for London. In the next six weeks I managed to get in 1,400 miles on home roads, including a trip to see the Tour of the North. Somewhere on that rainy stage-race my old B17 saddle cracked alarmingly and looked as though it would hardly last back to London let alone see me through Paris-Brest-Paris. The Tour of the North finished at Harrogate, home of one of the co-sponsors Ron Kitching who soon fixed me up with a replacement.
"That's a sign of the times" said Ron "When I started cycling it would take a painful year to break in a new saddle. Now with these plastic jobs you can ride away with a new one and hardly know it was there."
Ron was right. I rode 100 miles to Sleaford in what was left of the day, 140 miles home the next, and completely forgot I was riding a plastic saddle straight from stock.
I took the saddle with me to Paris but not the Condor Cadet bike which had served me well for several seasons. I was being "loaned" for a week to Lejeune Cycles, the friendly concern which always lends me a super road job for the annual Championnat des Journalists held at Montlhery. On hearing of my entry for Paris-Brest-Paris they offered to fix me up with one more fully clothed in the regulation mudguards. The bike, they promised, would be ready on the Friday afternoon 3rd September, three days before the start of Paris-Brest-Paris Randonneurs.
Here I should explain that there are two separate Paris-Brest-Paris trials held every five years, one immediately after the other. One, loosely called "Audax" attracted 330 entries and started at 4 a.m. on Thursday 2nd September, the day before my arrival in Paris. They were split into 17 groups, each under the control of a Captain whose job was to maintain an average riding speed of 25 k.p.h. (15.5 m.p.h.) with regulated stops for meals and sleep. All finishing inside 90 hours qualified for a medal. The same 90 hours standard was fixed for the big field of 328 Randonneurs who were due to start at 4 p.m. on Monday 6th September. In this there was no regulation speed, it was a real "mass start" and free-for-all, for although everybody finishing inside the 90 hours would get exactly the same medal, the times engraved on the back would be widely different. My own target was somewhere between 85 and 90 hours, but the first person I met on entering the Lejeune shop in Paris was a young man who hoped to be inside 50.
"This is Jean Richard" said one of the Lejeune twins "He was 5th in 1966 when only 19, and is one of the favourites this time. He is the top cyclo-sportif of the year. In the recent 600 kms (375 miles) trial, he found himself in the front after 50 kms, [and] decided to carry on and stayed there until the finish."
Cyclo-sportifs are, as I loosely described them after my 12-hours experiment at Chanteloup, hard-riding tourists. They are individuals, or members of clubs, affiliated to the Federation Francaise du Cyclo-tourisme. They can ride in a wide range of competitions from short hill-climbs to 600 km individual events, 24-hour team time trials, and mountain circuits in the Alps and Pyrenees. Although their Federation is affiliated to the U.C.I. cyclo-sportifs do not consider themselves coureurs, and like you to call their events competitions rather than races. Indeed one of the conditions of Paris-Brest-Paris was that the entrant should not have held a racing licence during the last three years, although an over-40 4th category rider would be accepted. In general cyclo-sportif events are contested on bicycles fitted with mudguards, while dynamo lighting and luggage carriers are also obligatory in certain trials.
Far from being types who have added mudguards and other gadgets to racing machines, it has often been the other way round with the cyclo-sportif the pioneer. The hard-riding continental tourist was using the derailleur gear 20 years before the racing man, he had double chain-wheels long before 'clangers' became fashionable in pelotons, and one rider in the 1957 "Poly" meeting at Chanteloup had a six block free wheel.
It is generally believed in Britain that any French youngster who fails to make the grade in road sport simply packs up cycling. Some do, of course, but many others fall in happily with the "cyclos" whose programme offers competition of a different kind where defeat is not a dirty word. In fact many events are rather like our British early season "100 miles in 8 hours" affairs in which the Social Secretary manages to scramble in with 7 hours 59 minutes 30 seconds and gets exactly the same certificate as the club champion who cruises round in 5 ½ hours--and probably more applause at the club dinner prize-presentation as well.
Cyclo-sprotifs are not all racing men who have failed. Some have done well at conventional racing but find the programme too monotonous. Others have never been interested in becoming coureurs, yet could have made the grade in the more publicised pelotons. One such is 24 year old schoolmaster Jean Richard who has never held a racing licence.
"Why not?" I asked him "I've heard about some of your exploits and you would obviously make a good coureur."
"The answer is simple" Jean replied "There are no races long enough for me. I like riding long distances on my own or in good company. As a cyclo-sportif I can get plenty of this in organised events. Last year I attacked the 2,200 km (1,375miles) record from Calais to Brindisi in the south of Italy, and brought it down to 123 hours. Yes the record is properly controlled by a sporting organization in Nice. Three weeks later I did 4,000 kms (2500 miles) in 14 days actual cycling from Paris to Cap Nord in Norway, 600 miles beyond the Arctic Circle. On the Italian trip I was on my own, but on the Northern job two friends went on ahead every day in a car and most nights we slept in a tent by the roadside. I rode the same cyclo-cross tyres--hand-made by a local man in Paris--I had used throughout the Brindisi ride and again didn't have one puncture. My friends in the car changed wheels six times!"
(May I now digress and bring in the name of a famous old-timer roadman Francis Pelissier, twice winner of Bordeaux-Paris and twice second? After his retirement he directed several riders to victory in the Derby of the Road which he knew so well and became known as "The Wizard of Bordeaux-Paris").
In the Lejeune shop Jean Richard and I were joined by the man I called "The Wizard of Paris-Brest-Paris", Roger Beaumann. He is another of those cyclists who would have made a very good coureur but for various reasons preferred the life of a cyclo-sportif. Roger won the 1956 Randonneur P-B-P and was well up in the finishing list in 1961 and 1966. This time he would be a non-starter having only just got back onto his feet after a particularly bad ski accident. He would, however, be waving his magic wand as Directeur Sportif to Lejeune riders and members of his club, the U.S. Creteil. (Although so thoroughly amateur in many ways and non-racing, the cyclo-sportif movement is not anti-commercial for major competitions.) Roger Beaumann is an old friend who I knew would be happy to give me, a harmless "rival", some useful tips on how to ride the marathon. In fact I found that I was on the list of riders under his direction! I had filled in my entry form as a member of the Colchester Rovers Cycling Club; on the list Roger had in front of him I was down as Union Sportive de Creteil.
"Yes, you are the third man in our team" he said I'll tell you about that later. For the moment I want to talk things over with Jean Richard. You go upstairs and see Jacquot. He's just finishing your bike."
I walked through from the shop to the busy warehouse and then upstairs through a door marked Service des Courses, the spacious workshop where Lejeune machines are prepared for battle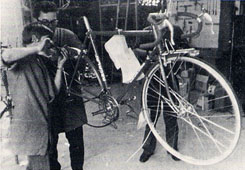 in amateur and professional road classics. It was marked "Strictly private", but I marched in boldly. Today Jacquot wasn't working for Hezard, Van Impe or Barry Hoban, he was working for me. [Click photos for captions, enlargements]
My bike turned out to be a red gowned beauty which, when stripped, would have drawn day-long whistles of admiration from Ghent to Wevelgem, from Milan to San Remo, or for three whole weeks between Mulhouse and Paris. But now her 22 ½ inch Reynolds-tubed frame was all dressed up, well-Brested in matching red Bluemels guard and regulation accessories, and a little splash of red, too, on the Normandy Record hubs and Super Champion Rims. And how daintily she was shod with a pair of 9 oz. Wolbers in the Italian style, called Transalpinos! I checked the Strong light 93 chain-set and found it as ordered, 50-42 and the Simplex Criterium gear delivering the Sedis chain on the 16, 18, 19, 20 or 24 teeth of the Cyclo free-wheel on receipt of orders from the down-tube control. There was a cute little bag carrier on the front, and at my request, Jacquot soon had one on the back as well. I noticed, however, that the rear Mafac brake was on the right as is usual with French machines, and found on checking my instructions that I had asked for it on the left.
"It doesn't really matter" I said I'm quite used to riding French bikes. I'll probably prefer the back brake on the right after riding 1,200 kilometers."
"Not at all" replied the courteous Jacquot The racing customer is always right. In any case, it was my mistake."
While he and his assistant were making the switch I ran my fingers round the outside edges of the rims. No bruises on these Super Champions! Jacquot grinned, and knew that I had read an interview he had recently with Daniel Rabour, Editor of Le Cycle. The subject of their talk was the dramatic accident during the 1971 Tour de France which put Luis Ocana out of the race when leading the unbeatable Eddy Merckx by eight minutes. It happened during a violent rain storm, Ocana being one of many riders whose brake blocks failed to grip the rim. The experienced Jacquot--who is the senior mechanic of the Tour de France--told Rebour that his riders had no trouble. They used smooth rims. He never uses rims with serrations of other "marks" which he says only form a reservoir for water and make it impossible for the blocks to grip properly in very wet conditions.
It was now time to produce from my travelling grip a few items which the bike still lacked. In two instances it was like taking coals to Newcastle since the saddle and handlebar bag which I had also picked up from Ron Kitching were both of continental manufacture. I strapped the bag on to the 17-inch wide Cinelli 'bars, while Jacquot fitted the Unica saddle to the Campag clip. I thought back to the days of 1946 and 1947 when we used to pack a Brooks B17 saddle or two in our luggage and name our price at the old Paris Velodrome d'Hiver track where riders fell over themselves to get hold of their favourite saddle which had been unobtainable during the war.
Now here in one of the best-stocked bike shops in France were a group of cyclo-sportifs getting right excited when I produced from my bag a regulation British Standards Ever Ready rear light. Nothing like it in France, they said. Would I sell it before going back to England? Would I bring a dozen next time I came? With the clip built on to the body of the lamp it was no problem fixing it although, having been designed for a cyclist riding on the left side of the road, it necessarily had to be placed on the wrong (for France) seat-stay.
Fixing the front battery lamp, however, was a different matter. I assumed that Lejeune's would have thousands of front-fork brackets in stock, but they hadn't one, and Jacquot doubted if I would find one anywhere in Paris except by chance. He had, though, a gadget for fixing to the "straight" of the bars, and here the Pifco was perched. It didn't really suit so well-dressed a lady.
This battery lighting was supplementary to the neat little Jos dynamo set operating from the back wheel. A dynamo is fine so long as you are riding at a reasonable speed. On Paris-Brest-Paris there would be times when the pace would be unreasonably slow and the dynamo dragging painfully, and times when one wouldn't be pedalling at all yet might need light desperately.
The preparation of the bike having been completed, it was now time to begin preparation of the rider. I went down to join Roger Beaumann at a desk deep in maps and schedules. It is always difficult for a man well versed in a subject to understand the ignorance of a novice. I found Roger way ahead of me in many matters. Indeed, in one instance he was 120 kilometers ahead, and in another a complete day!
"I think you'll be able to get to Morlaix before stopping to sleep" he said "But remember, no more than three hours! If you sleep longer you won't want to get on the bike again".
"Right" I agreed I've made out a schedule and I have planned to sleep at Morlaix".
"Good. After Morlaix you will only have 546 kilometres to go. I advise you to..."
"No" I protested, looking at my figures "After Morlaix there are 666 kilometres".
"No--546!"
"No--666"
Then I got the message. Roger was expecting me to sleep at Morlaix having already "turned" at Brest. I reckoned on having my three hours' sleep on the way out, and then going on to Brest.
"But what's the idea hanging around like that? Do you mean to go sight-seeing in Brittany? Are you going to stop at all the roadside buffets and try the local pancakes? Come off it--you can get back to Morlaix before sleeping. Here, I'll make you a schedule." Rapidly the Wizard stirred up figures with his wand.
"There you are--you'll get back to Paris by 9 o'clock in the morning."
Again, it was exactly as I had worked out on my own schedule. The slight difference was that Roger expected me back on Thursday morning while I had settled for Friday. According to him I would do the journey in 65 hours, while my target was 89, just one hour inside the qualifying time.
At this point I might explain something which was already beginning to dawn on me and had become plain long before the end of the adventure. Of the 330 entrants in this Paris-Brest-Paris Randonneurs probably 150 were out to cover the 755 miles in anything between 75 and 90 hours according to personal ambition or ability. The others were all set for what the French call "making a Performance" and Beaumann flattered me by supposing I was one of them--or was he just pulling my leg? Old friends do not fall out over such small differences of opinions as 120 kilometres and 24 hours, and Roger Beaumann gave me the broad outline of the Trial he knows so well.
"Everybody starts together and there is a right old tear-up at the front, I can tell you. Even if you don't reckon on making a performance it is useful to get in with a good group for the opening 148 kilometres (92 miles) to the first Control at Mortagne. There you must stop and have your Route Card stamped. At the Control you will find the U.S. Creteil car crewed by three of our members. They will have everything you have given them--night clothes, spare batteries, tyres, your own special food and drink.
"All helpers' cars have been officially registered, and can only help you at the Control. There they can look after you as much as you like, but they must then drive on ahead to wait for you at the next Control and not help you on the road--you would be liable to disqualification if they did. There is a restaurant at each Control and it sounds as if you are going to be a good costumer! But the chaps out to do a performance only stop to have their Cards stamped, grab a new stock of food and drink from their cars, change a jersey maybe, and are off within three or four minutes. You can of course, eat in a restaurant between Controls, but you must leave the bike outside in full view so that mobile officials will know where you are. There are sleeping facilities at the Controls, a bit rough and ready some of them, and some "tourists" like yourself stop at other hotels, but, again, must notify officials of such intentions. That's a side about Paris-Brest-Paris I don't know much about! The slowest riders have to fight to get to the Controls before the time limit expires. I expect my men to be there almost before opening time.
"Here's your jersey. Pretty isn't it? Same as the Lejeune pros. wear but without the publicity. Couple of spare tyres--you could puncture twice between Paris and the first Control at Mortagne. Be round here at 10 o'clock on Monday morning and give all your stuff to Monsieur Chambon who is in charge of the second U.S. Creteil van. Have a 50 kms ride to try out the bike on Saturday morning, but take a complete rest on Sunday."
" Right--but you promised to tell me what all this business is about concerning my transfer from Colchester Rovers to U.S. Creteil."
"Oh yes--well what happened was this. There are several separate competitions and on....Sorry, I'm wanted on the 'phone. I've had the call in for hours, and I'll be talking for a long time. I'll tell you about it on Monday."
So far as my week-end programme was concerned the Wizard and Wadley were in complete agreement, for that was the way I had planned it out. For this P-B-P adventure I had made my Headquarters in the north-east of Paris, diagonally opposed to my usual hotel in the 15th district. On Saturday afternoon I rode through side streets to the Porte de Pantin and on to the busy N3, or rather the bumpy gravel-strewn cycle-path alongside. The saddle height roughly fixed chez Lejeune, needed only slight adjustment; down a bit to compensate for the slightly longer cranks than the ones I used at home. I waggled the gear sticks around, remembering that with this Simplex I had to pull the right-hand one backwards to lower the gear instead of forwards as with the Sun Skitter which I had been using on the Condor for years.
Nearing Livry-Gargan--home of old-time world champion and Tour de France winner Antonin Magne--I turned off N3 and turned on the transistor which was tucked in the map folder on the handlebar bag. It was 3 p.m., and I was just in time to hear Robert Chapatte on Europe No 1 progress-reporting the world amateur road championship. No British names in the 5-minutes commentary, but I was pleased to hear that the lead was Bernard Bourreau the little Frenchman I had seen winning the Manx International in June. "Bourreau" means "headsman". Was he going to execute the opposition again today? I rode through Montfermeil and then on pleasant back-roads from Celles over the Marne to Torcy where I found myself on roads familiar to Charlie Cole, Dick Goodman and other British veteran riders who used to compete in the original Paris Grand Prix des Gentlemen race. Then I remembered a much more serious affair, switched on the radio again to find music fading out and Chapatte coming in loud, clear and excited. Lots had happened since his last flash. No mention of Bourreau. The Frenchman now in with a chance was Marcel Duchemin who was away with his Tour of Britain rival Den Hertog, but they were caught by....a heavy truck rattled past and I missed the names. I pulled into a quiet side road, sat on a gate in the sunshine to hear the dramatic account of Regis Ovion sprinting from the bunch to snatch the title.
On Sunday afternoon I watched the last hour of the pro. championship on T.V. in the hotel lounge, sitting next to an old lady who was not in the least impressed by Eddy Merckx. "Not a patch on André Leducq" she kept muttering "Now there was a rider..."
On Monday morning I rode the few kilometres to the Lejeune H.Q. where at 10 a.m. I found the Wizard Beamann waving his wands in all directions. He indicated the U.S. Creteil van where Monsieur Chambon was busy arranging things with his friends Baussant and Andichon, the latter's son being among the competitors. They were doing a good job turning the van into a combined kitchen, ward-robe, grocer's and workshop. Tyres, spare wheels, a primus stove, bidons galore, fruit, vegetables, tins of soup, a clothes line full of jerseys and track suits. Stacked at the back were half a dozen plastic containers, two of which had my name marked on them.
"Is that all you've got?" one of the crew asked when I had off-loaded half a dozen Mars bars, 10 packets of assorted fruit flavoured glucose tablets, a bag or two of boiled sweets, three spare 800 batteries for the front lamp and six U2s for the rear, a battery razor. It certainly looked a meagre stock compared with the containers which my fellow U.S. Creteil members had filled with bottles of fruit juice, tinned rice, home made cakes and other energy-giving foods of the kind you will find filling the boots of helpers' cars during British 12 and 24-hour time trials. In a separate bag I left a few spare clothes and shoes, while tracksuit wear for the night was hung up on a rail. There being nothing to carry in the front handlebar bag, I dumped that in the van, taking only two spare tyres and two plastic lightweight capes (one full length, the other of the short racing type) on the rear carrier.
Meanwhile Beaumann was rushing around supervising the loading of the larger Lejeune van in which he would be directing the activities of his riders out "to make a performance". This wasn't the place to ask superflous questions, but I had a shot:
"Why am I in the Creteil team, Roger?"
"Not time to tell you now, I'll explain at the start".
Bikes had now been somehow crammed into the vans. Soon we were creeping through thick Paris traffic to the western suburb of La Celle Saint Cloud to join the multitude in the starting area. There was plenty of room for us all in the huge car park of Montreal supermarket--an unexpected reminder that in a fortnight I would be off to that Canadian city and probably flying over Brest in the process.
In the middle of the sun-drenched parking were a number of official tables. Before qualifying to receive our " documentation" our bikes had to pass a simple examination, the main checks being to ensure that the lights were in working order, that mudguards were fitted, and that on the end of the rear 'guard two previously issued strips of luminous Scotchlite were fixed for additional night security. Then we signed on and received our Route Cards, number for the frame, and an additional strip of Scotchlite tape to pin on the back of our jerseys. My number, 339, had a little Union Jack painted on the top. Inside the Route Card was another friendly touch with a few typed words in English, a rough translation of three main Recommendations:
1) ON THE ROAD. The competitors have to conform in all points to the regulation and respect the dispositions of the "Code de la Route".
2) AT THE CONTROLS. The sharers must ask for a sign on their route card as soon as they are arriving at the control. If you stay in the control more than ½ hour, you have to ask for a sign on your route card before starting again.
3) IF YOU ABANDON. If you abandon, please warn or ask for a warning the controller the nearer of you abandon. Have a think for the controllers who are waiting for you vainly.
THANK YOU AND GOOD RAMBLE!
There was, however, no "start list", and the only way I could see the names of my fellow riders to Brest was by looking over the shoulders of the presiding ladies. With ten sheets of names to go through that would be a lengthy operation. I had read in the papers that there would be seven Belgians, five Dutch, three Spanish, three British and three Americans from California. One of the Britishers, it was reported, would be riding a tricycle.
I looked round the parking but not a barrow could I see. But prominent in a congregation of 200 machines with bags on the front and nothing behind were two bikes heavily laden with saddle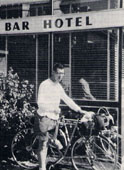 bags and rear panniers. My "suspicions" were confirmed on noticing that both frame numbers were also decorated by Union Jacks. I guessed that one of them belonged to a London clubman I knew well by name but had never met: Barry Parslow. I had seen his name with 400-plus totals in the finishing lists of British 24-hour time trials and also heard of him from Wizard Beaumann, for Barry Parslow of the Marlboro C & A.C. had ridden Paris-Brest-Paris in 1966 (Beaumann called him Parsluff). The other Britannique was George Davis of Portsmouth.
"I've heard that some mad Englishman has entered on a trike!" I said after we had introduced ourselves.
"Yes--I'm the madman" said Barry Parslow "But the frame of my barrow broke, so I'll have to ride the bike."
Back home on my "raids" to the Isle of Man, the Tour of the North, etc. many friends were astonished at the amount of luggage I carried around. Now I was on the point of riding to Brest and back on one of the lightest bikes in the world and with only spare tyres and capes on the back carrier, it was my turn to gasp on feeling the weight of Barry's bike and bulging bags. Wouldn't he like to dump some of it in my club van? No, he liked a bit of weight on the back, he said; it made the bike roll easier on the slopes, and there were plenty of them from here to Brest and back. In 1966, with about the same amount of luggage he had ridden the 750 miles (it was five miles less) in 70 hours and hoped to better this time. As for 54 year old George Davis, he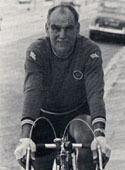 had half as much weight again, including a spare wired-on tyre and tube. He was used to carrying big loads on the back. He had about the same amount on his 2,382 miles round Britain 23-day tour in 1970.
George, too, declined my offer to ask one of the Lejeune vans to cart some of his stuff for him. He said that if he decided to pack up somewhere out in the wilds of Brittany he would be all set to go off on a more leisurely tour!
I looked around for the Americans, one of whom I felt sure would be Dr. Clifford Graves the enthusiastic founder of the American Bicycle Touring Society known as Huffers and Puffers. Although he was not aware of the fact, Dr. Graves had played quite a part in getting me on to the starting line of Paris-Brest-Paris. I first met him in August 1966 at the York Rally where he arrived, fresh as paint, after a 220 miles ride from London airport. His original plan had been to join in the C.T.C. ride from the West End of London, starting mid-night Friday, but this was abandoned when his delayed flight did not arrive until the party was setting out on the all-night raid. So Dr. G. found his way through an intricate pattern of roads from Heathrow on to the Great North Road and cheerfully pedalled to York on his beautiful little Rene Herse machine. He was then 60 years of age, and at York he told me his name was on the starting list of that 1966 Paris Brest Paris. It so happened that for professional reasons Dr. Graves was unable to start, but his example encouraged me to go ahead with my own plans for riding in 1971.
With the formalities complete, I joined our team for lunch in a nearby restaurant, presided over by Monsieur Marcel Lejeune who would be accompanying the Wizard in the No. 1 vehicle. New faces round the table included a mixed tandem pair from Lyon, M and Mme Rouget, and two Belgians. One in fact was The Belgian of whom Jean Richard had spoken with such admiration during our earlier talks.
"Herman De Munch is only a little chap, but he has boundless energy. He rode in the 1966 event without knowing much about the regulations or how to set about the job. He was about 14th, well down, at Brest, but finished like a train in fourth place".
I chatted with the 32 year old De Munck over lunch. Here was a cyclo-sportif who was far from being an unfrocked coureur. He had been good enough to move from the amateur to independant ranks and then ride as a professional with the Flandria team. But travelling all over Europe meant neglecting a promising business built up at St. Niklaas, between Ghent and Antwerp, and he retired from road racing, to re-emerge in due course as a cyclo-sportif. In the winter he kept fit with gymnastics and other indoor sports.
Back at the parking there was nearly an hour in which to complete our preparations before moving off a mile to the official starting place. I joined one of the half-dozen scrums around the ball-point pen of an official who was scribbling his name in the first panel of competitors' Route Cards. Then I sought another group surrounding the Guest of Honour who was to drop the starter's flag, Sir Hubert Opperman, alias "Oppy", winner of the professional Paris-Brest-Paris 40 years ago. With him was another well-known character Rene de Latour who acted as interpreter to the Australian in those far off days, and was now doing the same job again. I could only get a brief word with "Oppy" who had reporter's notebooks, cameras and microphones to deal with, but Lady Opperman told me that she and her husband were greatly enjoying the trip over from Malta where he is Australian Ambassador.
Ten minutes later "Oppy" dropped the flag and we were away at exactly 1600 hours on Monday 6th September...
Go To ---> Section 2 - Paris to Brest