["Brestward Ho!" is from J.B. Wadley's collection Old Roads and New, published 1972.
Below is the material from the first pages of Old Roads and New.]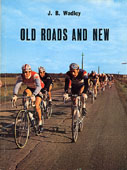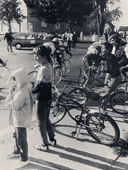 OLD ROADS AND NEW
by J. B. Wadley
Published by J. B. Wadley (Publications) Ltd.,
8, Harley Court, Blake Hill Rd., Wanstead, London E11 2QD
Printed by D. C. W. Penrose & Co Ltd., Ashford, Middlesex, England.
_______________
Preface
OMNIUM
The Road has provided the title of this book and I now call upon The Track to propose its contents. Unlike the promoter of a four-event track competition who selects a varied series of races to find the best-all-rounder of the field, I have made no deliberate attempt to present a special formula for this four-story Reader's Omnium. Variety crept in without my really being aware of it until the manuscript was completed. The "first event" features a personality who, during a long career, has played many parts on the international cycling stage, while the action of the last three items takes place in chronological order during September 1971.
Much of the action was across the Atlantic where the sport and pastime of cycling is bursting with life. I hope these pages will add to the pleasure of Canadian and American enthusiasts who, however, may not all be familiar with European names and expressions. Some of their questions might be answered by keeping a thumb in the Glossary at the back of the book. [2005 editor's note: I have not included the glossary in this electronic edition - with the internationalization of cycling since the early '70s, the "European names and expressions" Wadley refers to have became a part of common cycling vocabulary.]
J.B.W.
Richmond, Surrey.
March, 1972.
CONTENTS
I OUR MAN FROM MANHATTAN
II BRESTWARD HO!
III TOUR OF NEW FRANCE
IV THE NORFOLK BOARDS
Front cover photograph by Emmanuel Pagnoud shows Guido Reybroeck and Albert Hitchen leading in the Tour de la Nouvelle France. Monsieur Pagnoud of "Parisien Libre" also took most of the black-and-white and coloured pictures illustrating the Canadian story. My thanks, too, to "Miroir du Cyclisme" for permission to use many of Marcel Besson's fine atmosphere shots of Paris-Brest-Paris.
_______________
TO THE MEMORY OF MARIO COTTI
WORLD CHAMPION OF SPEAKERS
_______________