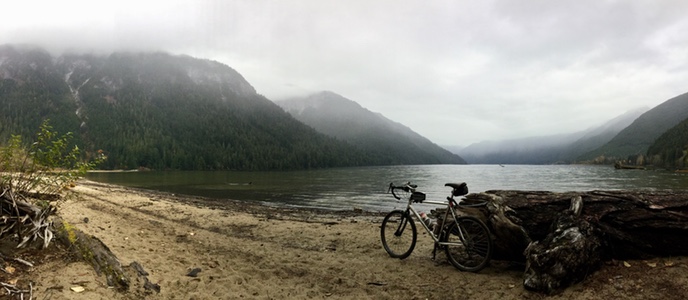 Journey of the Sorcerer (Chilliwack)
Permanent #201, 202 km
Ride date: October 24, 2019
by Mike Hagen
Once again, my ambitions exceeded my grasp. But I got the route done, and it was much fun, which is the important thing, eh?
I initially planned to ride the route counter-clockwise. This meant heading south from the start at Fraser Highway and Mt Lehman Rd and shooting east on Huntington/Vye the usual way out past Yarrow. I was going to head toward Cultus Lake then up Sleepy Hollow and onto the Liumchem Forest Service Road. Liumchen FSR comes out on the Chilliwack Lake Road at the bridge a couple kms east of the Tractor Grease Cafe. From there, I was heading all the way to the end of the Chilliwack River FSR at the south end of Chilliwack Lake, doing a spur up the Depot Creek FSR, then heading back to Foley Camp and hanging a right onto the Foley Creek and Chilliwack Bench FSRs. The Bench FSR climbs up the top of Elkview Road. I was looking forward to a long, swoopy downhill on the pavement from that point, then head back to the start via Yarrow, No. 4, South Parallel, and Marshall Roads.
But I had some rando pins to return to Karen, and I'd forgotten to do that at the AGM. I decided to take them to her in Chilliwack. Dave King had some pins to return also, so I took them. It then made sense to do the route in reverse so I could unload the pins sooner rather than later. So that's what I did. And a good thing too, as Karen gave me a ginger scone, with tasty hints of orange zest, still warm from the oven, it was so yummy.
But this meant I was once again climbing up Elkview Road from Bailey Road, a 9 km climb that gains 500 m by the time one hits the top at Lookout Rd. One can continue another 1 km up Lookout Road and gain another 100 m, and one can also detour via Ryder Lake and Huston Roads and add who know how much elevation because Ryder Lake Rd goes down before it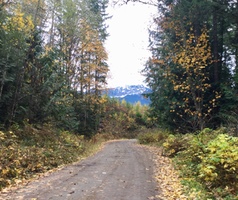 goes up again. That's what I did, because, reasons. Did I mention the 16% grades? Sometimes I wonder about my sanity.
Bench proved to be as nice a FSR as I've ever ridden. Packed smooth by traffic, except no traffic. Gentle gradients. Often leaf-covered, passing alongside Chilliwack River rapids. Did I mention no traffic? It was a great 20 km.
The Chilliwack Lake Road was quiet as the park campsite is closed for the season. The Chilliwack River FSR continues past the campsite and has sandier substrate than normal; it is packed as smooth as pavement, though ripply. The caveat is frequent pothole fields to slalom through, which slowed me down considerably. The Depot Creek bridge is blocked by a concrete barrier. Walkers and bikes can pass to access a good trail that goes another 2 km to the beach. Very nice!
The Depot Creek Road proved steep and rocky, very slow going. All-in-all, I was three hours doing the 30 km out and back past the end of the Chilliwack Lake Road. Back on pavement and zipping downhill, I decided I'd only ride Liumchen if I got to the turnoff by 4:00, as I didn't want to chance being on a deserted FSR after dark. I got to the turn-off at 5:30. So much for that! I was congratulating myself on a real fast return from Chilliwack Park as I passed through Abbotsford. But why was it dark? Well, 50 km out of 202 on gravel, and 2000 m of climbing makes for a long day.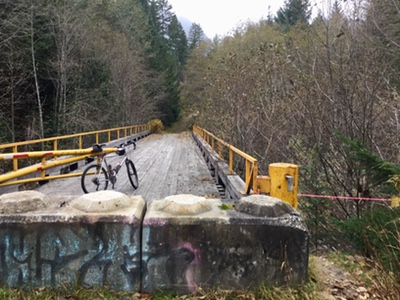 ---
Go to: Permanent Results
Go to: Event Page (Database)
October 29, 2019