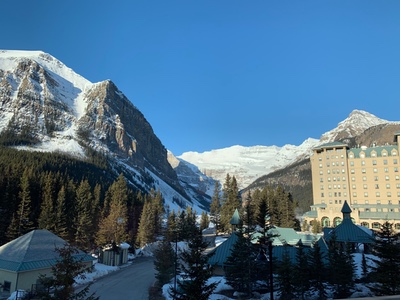 2019 UCAN Ride4Kids
Ride dates: April 26 - May 4, 2019
by Jaime Guzman
It was the ride of a lifetime: over 1000 Km of riding across the mountains and valleys of BC to raise awareness and funds for childhood arthritis. But it was the people, more than the scenery that made this trip memorable.
The ride started in the Rocky Mountains in Alberta and proceeded along Southern BC to culminate in Vancouver on Star Wars day ("May the fourth be with you").
UCAN, by the way, stands for Understanding Childhood Arthritis Network, an international network of researchers, clinicians and families seeking to unearth the biological basis of juvenile arthritis to better personalize treatment and eventually find the cure for this disease. The ride started at the conclusion of a UCAN research meeting in Lake Louise on April 26th, 2019

Stage 1 – A bright start
(Lake Louise to Banff)
Under clear skies and magnificent views of the Lake Louise Glacier an intrepid group of riders representing Canada, Germany, Italy, Mexico and The Netherlands started the 2019 UCAN Ride4Kids.
Attendants to the Childhood Arthritis and Beyond Conference enthusiastically bid farewell to the riders and after an inspiring speech by David Porte, Chairman of the Board of Cassie & Friends, we got started.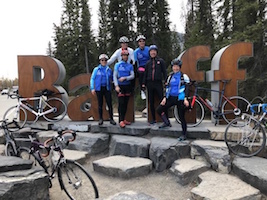 After a tactical stop at the Lake Louise Village bike shop to set the equipment right, the 60 Km route on the Bow Valley Parkway was breathtaking and lend itself to multiple photo ops. We arrived in Banff safe and sound and with time to debrief the conference and the ride as we shared adult refreshments.
Special mention goes to Alessandro, who despite a last-minute decision, a type of bike that he had never ridden before and the initial freezing descent into Lake Louise Village went on the complete the whole Stage with no problem.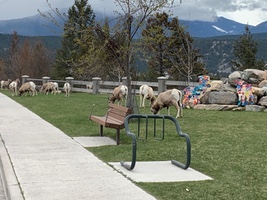 Stage 2 – Snowed in
(Banff to Radium)

What a difference one day can make in mountain weather, after a balmy and sunny first stage the next day we wake up to 30 cm of snow and -2 degrees. It was clearly unsafe to get on the road so we had to change plans for Bas and Klaus. Instead of riding to Radium they spent the day in Banff and head back to the Calgary Airport.
After a few hours, the road cleared enough to ride but after 20 Km it started to snow again and I had to call it quits. It was a very messy 20 Km for bike and rider. So, we hunk down, had a soak in Radium Hot Springs and enjoyed a rock/country band at the local pub.
 
Stage 3 – Biting more than you can swallow
(Radium to Creston)
Radium to Creston was to be the largest stage of the ride with 255 Km of ups and downs. Skies were clear but with headwinds. By the time night came after 210 Km and with many large trucks speeding by, it was time to call it a day in the metropolis of Yack, population 500.
The day was utterly enjoyable (this shows how much of a masochist I am) and Rick and I had a very good time with brief exchanges at rider-support stops along the way. I rode my old steel randonneuring bike and as usual she did not disappoint: steady and reliable you can trough anything at her and she will get you there no matter what.

Stage 4 – Not quite a walk in the park
(Creston to Castlegar)
I wouldn't call it a walk in the park, but stage 4 was beautiful and manageable: 177 Km of Rolling hills by the Kootenay Lake and the Kootenay River except for one sharp climb before Kootenay Bay and one gradual climb out of Nelson.
Besides the beautiful scenery, the highlight of the day was the excellent cappuccino at the Lady Bug cabin before boarding the ferry and the fact that there is such a thing as a free ferry ride in BC. Being used to the costly ferry rides on the coast, I kept waiting for them to charge us for the ride. No such thing, they just got us across the lake and waved good bye!
We arrived at Castlegar with enough time to get lost and found, check in at our motel and have a meal at the local pub, before going to bed early as the following day promised to be really tough.
By the way, the motel we reserved was clearly less than what was advertised, but we did not have the heart to reject the room, it was ran by an immigrant family with a young boy trying to make a honest living.

Stage 5 – Losing it to the passes
(Castlegar to Osoyoos)
And the score was: Jaime 2, mountain passes 1!
I sub-estimated the toll Paulson Pass would take (a 35 Km climb straight out of Castlegar), and by the time I had negotiated Eholt summit (between Grand Forks and Greenwood), I had no fuel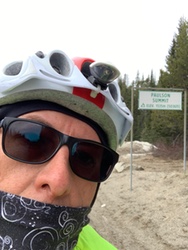 left in the tank to tackle the Rock Creek climb just before Osoyoos. So, at the end, Stage 5 was a 168 Km day from Castlegar to Rock Creek with 6000 feet of climbing.
We got up at 5:00 am and it was a really hard day on the saddle with some mechanical problems (a loose bike crank). But the people were remarkable: Rick was waiting for me at the side of the road by Christina Lake when a lady and a gentleman walking by, who judging by their clothing barely could get by, asked what the ride was about and reached deep into their pockets for their last 5 dollars to donate to Cassie and Friends, for the kids they said. They continued walking by the side of the road and wave me luck as I rode by. The same had happen to us while waiting for the Ferry the day before, upon learning of the reason for the ride a lady handed us a 10 dollars donation "for the kids".
As planned, in Osoyoos we met three great riders from Calgary that would bike with us the rest of the way to Vancouver.

Stage 6 – Rescued by the cavalry
(Osoyoos to Princeton)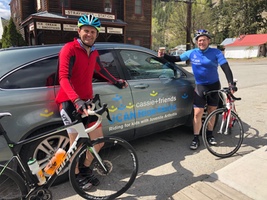 This was the day that all those miles of riding that started in Lake Louise caught up with me, but reinforcements (Paul, Tim and Bob) arrived just in time.
We started promptly after Tim and Bob drove to Penticton to drop their rental car. During the climbing out of Osoyoos my legs would not respond; so I decided to take things at my own pace and waved the other riders to go ahead. The views of the Similkameen valley were amazing and the ride by the river going into Princeton was one of those false flats that seem to go forever.
Somehow, I managed to fight the head winds into Keremeos where we re-grouped for lunch. After that, my three amigos insisted in taking turns at the front and pulled me all the way to Princeton. That was a blessing that allowed me to save precious energy so I could get all the way to Vancouver.

Stage 7 – A true Canadian road trip
(Princeton to Harrison Mills)
No road trip in Canada is complete without at least one section of highway construction and at least one stop at a Tim Hortons.
Half of the 25 Km up to Sunday Summit were being re-paved but the construction crews lead us on fresh asphalt and out of traffic. On the other side of the summit, Manning Park was astounding and seen all that greenery, I felt I was coming back home. Yes, the Rocky Mountains are spectacular, but I love my green, thank you very much. The loose crank attacked again and I decided to switch bikes to my true and tested purple Vitali.
After a descent into Hope that seemed to last forever and put a smile on the face of every rider, I had my "obligatory" stop at the Tim Horton's. Just outside Timmy's we had another spontaneous donation: it really warms your heart.
Heading "beyond Hope" we came across a picture-perfect view of the Fraser River with a post-card mountain background. But no, we did not take a picture, just recorded that image in our minds forever.
The final stretch into Harrison Mills was again relaxing (for me) while my three amigos did all the work. Heading into the last hill before the Sasquatch Inn, a 2 Km climb that hits 12% at times, the glove was dropped and they competed fiercely for the polka dot jersey. It was just a bit of adrenaline to conclude the day and head to the Pub where a 5 de Mayo party was in full swing. After saying "Salud!" with a sip of good tequila it was time to call it a day. A great 186 Km ride.

Stage 8 – A broken crank, but an unbreakable will
(Harrison Mills to Vancouver)
Remember that loose crank that kept giving me trouble? Well when a proper bike mechanic checked it out before the last day of the ride it turned out it was not loose, it was broken. Good thing I switched to my old bike when I did!
This was a day full of many feelings and emotions that I struggle to put into words. Today I completed this epic ride with an overwhelming feeling of gratitude:
-Gratitude to all the kids and families who came to show their appreciation and support at the Start in Lake Louise and Harrison Mills, and at the Finish in Vancouver.
-Gratitude to Abby for her hand-drawn Go-Go sign; and to David, Jennifer and the extended family at Cassie and Friends, for their inspiring words and all the work of organizing the ride.
-Gratitude to Rick who despite his own health problems drove support for the whole week, and to all the riders who raised funds and joined the ride in Lake Louise, Osoyoos and Harrison Mills.
-Gratitude to all the friends who helped marshal the troops for the day; in particular to my three new amigos, Tim, Paul and Bob, and my three long-term amigos Robert, Edwin and Darren. They ensured everybody was safe and nobody was left behind as we found and lost our way thru Saturday mid-day traffic.
-Gratitude to the staff at the Sasquatch Inn, Velofix and the staff setting up Start and Finish lines and the riders' registration.
Today it was abundantly clear that I am part of great families at BC Children's Hospital, Cassie and Friends and a large cycling family at both Glotman Simpson and BC Randonneurs.
Today, all of them showed an unbreakable collective will to make things better for children with arthritis.
Thank you all from the bottom of my heart.
Jaime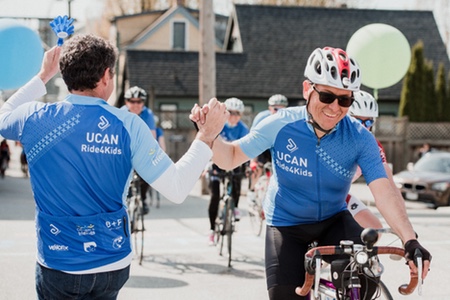 ---
Go to:
UCAN homepage
May 12, 2019