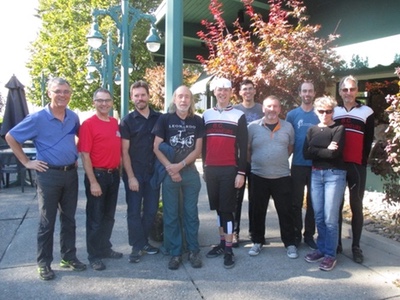 2016 AGM - 2017 Executive Committee
Event: 2016 Annual General Meeting Brunch: October 2, 2016
by Eric Fergusson

Here's your freshly elected 2017 BC Randonneurs Executive Committee. Left to Right: Stephen Hinde, Colin Fingler (Secretary), Jeff Mudrakoff, Jacques Bilinski (Treasurer), Chris Cullum, Étienne Hossack (President), Will Danicek, Nigel Press (Vice President), Cheryl Lynch and Peter Stary. Missing: Jodi Caddick, David King, Darren Maclachlan and John Oswald.
Many many thanks to the two out-going Committee members who have worked tirelessly as Regional Brevet Coordinators: Mike Croy (Vancouver Island) and Bob Goodison (Southern Interior). And a special note of appreciation for Andy Reimer who has served capably as President for the past three years.
Thanks also to the 155 volunteers who were acknowledged at the AGM. Some will have received their pins at the AGM. As for the rest of you volunteers, the pins are rolling to you. Also acknowledged at the AGM were the 75 volunteers who made the Rocky Mountain 1200 run soooo smoothly.