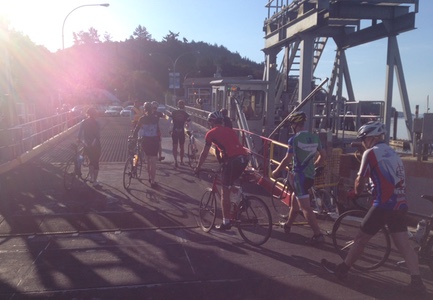 Photo: Dave Campbell
Salt Spring Surprise 300 - An Invitation
by Holland Gidney

Ride date: Saturday, July 16, 2016
Start Time: 7:45 a.m.
Start Location: Fulford Harbour Ferry Terminal, Salt Spring Island, BC
Finish Location: Sidney, BC
Pre-registration: RandoPony
Greetings, Randonneurs!
Last year, I challenged myself to create a brand-new 200-kilometre route incorporating Salt Spring Island. That brevet started with 80km on Salt Spring with the remaining 120km taking place on Southern Vancouver Island. (Yes, this involved taking a 35-minute ferry ride mid-brevet -- with the clock ticking!) My attempt to include roads not normally ridden by randonneurs resulted in a very hilly route (David White actually accused me of trying to kill him with all the climbing!).
For the Salt Spring Surprise 300, I've included 20 km more riding on Salt Spring and made an effort to take riders to some different corners of the Island. Doing more mileage on Salt Spring also fits better with the ferry schedule and gives riders more breathing room when it comes to making control time cutoffs.
With the ride starting at 7:45am, the fastest riders could catch the 10:45am ferry from Fulford to Swartz Bay but I expect most riders will be on the 12:15pm ferry, though you could also take the 2pm ferry. In any case, the 35-minute ferry crossing is a chance to rest your legs before tackling the remainder of the ride.
The second part of the brevet takes riders along favourite randonneur roads from Swartz Bay to Deep Cove to Brentwood Bay to Langford (via Prospect Lake Road & the Galloping Goose) to Sooke to Shirley (hopefully you'll arrive before Shirley Delicious closes!) to Sooke to East Sooke to Metchosin to Colwood to Victoria (along the E&N Rail Trail) before picking up the standard waterfront touring route and eventually connecting with the Lochside Trail (and preferred paved detours) for the home stretch towards the finish in Sidney. It's a more straightforward route than the second half of last year's brevet and has the benefit of including fewer hills and passing through a number of urban areas where you can get food, etc.
You can preview the brand-new route for the Salt Spring Surprise 300 in two parts on Ride with GPS (note: some changes will be made before the brevet so don't plan on using the GPX files for navigation!):
Part 1 - 100 km on Salt Spring Island: https://ridewithgps.com/routes/14611650
Part 2 - 200 km on Vancouver Island: https://ridewithgps.com/routes/14702978

Thanks and please let me know if you have any questions. Pre-registration through RandoPony. Hope to see a good turnout on July 16 for the inaugural Salt Spring Island Surprise 300. If anyone would like to do a full or partial pre-ride of the course on July 9/10, please let me know!
Additional details:
The organizer will be taking the 7am ferry to Salt Spring from Swartz Bay and it's expected that registration for most riders will take place on the ferry, though you also have the option of overnighting on Salt Spring and meeting us in Fulford Harbour. The ferry is scheduled to arrive at 7:35am but the official start time is 7:45 am in case the ferry is late arriving. A return-trip on the ferry costs $12.60/passenger + $2/bicycle but if you use a BC Ferries Experience Card, the passenger fare is just $8.15 and your bike is free.
Parking is available at the Swartz Bay ferry terminal – if you park in the "Long-term parking area" the cost is $12 for 24 hours. Another option is parking in Sidney and riding to the ferry terminal (a flat 6.5 km).
---
Go to: Event Page (In Database)


June 27, 2016