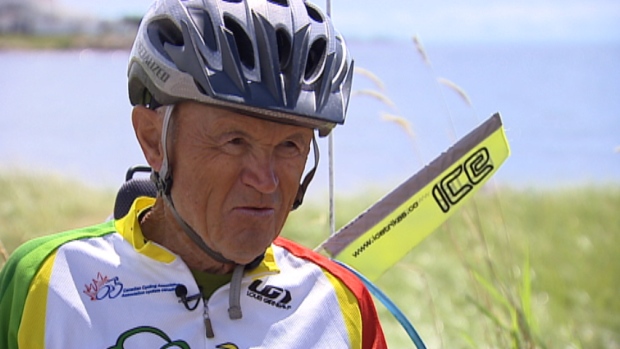 Dan McGuire Featured On The Vinyl Cafe
Podcast of the Vinyl Cafe episode on CBC Radio featuring Dan's Cross-Canada Ride(s)
Story by Stuart McLean based on an account by Tara McGuire

Dan McGuire is one of the original four Canadian Randonneurs who completed Paris-Brest-Paris in 1979. Dan went on to complete two more PBPs. Many, though, will know him as one of the people who nurtured our sport in British Columbia from its beginning in 1979 to about 2003. More recently he has become known for continuing to ride despite having Parkinson's, and this is the subject of the Vinyl Cafe episode. It was taped in Chilliwack and aired on CBC Radio 1 on February 28, 2016.
Extraordinary story teller Stuart McLean gives a engaging account of Dan's remarkable journey, which I understand was based on a letter sent to Stewart by Dan's daughter Tara. The link to the podcast below is to the whole show. You'll enjoy the music from "Said the Whale" but If you want to fast forward the part about Dan, it starts at the 22 minute mark. EF
---
June 17, 2016