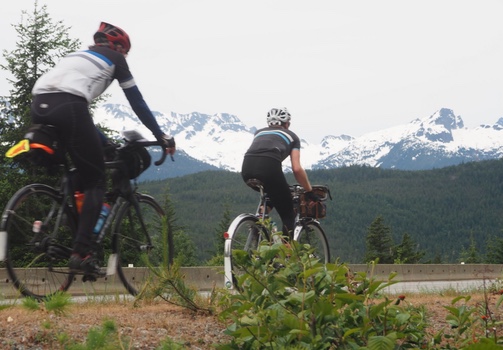 Chris Cullum and Peter Stary on the Sea to Sky Highway
Photo: Bob Koen
The Ups and Downs of the Spring 400
Callaghan & Pemberton Valleys 400, May 21
by Will Danicek

22 riders assembled at the familiar parking lot in Vancouver for the 6am start that would take them north to the Pemberton Valley. The weather did indeed look promising for the event, with only a smattering of rain for the later finishers to deal with. Bob Koen got some great pictures as we drove up the Sea to Sky, both on the 99 & Callaghan Valley Rd. Paul van Wersch managed to get his controle set up at the top of the WOP climb, the gate was unlocked at about 10am, it was worth the extra effort to sample his fine, home baked Paris B's most riders thought.
We set up a road side bbq, as Bob told a motorist passerby, at the turn around point on Pemberton Meadows Rd that seemed to be well received by the field for them to eat, rest, & re-hydrate for the return journey to Vancouver.
There was one abandonment, Francis Hopcraft had called me around 9pm from a sushi place in Whistler on his return. After a nice meal he decided to skip the lumpy bumpy cycle back to Vancouver. He was in good spirits and I look fwd to hearing his story about his ride,
A well done for Jodi Caddick on completion of her first 400.
All in all it was a tough brevet. On behalf of Dave K and myself congrats to the starters, I'll have to ride this one as a permanent to experience it.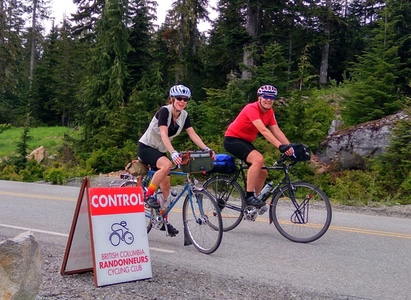 Jodi Caddick and Maciej Szarecki at the route high point - Whister Olympic Park control
Photo: Paul Van Wersch
---
Go to: Results
Go to: Bob's Photos - Paul's Photos - Will's Photos
Go to: Event Page


May 23, 2016