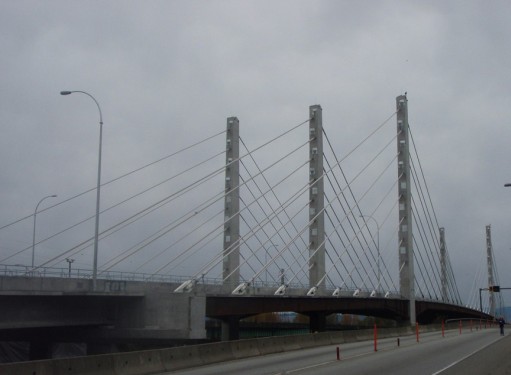 New Bridge
Photo: Alex Pope
Our favourite octogenarian, and bridge expert, went for a ride today...
10,000 km Man
by Harold Bridge
I was in need of 81 kms today, Oct 25, to finish off the CKAP month with 10,000kms for the year.
I got home with 82kms.
On Mariposa at 08:30, I felt it was early enough to ride down Coast Meridian Rd, with both rear lights aflashing, & head east on #7 to ride across the new Pitt River Bridge that was to be anointed later today by BC Premier Gordon Campbell.
(He could earn brownies points by opening the Bridge by riding his bike across?).
Relatively early on a Sunday, it was a breeze. The east bound shoulder is quite wide, I think 2m.
But what happens once the interchange convulsions are complete I don't know.
Of course, Sunday morning is not the right time to judge commuter concerns.
Global's early morning weathercast from Christie Gordon warned of rain, but when wasn't too clear.
I got home with 82 kms (and numb hands) at about 13:15, just as the rain started.
Only need 1,999 kms by Dec 31 for my 12,000km year. Weather dependent I think. (Who do you think I am; Bonner?)
---
Photo note: Alex Pope was also at the new bridge on Sunday morning. He was on hand for the ceremony with the Premier. Here are more of Alex's photos.
October 25, 2009