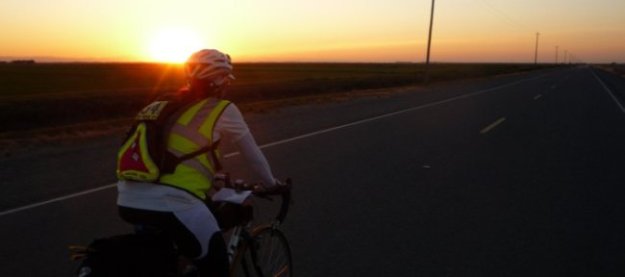 All's well that starts well
Tales from the 2009 edition of the Gold Rush 1200 km Randonnée
by Bob Koen
105 riders gathered in Davis California in early July for the third running of the Davis Bike Club's premier event, the Gold Rush 1200K. It was the Rocky Mountain 1200 that first attracted me to Randonneuring, and of course PBP that soon took my fancy when I learned about the sport. But it was the Gold Rush and the now defunct Boston-Montreal-Boston rides that wound up next on my must-do list. 2009 was the next running of the Gold Rush so I was quick to sign up when the registration opened last winter.
After the usual introductory speech and admonitions about places that require extra caution from Dan Shadoan, the ride organizer, we set off into the cooling temperatures of early evening. The first and last 100 miles of this ride are flat as a pancake so fast times to the first control at Oroville were expected. Even though it was fully dark for a couple of hours before arriving at Oroville this turned out to be one of my fastest century rides ever. It was an excellent opportunity to put time in the sleep bank. That time would come in handy later on during the 16,000 feet of climbing and remaining 350 plus kilometers of riding between Oroville and Adin where the organizers recommended taking the first sleep break. I even passed Ken Bonner at one point during this stretch; something that I don't do very often. Of course, he was riding solo and I was hanging on for dear life in a 42 km/h paceline behind a tandem at the time.
| | |
| --- | --- |
| Innovative attachment system. | Same rider, not expecting rain. |
Shortly after leaving Oroville, and also shortly after midnight, the road turned up for the first significant climb of the ride, a 2000 foot gain to Jarbo Gap. I usually don't climb very well, but I was quite surprised by how quickly and thoroughly I got dropped by the folks that I was riding with. Manfred in particular was feeling strong and disappeared up the road leading a pack of strong riders. I dejectedly watched the taillights disappear into the distance and continued plodding up the hill. I even had to get off and walk the final part of this moderate 6 percent grade. This was getting to be a long ride and it had only just begun. I finally reached the top and headed down the long descent on the other side. Part way down I noticed that my rear tire was soft. I stopped to investigate the rear wheel to see if I could find an obvious piece of glass or wire. What I discovered instead was a broken spoke and a wheel rubbing against the brake on every revolution. No wonder I was climbing so poorly. I got out my spoke wrench and proceeded to try to true up the wheel by headlamp. I hoped to make it round enough to get to the next control. By then it would be dawn and I would be able to see well enough to do a proper job. The road was nearly devoid of traffic so I didn't worry too much about the fact that I was at a spot where there was a stone guardrail preventing me from getting more than a foot off the edge of the road. I worried a lot more about my position when a pack of riders came around the blind corner above me and swerved out into the traffic lane to avoid me and the two other riders who stopped to help - the group swerved right in front of a logging truck that was following them and was accelerating in preparation for passing. The truck braked forcefully and managed to slow down enough that the whole scene sorted itself out and nobody got hurt. I immediately decided to stop what I was doing and get the hell out of there. By now I had managed to make the wobble in my wheel much worse. The wheel was now rubbing on the chainstay. I unhooked the rear brake and rolled on down the rest of the descent and ambled along the gentle grades of the Feather River canyon for a couple of hours, stopping occasionally to pump up the rear tire. Eventually I came to a tunnel that was brightly lit and had a small pullout at the entrance. Now I had enough light to see properly, and a safe space to work. So I got out the spoke wrench again and this time managed to do a better job of straightening my wheel. After that I rode on, and then stopped for the final time a few kilometers from the Tobin control to pump my tire for the last time. This time when unhooking the pump the valve stem pulled out of the tube and I was forced to finally change the tube. Fortunately dawn was finally breaking and I was able to see what I was doing.
I had been trying to hurry along and save doing the repairs properly until reaching the next control so that I could prevent anyone from waiting for me for too long. I had tried to send messages up the road with passing riders to alert Manfred and Kitty that I was OK and that they should go on and not wait. When I finally got to the control Manfred was there but Kitty had gone on. I quickly got some breakfast while Manfred trued up my wheel as best he could. Manfred had been at this control for two hours by the time we finally left.
The rest of that day was spent riding up the beautiful Feather River canyon and then up into a really neat circular valley that had farms and a couple of small villages. It was a Shangri-La sort of place, very pastoral and completely ringed by mountains. It was now early afternoon and the day was getting quite hot. The start had been done in the early evening to avoid the extreme heat of the lowlands, but now we were at 3000 feet and the mercury was still heading towards 100 degrees Fahrenheit. All of the locals were telling us how lucky we were to be getting such cool weather. We made a quick stop at the Taylorsville control for lunch. It was here that I finally caught up to one of the sag wagons that had been cruising around the route with a few spare wheels on the roof rack. The driver did indeed have a spare Campy 10 speed rear wheel and swapped his good wheel for my still wobbly rear one.
A few hours of slow but steady climbing including the occasional steep bit finally brought us to the high point of the route at about 6000 feet. Below us lay the much discussed Janesville Grade, a very steep drop of nearly 2000 feet into the high desert country of the Eastern Sierra. I was very happy now to have a true wheel that allowed me to have well adjusted brakes. It was still a white knuckle descent, one that I interrupted half way down to chat with another rider who had had a rim failure, likely from excessive heat from braking all the way down. That rider also ended up with a replacement wheel from the sag wagon and finished the ride.
We finally arrived at the Susanville control at 6:30 in the evening. 24 1/2 hours from the start and 409 km distant from Davis. The ride organizers made it clear that the first sleep stop should be at the next control at Adin, another 108 km and several thousands of feet of climbing farther north. Both Manfred and I knew that it would be better for us to rest and recuperate here, and then ride through the night with fresher legs and cool weather than to try to push on in our current depleted state. So we got a shower, some food, and 3 hours of sleep. Then we headed out into a beautiful full moon night where we had the road pretty much to ourselves. The ride was glorious and pretty uneventful until we got close to a water stop at the halfway point near Eagle Lake. My chain started skipping badly, making me wonder why mechanical difficulties always seem to happen at night. I managed to limp into the Grasshopper water stop, hoping that they would have some chain oil there. Of course they didn't, but another rider came in shortly after who did have some oil with him and he graciously shared it with me. The oil did the trick and the rest of the night ride into Adin went well, except that the temperature plunged to near freezing around dawn. The temperature had plummeted from 97 degrees Fahrenheit in the afternoon to 34 degrees by 4 in the morning. By then we were rolling down a gentle 25 km descent into Adin so we didn't even get to work hard to keep our core temperature up.
When we arrived at Adin we were suddenly back in the thick of things with many riders having breakfast and getting ready to head out. Most were somewhat the worse for wear because the Adin control had been overloaded with weary riders and did not have nearly enough cots for everyone. Many riders ended up sleeping (or trying to sleep) on the floor with cycling jackets for blankets. Our decision to stay in Susanville with more comfortable and more plentiful cots seemed like the right decision. Plus we got to enjoy the night ride, rather than struggle through it at the end of a very long day.
We had some breakfast and headed out into the early dawn over Adin Pass and on to the next control at Alturus. This was a beautiful stretch of less traveled road through some really nice mountain country and then down into high farming and ranching country. About halfway to Alturus we turned off onto an even more secondary road that had some serious roadbed issues. Every few metres to every few hundred metres there was a crack across the road that was the full depth of the surface material and extended all the way across the road. Each crack was a jarring experience to ride over. If they had been longitudinal cracks they would have presented a serious safety hazard to bicycles, but since they were transverse cracks they were merely annoying. Along this stretch or road I started seeing a large number of roadkill snakes. It was quite remarkable how many there were. Some looked suspiciously like rattlers, and one fat boy was nearly as thick as my wrist. It was somewhere around here that I decided that there weren't going to be any ditch naps happening on this ride.
We rolled into Alturus around 10 am and enjoyed a second breakfast. The food at this control was particularly good, but there was too much of it to sample it all. The day was heating up again so we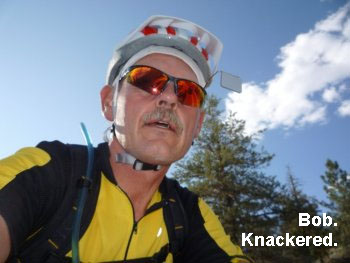 made haste with the food and got back on the bikes. The next control was 30 km away at Davis Creek. This was the turn around control, but was in fact more than the turn around point. A couple of shortcuts on the way back meant that we were turning around at the 620 km point. On the way to Davis Creek we saw most of the riders who were ahead of us. In fact, we saw most of the riders on the ride. We weren't quite the lantern rouge yet, but we weren't exactly in the breakaway group either. We saw Kitty here riding with Gary Baker and stopped to talk briefly with them. Gary told us that his dream was to ride in together with us from Oroville back to the finish. They were only about an hour ahead of us, but try as we might after that we never quite managed to catch up with them. We chased for the next day and a half to make that happen, but never quite managed to make it.
Davis Creek was a wonderful place. Here there were more fantastic volunteers and more fantastic food. This control was set up in the parking lot beside a convenience store/restaurant and GRR was running a tab. We went inside with instructions to get whatever we wanted. What we wanted turned out to be Hagen Daaz ice cream to complement the sandwiches that the control staff made for us. A quick turn around ensued and we were back on the road to Alturus. At Alturus I had my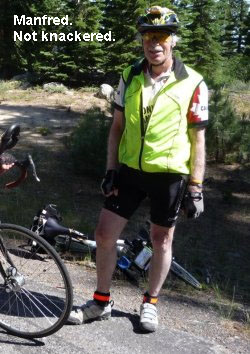 third breakfast of the day. Iron man Manfred then chatted with other riders while I recharged my brain with a 10 minute nap. Then we took off into the heat of the day and rode past many dead snakes and over countless deep transverse road cracks, over Adin Pass, and back to Adin. My chain started skipping badly again on Adin Pass. When we got to Adin we had some dinner and decided to rest there, rather than push on the 108 km to Susanville. I set to work to see what was wrong with my chain before sleeping. A helpful control worker assisted me and we replaced several links that were skipping using a spare length of chain that I was carrying. Then we got an hour and a half of sleep in the now nearly deserted control.
When we got up we found that we were now the official lantern rouge riders of the Gold Rush Randonnée. The control closed when we left a 11:15 pm, now with a little less than an hour on the clock. But the night was again beautiful and the road was completely deserted. After a full hour of riding up the long gradual ascent out of Adin we had not seen a single vehicle. Manfred turned to me and said "You know, they must have built this road just for us. I wonder why they made it so wide though. We don't need this much room". Shortly after that my chain decided to act up again and fell apart. The section that I replaced back in Adin must not have been properly connected. Out came the chain tool and another episode of midnight bicycle maintenance ensued. So far every night of the ride had featured a mechanical incident for me. The chain went back together and we continued on into the night. It turned out to be another fine night for riding through the high desert under the full moon. Again it got quite cold as the dawn approached. More giant rollers culminated in a long descent into the rising sun and the Susanville control. Here we briefly saw Kitty and Gary as we arrived and they were heading out. I settled in for a half hour nap while Iron Man Manfred, who doesn't seem to need much sleep, went to a restaurant for breakfast.
After my too short nap I rode on for 20 km and caught up to Manfred at the foot of the much feared Janesville grade. Manfred disappeared up the road ahead of me and I slowly ground upward until the incline got too steep for my sensibilities. I hopped off and hiked the steep bits figuring that it was just about as fast as riding, and was definitely easier on my joints and connective tissues. When I got to the top I found Manfred waiting in the shade. My bike computer at this point showed a maximum grade of 36 percent. This can't possibly be accurate; it was probably less than 20 percent. But it did stay steep for quite a long time. It was really nice to get to this point since we now had a 6000 foot descent ahead of us over the next couple of hundred kilometers. After that was 140 kilometers of pancake flat rice fields to the finish. Staying ahead of the clock was not likely to be a problem from here on out.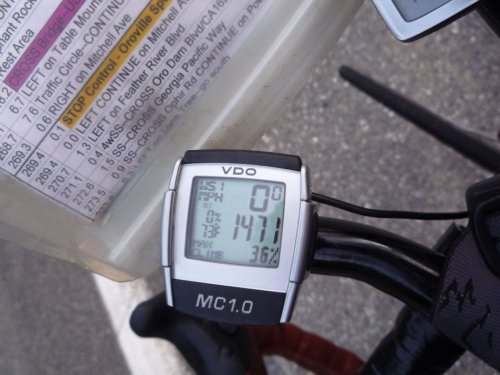 The road was steep in places.
We rolled on down into the heat for the rest of the day. Brief stops for food at the controls at Antelope Lake, Taylorsville, and Tobin brought us to the final climb of the ride, the Jarbo Gap. This turned out to be a lot of fun because the gentle grade of the road made the climb fast, even with our depleted energy levels after three days on the road. Soon enough we watched the sunset from the top and descended the final 2000 feet down to Oroville. Here we found most of the riders near us in time getting ready to ride through the final night. Kitty and Gary had just left. Not us though. True to our form for the whole ride, Manfred and I settled down for a short sleep while everyone else pushed on. This sleep didn't work out all that well due to being too short and on uncomfortable mats. I slept for about a half hour. Then we headed out at 1:15 am into the last night ride of the GRR.
This night ride was made more interesting by an escort that we got about an hour into the ride. On the first night we had been chased by a big dog near the town of Gridley. The dog was quite fast but didn't do anything more than run along beside us. We found out later that the dog did bite one rider that night. The rider lost some time going to the hospital to get checked over, and then modified his plans to stop after doing a 1000 km ride because he didn't want to ride past the dog again. Meanwhile the police were unable to find the dog to get it checked for rabies. The dog was easy to find on the last night of the ride though since it was out chasing riders again. As we approached Gridley we were stopped by a sag vehicle driver. The driver explained the situation to us and instructed us to ride beside his vehicle while we rode past the home where the dog lived. The plan was to run interference for us. But by this point this fellow was upset enough about this particular dog, and about the owners and the police's obvious indifference to the safety of the riders, that he intended to run over the dog if possible. It never came to that as we rode peacefully past the home. The dog was sitting quietly on the lawn next to its owners, all watching us ride by. All this at 2:30 am.
The rest of the night was uneventful. The road was long and flat, but now the average speed was much less than it had been the first night. Nevertheless, we watched our fourth and last sunrise of the tour from our bikes, not that far from the finish. We finally arrived at the end in Davis at 9:40 am some 87 hours and 40 minutes after leaving. It was certainly nice to be off the bike at long last.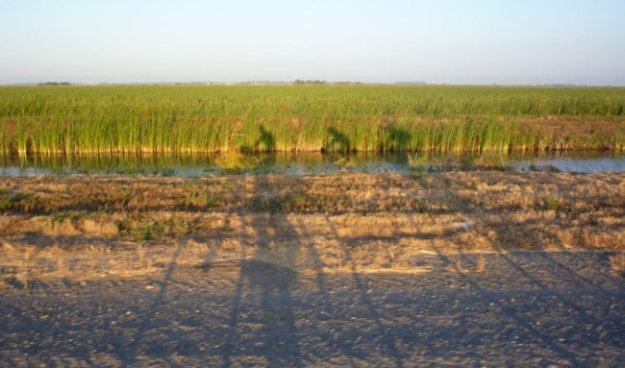 Riding through the rice paddies on the 4th morning.
I took my borrowed wheel off my bike and replaced it with my original wheel. There were 5 wheels in the final control that had come off of bikes during the ride and been switched for good wheels by the organizers. I had never seen this done at a 1200 before. I am sure that it saved the ride for some of us. My wheel might have lasted, but I was very glad that I didn't have to do the fast descents with a relaxed rear brake to accommodate a wobbly wheel. Many thanks to the GRR organizers for this thoughtful and beneficial service.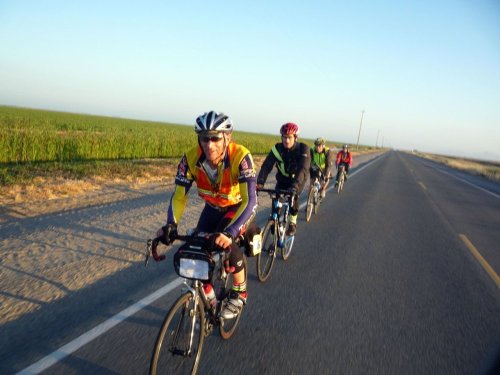 The final road to Davis
We just had time to check into our motel room and get a shower before the windup party began at noon. Most of the riders had been in Davis for quite a few hours more than we had, so a good time was had by all. I nearly fell asleep. Iron Manfred didn't seem to be sleepy at all.
Final thoughts
This was a wonderful and very scenic ride. It turned out to have some really unique riding compared to what we are used to here in the upper left part of the continent. The organization and rider support from the volunteers was first rate. All of the riders were treated very well and made to feel quite special. A hearty thank you goes out to all of them.
As the governator of the state of California has been known to say - "I'll be back".
---
Ride dates: July 6-10, 2009
Go to: Results
Go to : Gold Rush Randonnée - Home (external link)
All photos: Bob Koen
August 5, 2009