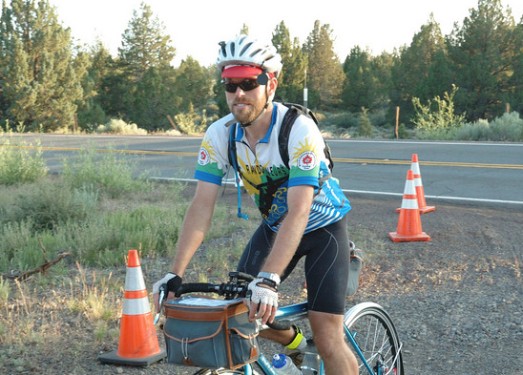 Jeff Mudrakoff cruises through his second 2009 1200km
(photo: Don Bennett)
BC Riders at Gold Rush Randonnée
by Eric Fergusson
I'd like to echo Cheryl Lynch's discussion forum message congratulating the BC riders at this years GRR 1200 km, July 6-10. Here they are:
Gary Baker           86:13
Tracy Barill         74:57
Ken Bonner           62:40
Barry Chase          74:57
Bob Koen             87:40
Manfred Kuchenmuller 87:40
Jeff Mudrakoff       76:58
Jerome Lavigne was down there too, but was out early - I haven't heard the story on this.
In another forum message Bob Koen reminded us that Andy Sorenson from Alaska and Henk Bouhuyzen from Toronto are also club members this year, so congratulations to them too:
Henk Bouhuyzen       73:00
Andy Sorensen        74:00
Henk Bouhuyzen completed EdHell Week in April which establishes his BC "residency" for the Iron Butt award. Henk has now done two 1200s in addition to the hell week and his local Ontario brevets, so look for a high placing from him on the 2009 Iron Butt list.
The 2009 results on the GRR site were particularly difficult to make out this time around. I made a text file from the the GRR results file that I hope people will find easier to browse. I also added the 2001 and 2005 results. Follow the results link below or the link on the next page.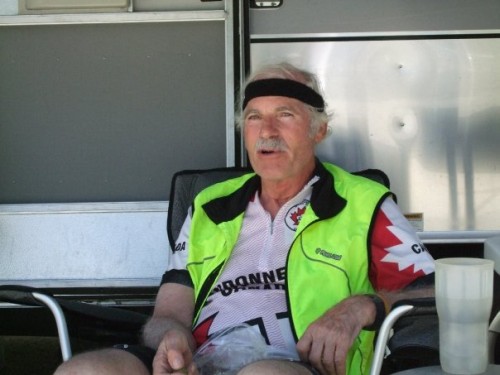 Manfred !
(photo: Peter Noris)
---
Go to: Results
Go to: Photos etc. (on GRR site)
July 28, 2009