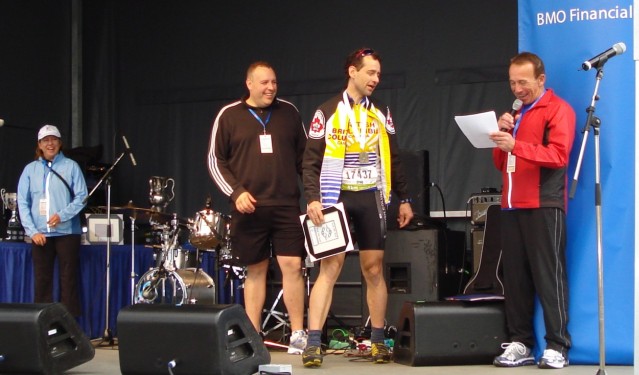 Long-time BC Randonneur Craig Premack had a 3rd overall finish (1st in age category 40-49) in the 8 km run attached to the Vancouver Marathon (May 3). The message excerpts from Craig (below) were from personal messages to me, not intendend for this public viewing. (Hope he doesn't mind.) On May 3 he rode to the start, did his run, picked up his prize in his stylish BC rando soft ware!!!, and then rode home. Some of you will have seen Craig helping out at the finish of the Canada Day Populaire, and also taking photos of the finishers. [Eric F]
Craig's 8km
by Craig Premack
I always opt for the shorter distances - so many runners my age tend to just trashed themselves. In the name of fitness? I don't mind spending a few hours in the saddle, but you just can't coast when your running. So I ride to town, do the 8k, get the duathlon style workout.
Always intimidated at the start lining by guys with 'ironmen' tattooed on their calves, I move back. After a couple hundred meters I start picking them off. At the end, I get ready to ride home and stop to have a look at the results... I really thought there was a mistake.
---
Another message, same day:
I'm off to Osoyoos to compete at the national long distance triathlon championship. I'm planning to not drown in the swim...
July 2, 2009