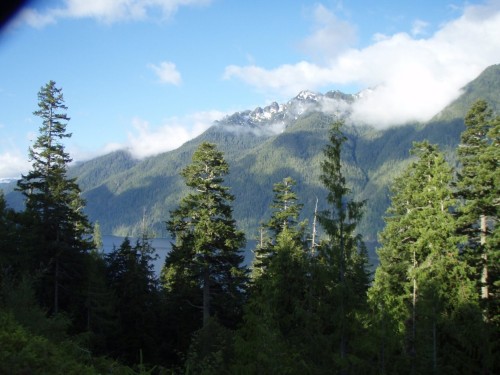 Near Nimpkish Lake
Photo: Ken Bonner
Hare & Tortoise 1000
by Ken Bonner
Both Mark and Cris worked hard to stay motivated to move forward and complete this difficult brevet. It was Mark Ford's 1st 1000k brevet. Major motor vehicle accident closed Hwy 19 at Nanoose Bay which held up Cris and Mark for at least an hour. Ken Bonner was interviewed by CHEK TV at Union Bay about the 200k mark.
---
Weather: Mostly sunny and warm during the day with some spotty showers on Saturday. Cool at night between Woss and Port Hardy.
Volunteers: Graeme Sheeley and Dave Macmurchie – Excel programming for route sheets and control cards.
June 25, 2009