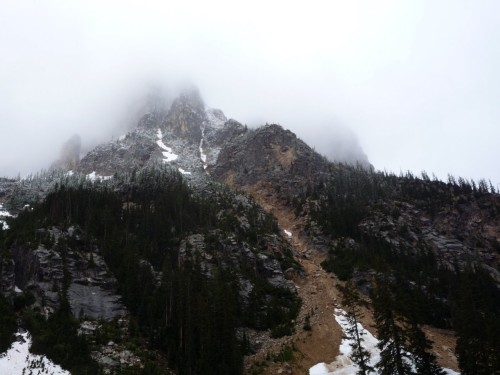 Washington Pass
Photo: Bob Koen
(Click)
South Okanagan / North Cascades 1000
by Deirdre Arscott
As ride organizer of both the spring LM300 and LM1000 I would like to point out that riders give their best when they show up for my events - no DNFs for either event! For the June 20 LM1000 nine starters and nine finishers! That's the best present you can get!
It was a thrill to see David Gillanders put in a strong ride and finish his first ultra (and at 77!). Manfred, who just had a hernia operation five weeks ago, rode steadily and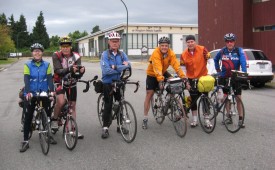 had no problems. He kept muttering "I used to be stronger". Don't worry Manfred, once you recover a little more from that operation, you'll be as strong as ever. The three rockets, Peter Stary, Nigel Press and Alex Pope had earlier start times. It was also Alex's first finish in an ultra - congratulations! - and a fast time! Alex had an adrenaline boost from a rattler in the middle of the night and did descent from Washington Pass in the dark. Peter and Nigel fought through strong headwinds in the Methow Valley and were rewarded with father's day breakfast in Twisp at the Fraternal Order of Eagles, a free meal for Peter as he is a father and just $5 for Nigel. The other riders, Tracy and Barry had enjoyable ride apart of the bone chilling descent off Washington Pass (one degree and rain). The field was rounded out by the "fab four" (Bob, David, Manfred, and Deirdre) riding sweep. Again the hardest part was the cold, wind and rain at Washington Pass but the temperature had risen to three degrees by the time that we got there! My muscles tightened in the cold and wet and my normally stable bike got twitchy (or maybe I was shivering?). I was scared.
In Princeton we were lucky to be fed by the Bob and Patti Marsh. The food was delicious! Stuffed pasta shells, juice, fresh fruit, and to top it all off, breakfast wraps to take to our motels. It was wonderful! Thank you Patti and Bob! The six of us riding at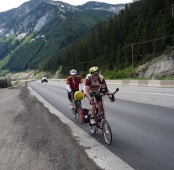 the back also arranged for food at our second night stop, the Mazama Country Inn. As we arrived after closing time, they left the door open for us and they left dinner, portabella stir fry with Thai Peanut sauce on rice, and a BIG bag lunches for us in the rec room fridge, both delicious! A nice place with comfortable beds and extremely helpful staff. I'd like to go back and spend more time. If you are ever going through there I'd recommend it!
The scenery was varied and beautiful - the lush Fraser Valley, the orchards and ranchlands, dramatic mountain passes of the Coquihalla and Cascades, the beautiful Methow Valley and coastal vistas along the Chuckanut, and, to top it off, for us last nighters, the joys of Surrey at 1 am!
Thanks to all the riders for putting in such a good effort and hope to see you on another adventure.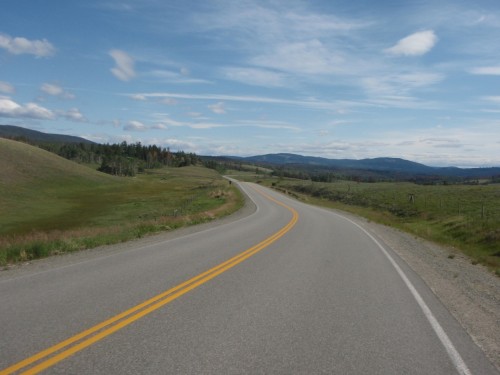 Photo: Alex Pope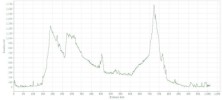 Profile: Alex Pope
Go to: Labled Profile (flickr)
---
Go to: Results
Alex Pope's MotionBased Route/Ride Details
Alex's flickr Photos
Bob Koen's Picasa
Weather: Mixed, windy, cool.
Volunteers: Bob LePage registered the 6am riders. Bob and Patti Marsh, Princeton control
June 25, 2009