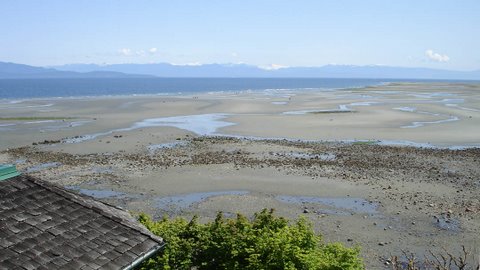 Ultimate Island Explorer 2000 km
June 6 - 13, 2009
Rider Updates from Cheryl Lynch, Ken Bonner, Brynne & Mike Croy
Page maintained during ride by Doug Latornell
---
Riders' progress: Day 1, June 6
from Cheryl
[From Cheryl] Keith just called. They left at 3 AM, back at 9 PM, total riding time 15:19, distance 343 km, average speed 22.4 km/hr, max speed 75.5 km/hr, 3971 m elevation gain, 4% average and 20% max. Mostly overcast, light favourable winds, temperature 12-18 C. Eric had one puncture. Yutaka beetled off at turnaround in Port Renfrew, had a hot date back in Victoria :) I made that up, something about getting back early enough to get a shower and not wake his friend up. Lots of deer, a couple of rabbits, a couple of bears.
---
Riders' progress: Day 3, June 8
from Cheryl & Ken
[From Cheryl] Keith called just after 2 PM from Tofino today. Eric just behind, achilles hanging in there. Yutaka was hit by a woman parking, outside the police "shop," and was at the clinic, and bike has damaged back shifter so they're looking for parts in Tofino.... Not sure what it is, assume Shimano, but may be 6 or 7 speed, since his bike is old. Weather is cool and overcast. Today they started at 4:45 AM. They already saw the daily bear sighting plus a really cute little spotted fawn, stranded on the opposite side of the highway from it's mother, but a mountain biker was going to escort it to safety - somehow?
Yesterday they rode from 4 AM to 10 PM, covered 336.5 km, with 15:07 riding time, average speed 22.7 km/hr. 3514 m of elevation gain, average grade 3%, max 12%. One bear. Temperature range from 10-27 C.
[From Ken] I last spoke with Yutaka Moriwaki about 9:30 pm tonight (Monday, June 8th). After being struck by a "little old woman driver" in Tofino, dealing with the police report, checking his medical condition and determining that his rear STI shifter was damaged so he could only use one rear cog; and that no bike store was open in Tofino or Ucluelet, Yutaka decided to continue riding back at least to Port Alberni. He arrived in Port Alberni in good time and discovered along the way that he actually had 5 or 6 gears that worked.
In true, gritty randonneur fashion, Yutaka is thinking of by-passing the bike stores in Parksville, Courtenay and Campbell River. I think he does not want to lose any more time, and, if it is working, why fix it?
Post-script to Cheryl's postings --- I think the altitude gain measurements being referred to are metres, not feet. This ain't a flat route! [Ed: Altitude gain measurements have been corrected above.]
---
Riders' progress: Day 4, June 9
from Cheryl
[Cheryl Report 1 - 7:36 am] On 8-June they left Parksville 4:30 AM, back in Parksville 11:15 PM, 351 km, 15:57 ride time, average speed 22 km/hr, max speed 95 km/hr, 3290 m (he realized it can't be feet!), average elevation gain 3%, max elevation gain 14% (is this just on hills or for the whole ride, so if there was net down would it be a negative number?)
Ken called with a message from Yutaka, who had called him at 9 PM from Port Alberni, saying his shifter was working enough that he had 5 gears on the back so he would be starting Day 4 and if neccessary looking for a bike shop in Courtenay.
Keith had called me from Port Alberni around 8 PM so Yutaka didn't lose too much time. Seemingly, he wasn't badly injured in the accident. Ken said his spirits were good.
[Cheryl Report 2 - 10:29 pm] They left Parksville at 5:15 am, got out to Gold River at ?, where Keith had a bit of excitement, applying lube at the control where the bathroom was out of order and the receptionist came around the corner, then almost left without his control card and had to go back. Back to Campbell River at 9:45 pm, with a nice tail wind back from Gold River. Spitting distance from a big bear at one point. Peacock in Qualicum Beach.
Total ride time 13:27 for 303.6 km, which included visiting 2 bike shops in Courtenay, average speed 22.5 km/hr, max speed 77 km/hr, altitude gain 2292 m, average climb 2% (this is only when ascending), and max 11%. Temperature min 12 C, max 31 C (much nicer than last year).
Tomorrow is the big day 400 km, with little cell coverage. So the update will be Thursday. They hope to finish Thursday night.
---
Riders' progress: Day 5, June 10
from Cheryl
[From Cheryl] Keith and Eric in at Port McNeil today at 4 PM after 80 km of headwind so looking forward to some "turbo-assistance" going south.
---
Riders' progress: Day 6, June 11
from Brynne, Cheryl, Ken & Mike
[From Brynne] Just wanted to let you know that I heard from Eric this morning. He called at 8:45-ish to say that he and Keith were leaving Campbell River and projected to be in "this evening" around the same hour as we sent them off. I suppose that's technically tomorrow morning but feels more like this evening if one hasn't yet stopped. Yutaka had already left Campbell River when I spoke to Eric, we expect him closer to this evening proper.
Eric seemed pleased to be on the last leg of this journey but replied honestly when I asked him how it was going. "It is hard" was all he could muster.
[From Cheryl] Sounds like yesterday was tough. Long anyhow, they left Campbell River at 4 AM, into Port McNeil at 4 PM, back into Campbell River at 2:45 AM today, 18:57 riding time over a total of 400 km, for an average speed of 21.1 km/hr. Max speed 67.5 km/hr. Climbing 3472m, with average 2% and max 9% grade.
No bears but one animal at Roberts Lake which Keith thought was a very large dog (with some roadkill), so as he rode past he said "nice dog," but Eric is certain it was a cougar. Keith also had trouble shooing a myopic bee off the mouthpiece of his hydration system. It was attracted to the orange drink bits, at a stop at Sayward.
As Brynne says, they left Campbell River for the last leg at 9 AM. Yutaka was planning to leave at 5:30 AM.
Today they met up with Jeff Schlingloff and rode for ~25 km chatting into Courtney for lunch.
[From Ken] Yutaka Moriwaki, from Japan, just finished the UIE 2000k about 9:45 pm. this evening, in a very fast finish of 5 days 18 hours 45 minutes.
This is a fantastic achievement given that Yutaka was struck by a vehicle in Tofino (approx. 850 k into this 2000k brevet). Fortunately he was not seriously injured. However, his rear STI gear changer was damaged and initially he only had one rear gear to propel himself forward. Undaunted, Yutaka made his way back to Port Alberni and along the way found he could use a few other gears. He decided not to stop for repairs and continued on with the brevet. Yutaka commented that it was very tough riding from Parksville to the finish in Victoria (there are some significant hills in this stretch of the brevet).
Congratulations to Yutaka for showing true randonneur grit by overcoming misfortune and continuing to ride strongly to the finish.
As of this morning, Keith Nichol and Eric Fergusson were a few hours behind Yutaka and expected to finish sometime in the wee hours of this coming morning (Friday, June 12). Apparently, Keith took his 'good' camera along, so I am guessing that with Eric as photographic director, and Keith as the photographer, we will see some stunning photos of the UIE 2000 scenery. Don't tell Cheryl and Sian, but there are rumours that Keith and Eric visited a significant number of pubs along the way, so we might see more interior photos rather than those of the natural beauty of Vancouver Island. :-)
A great piece of work by all 3 intrepid randonneurs!
[From Mike] Keith and Eric officially finished this morning 3 minutes shy of exactly 6 days at 2:57am.
Congrats to all 3 of you.
[Keith's elevation gain total: 19031 m (62438 feet) over 6 days.]
---
Organizing Team:
Ken Bonner - Ride Orgainzer
Start & Finish Controls - Brynne & Mike Croy
Dave Macmurchie & Graeme Sheeley – Route Sheet
Top photo from Ken's pre-ride
_