Harold's First Girlfriend...perhaps
by Staff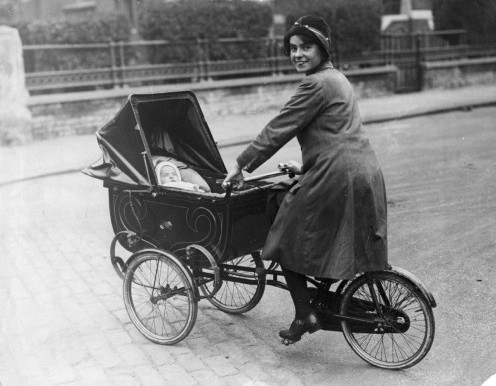 (click)
I couldn't think of a good reason to include this wonderful 1926 photo on a site about marathon cycling, except that it is Harold related, kind of, and we're celebrating Harold at the moment because his bike is being featured at the up coming exhibition at the Vancouver Museum:
Velo-City: Vancouver & the Bicycle Revolution
June 4 to September 7, 2009
According to Harold Bridge, the girl in the pram (not on the bike): "perhaps counts as my first girl friend". Her name was Violet Armond. Additional (from Harold): "Her father, Frank Armond (born 1888), record breaker & administrator, was known to take his daughter on club runs in this."
[EF]
May 26, 2009