Dave and friends pre-rode the Highway to Hell 400 on the Island on May 9.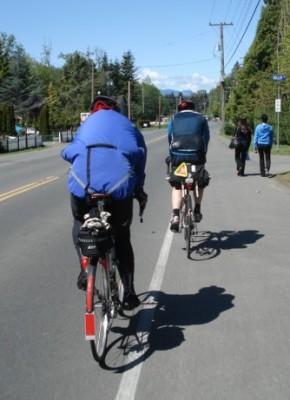 Dave & Mark en route
Photo: Brynne Croy
400 kms - ye gods !
by Dave Macmurchie
It isn't, or wasn't to me, immediately obvious how many deities may choose to involve themselves in a brevet, but the Highway to Hell pre-ride started to give me some clues.
There are some obvious ones, of course: sunshine is always nice, and on Saturday May 9th, Apollo was in fine humour, at least by the time Brynne Croy, Mark Ford and I got to the top of the Malahat, having left the friendly confines of the Ravine Way Timmy's at about 03:00. We continued in fine style to Cassidy, where we were delayed by a puncture to my rear tire, dealt with routinely. This was clearly an omen that ought to have been given more attention, because perhaps a modest sacrifice, possibly the libation of a double-double, might have prevented later disappointments, but that of course is all hindsight.
At Nanaimo, Aeolius made his appearance, naturally presenting us with a headwind. But he was apparently conflicted that day, electing to irritate sailors as well as cyclists, and seemed content to keep the breeze light enough that it wouldn't be useful to the nautical fraternity. So while we did work a little harder on the way up to lighthouse country and Union Bay, it could have been much worse. And wonder of wonders, once we had lunched at the heavily fortified and under-staffed Union Bay Market, the wind god maintained his opinion that a northwesterly breeze was the going thing and we actually had it on the tail as we set out on the return legs of the ride.
But here, alas, the sensitivities of the lesser-known gods made themselves felt. Who knew there was a god of bicycle tires? Evidently there is, and he was not pleased at lack of attention earlier, because he smote Brynne with a flat almost immediately. Since up to that point I had maintained my usual firm grip on the lanterne rouge, we agreed that the sensible thing was for me to continue on and Mark and Brynne would deal with the tire and catch me up shortly, which would be much more fun that waiting for me at the tops of the hills.
It turned out, though, that this was not a simple puncture, but a catastrophic sidewall failure, which would have finished things immediately if not for a folding tire that Mark carries. This required more manipulation and allowed the breakaway to survive to Nanaimo, where it was inevitably reeled in just before dusk. We set off together on the last 100 kms, but the vengeful tire god was not done yet - he once again took it out on Brynne just north of Cassidy, and that put a very unfortunate end to her day, and what had up to that point been a very strong ride. So the sag wagon was called in, and Mark and I continued south into the evening, lured by the prospect of chili at Tim's in Ladysmith.
By the time we got to Shawnigan Lake, which is home for me, I was feeling pretty ragged and it's a good thing that I had Mark for company, because the temptation to stop at the house for forty winks might just have done me in. But we carried on, which called for a good deal of patience on Mark's part since by then I was reduced to grannying up anything more than about 2%, but at least I could justify my existence by knowing the local roads! The run down the Malahat was less harrowing than I had feared and we eventually got back to the Ravine Way Tim's just about 24 hrs after leaving - pretty slow, but still the fastest 400 I've done to date!
May 11, 2009