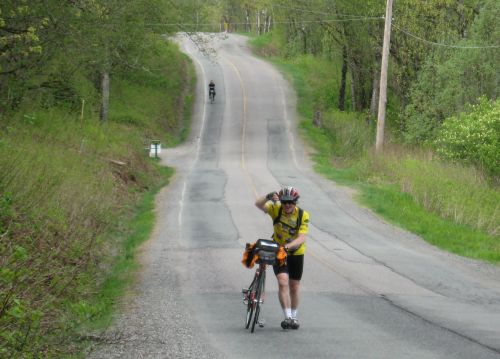 Brad Maguire enjoying the 19% grade on Thornton Road
Photo: Deirdre/Bob
Ryder Lake 300 Report
Mainland, May 2
by Deirdre Arscott & Bob LePage
First of all let me thank the capable and enthusiastic volunteers who staffed the controls and the finish. They did an excellent job!
In general, the route was relatively flat but it included a few stinkers! A section on 8th Ave at 17%, Thornton Road, a long climb with a few sections of 19%, some short snappers out to Sasquatch Park and of course the Agassiz Agony didn't seem too bad after Thornton Road!
Forty riders started in fine weather which lasted most of the day and evening and included a tail wind on many sections including, can you believe it, Nicomen Island? Of course those Easterlies brought rain, buckets of it, and the last riders arrived cold and soaked to the skin.
The ride organizers, who sat on the Thornton Road hill encouraging the riders, heard nothing but shit and abuse from the faster riders. Some of the comments: "Sadists", "I hate you, I hate you, I hate you!", "Cruel", "Assassins!", "Shit, shit, shit", "Lovely". Mostly there were grunts and heavy breathing. Strangely the slower riders didn't complain. Maybe they were quietly planning revenge for a later date?
Andy Reimer arrived at Ryder Lake Farmer's Institute with two spokes ripped completely out of the rear rim. It looked like his day was done but Bob drove him to the Vetter bike shop where he bought a new (and very expensive) wheel to complete ride. He said that the letters DNF would NOT be seen beside his name.
No one got lost. No injuries. All forty riders finished and all the pre-riders finished! Great job everyone!
---
Go to: Ride Results
Go to: Ride Photos
May 4, 2009