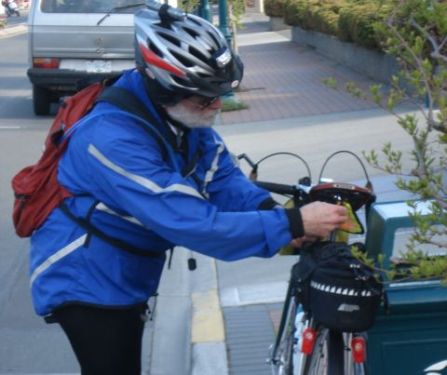 Dave looking fresh, earlier in the ride...
Photo: Mike & Brynne Croy
Hills Are Your Friends, Dead or Alive
Island Spring 300 - April 25
by Dave Macmurchie
Someone told me, "Hills are your friends …" but late Saturday evening I was thinking that on other occasions I'd also heard, "With friends like these, who needs enemies?"
There didn't seem much very friendly about the climb up Gillespie from Roche Cove, despite the fact that it was at least a little familiar - I'd done it a couple of times before, but not in the dark and not with 270 kms already behind me, and part way up I got the distinct impression that if I didn't dismount voluntarily, Isaac Newton might soon deliver the ultimate indignity. So I got off while I could and walked a few steps, only to find the silence of the East Sooke wilderness penetrated by a distinct abrasive sound - a dragging brake pad no less!
Now I am not going to claim that this was the sole reason for my exhaustion, and besides which it ought not to have been amiss - I'd taken some care, I thought, to adjust my brakes before setting out on the Hills Are Alive 300, having been warned that they might come in handy descending Munn Road (and they did, too). Still, it's remarkable what a little spark can accomplish, so I flipped off the brake release and remounted, convinced that climbing would now be a breeze, and who uses brakes anyhow? Ettore Bugatti has been quoted on that topic to the effect that he made cars to go, not to stop, so why should a geriatric cyclist feel any different?
While not exactly a breeze, climbing did become possible, most probably because of improved outlook, so completing my first 300 started looking likely, provided I could remember to recommission my front brake or negotiate a stop with my rear brake only. And so it was - after fortifying myself with a significant mocha at the relocated Colwood Timmy's, I finally got back to Victoria West and allowed Lindsay to head to his well-earned rest at about 00:45 Sunday morning.
I suppose that after 250 kms and a couple of kilometers of climbing a guy's entitled to feel a little tired (although there seem to be some annoying exceptions), but still, I'd felt really good at the Duncan turnaround, so I was a bit taken aback at my complete lack of energy on the last leg. I'd been warned about this, and thought I'd taken heed, but maybe not adequately; certainly this was not helped by the lack of civilized dining in Sooke after 21:00.
This brings into contrast two excellent pieces of advice that I received before the ride: (1) be sure save some energy for the last 50 kms, and (2) be sure to take a break for a good rest and some good food in Sooke. I'm obviously going to have to improve considerably before I can bring both desiderata into coincidence! As it was, we were reduced to a coffee at McD's, where I opted for the cooked spuds and dried fruit I had in my pack over a burger and fries. I still think it was the best choice, but a real meal would have hit the spot. So I propose that the club acquire a burger bus as a secret control vehicle, but provision it with good nutritious fare instead of fat bombs, so that it could be stationed at places like Rocky Point Road (and the west side of Shawnigan Lake) on future brevets!
So a mixed outcome, and perhaps just the right one - satisfaction at having done a difficult ride, and at having finally broken the 200 km barrier, but with a little disappointment about having limped home - certainly a good cocktail for encouraging future endeavours. Bring on the Highway to Hell!

---
Go to: Ride Results
Go to: Ride Photos
April 28, 2009