Multi-Tasking
by Harold Bridge
Perhaps my Multi-Tasking would improve if I had a sex change.
The fact is I am in the process of improving my house, & that does impact upon my cycling.
Monday 23rd, I was supposed spend screwing, er, down sub-floor.
But I looked at the disgusting transmission on the Mariposa, checked with the chain gauge & was thus informed it was at 50%.
Time for a new chain. But first, strip the transmission, clean everything & install the new chain.
After spending most of 4 days on my knees impaling 1/4" plywood with about 600 2" deck screws I was a bit bent out of shape & feeling older than usual.
Saturday 28 I was to join with Fletcher for a trip to the Saanich 100.
But first, a quick ride UP to Minnekhada Lodge to check that the new transmission worked.
Not once during that 14kms did the chain slip despite deliberately stomping on various combinations.
Staying with Raymond & Amanda was a big benefit but did mean we were at the start too early.
Four layers, including a base of Rando Wool, seemed enough, until the Dallas draft hit my chest.
I was already out the back & stopping to don my rain jacket completed the situation.
Keith was waiting for me at the Cattle Point loop.
I was also giving my arthritic knee some unwelcome jolts with the jumping chain.
This bedeviled me throughout the ride, Keith was very patient & stayed with me.
Of course, he thought I knew where was going! I thought that too!
I had failed to mount my Ortleib H/B bag, the top of which is a good place to keep the route sheet.
Relying on a failing memory meant I led Keith astray & too late realised I had bypassed the Hunt / Welch bit by going up the Lochside Trail to Martindale.
Finally, I thought to use an elastic band to hold the route sheet on my wrist.
A welcome route change was crossing Royal Oak instead of turning "L" & turning onto Elk Lake instead.
By the time we got back to the finish the sun dial wasn't working & we don't know, or admit to knowing, what time we finished.
Computer claims I had a total of 108kms for the day.

Every time I get aquainted with various bits of Royal Oak I think of my introduction to Vancouver Island, Labour Day w/e, 1966.
Newly arrived in Vancouver, Joan & I went through Active Pass in the Friday evening sunset.
We were joining a whole host of riders from around the Pacific Northwest for a weekend of cycling racing.
Criteriums round Beacon Hill Park on Saturday. The Provincial Road Race Championship, sponsored by Lorne Atkinson, on the Monday, on a straight forward route out to Jordon River & back.
But the Sunday event is hard to imagine these days; An "out & home" 25 mile time trial (~40kms) on Pat Bay Hwy from Royal Oak up to Sidney & back. Time keeper; Johnny Hathaway. Jack Ferguson & Bill Wild both finished "inside the hour" & I was quite content with a "I-10".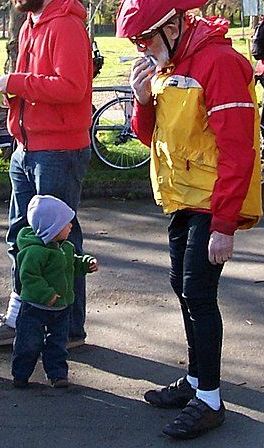 The author in discussion with Steven Croy, the club's
youngest member, at the 2009 Victoria Populaire.
March 31, 2009