BC Randonneurs
Cycling Club
Next--->
STRUGGLIN'-Part 2
Audax UK with explanation from Harold Bridge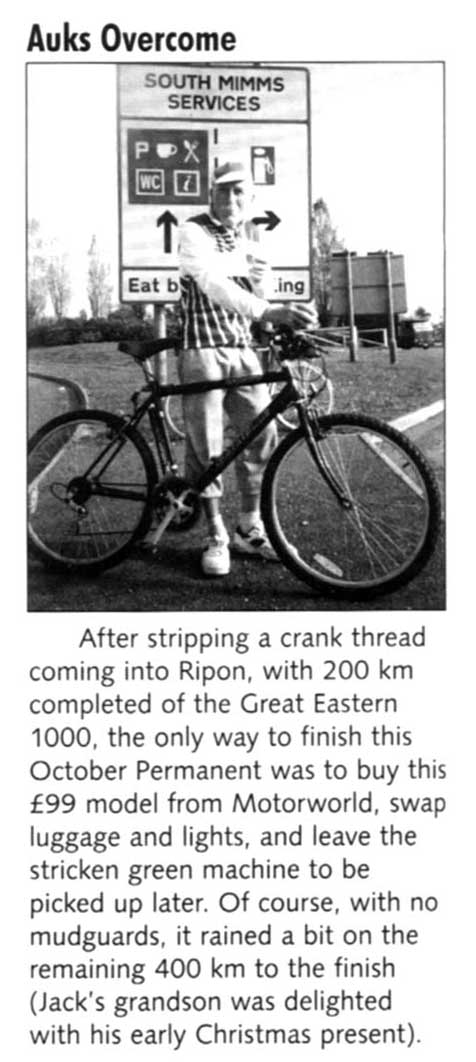 The 2000-Sept issue of this august tome carried in it a profile of one Jack Eason. Those of us involved in the Rocky Mountain 1200 last year saw something of this legendary figure in the International Randonneur scene. At a month short of 74 he survived the terrian and weather changes to finish in 86 hours, 10 minutes. And he wasn't the slowest.
I thought it was an appropriate follow up to include the above picture after I saw it in a recent edition of Audax UK's "Arrivee". How many of us would, when faced with an inoperable bike, go and buy a cheap junker (99 pounds = about $220) so we could finish the ride?
The word Permanent needs an explanation. In France they have a series of rides called "Fléche de France" (or however you spell the plural of that). In that case the routes all radiate from Paris and extend to various locations around the perimiter of the country. The shortest is, I think, Paris-LeHarve or Dieppe at about 200kms, and the longest would go down to the Med to the southwest.
To enter one notifies the secretary when one plans to do the ride, pays a fee, collects a control card & goes to it. Some Brits have been know to "collect" one of the Fléche-de-France" qualifications enroute to Paris for PBP.
Audax UK has it's own version of this sort of challenge. The name; "Permanent" is a logical one in that the route is there to be ridden anytime. Their longest one would be the "End-to-End" as Land's End to John O'Groats is known. That can be cut down to about 1350 kms by sticking to busy, noisy & scary main roads.
Some years ago Dan McGuire planned some similar rides around BC.But to my knowledge no one ventured forth on them.
_