BC Randonneurs
Cycling Club
Next--->
Take It To The Limit
Enumclaw 600, June 1999
Eric Fergusson
2:40 a.m. leaving Monroe marked one of those rare moments when I felt indispensable - I knew where we were going. The last time we rode this route, four years ago, Peter and I, and a handful of others, followed Jeffery Brain at lightning speed down a blind alley and it took a long time for us to realize we were lost. This time I made sure I was a little more informed. "Yeager Road, bear right here Dick". My moment of triumph!
Peter was here again, and this time Dick, Nobo, and Patrick. This ride had by now definitely become a 'go slow' 600. It was fast to begin with, really fast; we even rode with Keith for a while. But as so often seems to happen, one thing led to another... I think I'm safe in saying that by Saturday night (early Sunday morning) the mood of the group was something like: "Well, it's good enough just to finish...why are we killing ourselves...let's just sail in on cruise mode... nobody has to suffer here."
The next control was Granite Falls. I ate oatmeal cookies; Nobo napped on the cement sidewalk. Actually it was a miracle that Nobo was still with us. He apparently had barely slept for the two nights leading up to the ride - a sick child, then a sick wife - and here he was trying to will himself through a third night.
After another cement sidewalk nap for Nobo at dawn at a cafe near Big Rock, and then a lazy Burger King breakfast in Sedro Woolly, Nobo felt revived, we all did. We were ready to face the familiar stretch of Highway 9 through Wickersham, Acme, and Van Zandt, and then the Siper/Hopewell/Goodwin zigzag back to the border.
Isn't it funny how a mid-morning sun can change you. In those difficult pre-dawn hours you may feel spent and demoralized with legs like sponges, but then when the sun starts climbing into the sky something in you goes click - a solar-triggered adrenaline jolt. Suddenly the day has new possibilities.
It was around this sun climbing into the sky, solar-triggered adrenaline jolt time on Sunday morning that someone decided that 25 km/hr wasn't fast enough...and very quickly 26 wasn't fast enough either. As we inched our way up the ladder of pain, I had no difficulty in recognizing what was happening. It was a familiar pattern - nobody actually wanted to hurt anyone or drop them per se, but no one wanted to be seen to be slowing down the train just as it was picking up steam either. And when it was my turn at the front I too was complicit - 33...33...34... Just as the paceline was getting ready to splinter we reached the Huntington/Sumas border crossing and the madness was at an end...for the moment.
Riverside/Farmer/McCallum...then we were back on good old Huntington/Vye and it was time for the whole insane charade to begin anew - 32...33...34 - but this time, I sensed, with a little more zeal: "look at that sun climbing a little higher into the morning sky."
And so I'm thinking, as the speeds get up into the high 30s, what's the point - we're already going to have a sluggish time, and there hasn't been even a hint in the last 10 hours that anyone present was in the slightest hurry. We've taken every possible opportunity to sit around in coffee shops, 7-11s, and Burger Kings discussing at leisure things like what the European pro peloton riders are using lubricate their chains (it's a mixture of gasoline and kerosene apparently), and it's not like there's anyone up the road that we're going to pick off at this point - Keith is already back in his Kitsilano condo and has been asleep for two hours, possibly more.
Just past Ross Road, Huntington tilts up, dramatically. Dick was at the front of the paceline at the time, and he wasn't observing the usual convention of slowing down and struggling once the hill starts. He just zipped up and over the crest - 63 years old, how was he doing this?
Back down the hill Nobo was cracking. What a relief - an excuse not to chase Dick. However this wasn't a usual slow down. It wasn't long before we realized that it was more than sleep deprivation or a standard issue bonk that was clobbering Nobo. (His son had been sick...his wife had been sick...we should have been able to put 2 and 2 together more quickly...) He started telling us to ride on without him, but I thought I recognized his trademark stoicism and we stayed with him for a time. Eventually though he pulled over and told the three of us to beat it, and though it has never been de rigeur to leave another rider behind to die in the ditch, it looked this time like he really meant it. We took off and left Nobo to face alone demons within.
With 25 kms to go all that remained was for Patrick, Peter, and me to sail in on cruise. But again, it was not to be. It wasn't long before Peter took a pull and then stayed up front for the rest of the ride. Once more, I found myself riding at my limit, though Patrick seemed to be faring a little better. At an astonishing pace Peter dragged us through familiar Langely country roads and eventually into Fort Langley. And there was Manfred in front of the Fort Langley Pub ready to stamp us in. Dick was there too of course, smiling as always, and as it turns out he hadn't been there all that long.
"Look at that everyone, the pub is open."
But the story doesn't really end in Fort Langley. On Thursday I got an e-mail from Nobo:
"...I was so sick...that last 40 km was absolutely hell... and when I came back home my temperature was over 39 degree C - so definitely a fever. I could not get up from bed for over 2 days, and I lost more than 20 lbs all together in 5 days. No foods or liquids stayed in my system... it was a very bad stomach flu and one of the worst illnesses I've ever had.
Now finally I have managed to get up and walk around...
I know I have to do 600 km again, by myself, for my own sake..."
Well, if you say so Nobo.
---
Postscript: Of the five of us only Peter, a veteran of PBP '91, was not actively riding that Enumclaw 600 as a PBP qualifier. At PBP, Patrick and I hadn't been riding together, but coincidentally met up towards the end and rode in together along with Michael Lau from Ottawa. Nobo and Dick found themselves finishing together as well.
It turns out that Dick 'the kid' Nichols was using PBP as a training exercise. In September, he turned in a phenomenal (6:18) 200 km (at the Fall Flatlander). Later that Fall he went on the Huntsman World Senior's Games in St. George, Utah with impressive results in the men's 60-65 year division: a gold medal in the Mountain Bike competition, silver in the 56 km road race, as well as a 3rd and a 4th place finish...smiling the whole time I bet.
As for Nobo, not wanting to make PBP too easy, he spent the summer off the bike 'resting up'.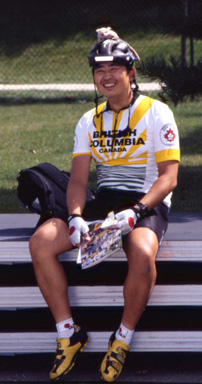 "PBP? ...a piece of cake." Nobo (and Tiptoe - on helmet) in France, August '99. (photo: Denis Prefontaine)

_