Club Executive Bios
Susan Allen - Member at Large.
My husband Doug got me started with cycle touring in 1985 in France. We started Rando Riding in 1993, switched to riding a tandem in 1995 and back to singles in 2002. I reached 40000 km in 2010. On the way I became really old (Ancienne), did 11 Super Randonneurs, organized lots of rides (LM 300 and 400 km, Chemanius 200 km, and the 2004 Rocky Mountain 1200) and rode with lots of great people.

I've taken advice from Eddy Merckx (ride lots), Roger Street (you can do more than you think) and Deirdre Arscott (eat more on brevets).

Favourite Ride Food: puddings, chocolate milk, scrambled eggs

Favourite Wheels: Doug, Keith, Bob/Deirdre Tandem

Rando Heros: Deirdre, Karen, Cheryl, Susan B.

Greatest weakness: heat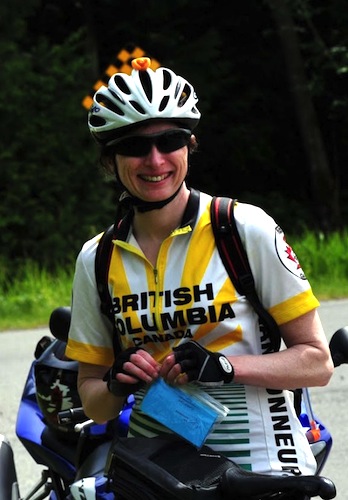 (Click)
_