Go to: VanIsle 1200 Home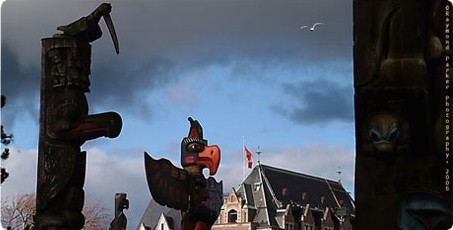 The 2nd
VanIsle 1200 Route - 2010
---

2010 Route Sheet [PDF]
(Route finalized and posted here on July 19, 2010)

Profiles
Profiles courtesy of Ken Knutson. Click to enlarge:

Victoria to Gold River
(375 km)

Gold River to Port Hardy
(324 km)

Port Hardy to Nanaimo
(399 km)

Nanaimo to Victoria
(106 km)
---
Route Information:
Start: The ride will begin promptly at 3:00 am, Wednesday, July 21, 2010
The VanIsle 1200 terrain and amount of climbing is somewhat similar to PBP (except we think our ocean and lake views are much nicer.)
Approximately 30,000 feet of climbing, mostly undulating, averaging about 5,000 feet of climbing per 200k.
At about 20k, there is a 10k climb with an incline of 5 - 8% to the top of the Malahat Drive (1100 feet). Other significant climbs are:
- at 250k, there is a 3k incline with a 8-10% grade
- at 450k there is a 10k incline with a 5-6% grade
- at 500k there is a 4k climb with a 6-8% grade
(These climbs are all repeated on the return)
Population / Facilities - South : There are many towns from Victoria north to Campbell River (about 250k).
Beyond Campbell River: After Campbell River, there are only a couple of small 'villages' until one reaches Port Hardy. The wilderness portion of the route begins west and north of Campbell River. There are no reasonable places to sleep on the side of the road. Bears, cougars (mountain lions) and deer call this area their home. Be cautious around wildlife. Most convenience stores and cafes north and west of Campbell River close between 8-10 pm. There is a 24 hour convenience store-gas station in Port Hardy.
Traffic / Trucks: There are about 700,000 permanent residents on Vancouver Island, most of whom live on the South and East coast of the island ... they drive a lot of vehicles, plus there are many tourists. As a result, there is quite a bit of traffic on the main highway. There's not a lot of traffic west or north of Campbell River, other than some long haul trucks which riders have reported as being courteous. Logging trucks and dump trucks are not courteous, but there only a couple stretches around Campbell River where they occupy the highway. Riders will be glad to leave all the traffic behind after Campbell River, but will be just as glad to see 'civilization' at Campbell River on the way back!
Weather: July is usually a fairly good month. However, it usually rains somewhere along the way, usually on the north end of the Island. Temperatures during the day, if it is sunny, could be 21C-27C. Early morning riding just south of Port Hardy can be very cold ... down to 3-4 degrees C. (Usually a very damp cold, sometimes with a mist.)
The Course in Brief: (Detailed route in excel route sheet linked at the top of this page.) If you have a map of Vancouver Island (or go to earth.google.com ), then you can follow the course as outlined below:
- Start is at Tim Horton's Donut Café, Saanich Plaza, in Saanich (Greater Victoria) at the intersection of Hwy 1 & Hwy 17
- Head north on the Trans-Canada Hwy (Hwy 1), dipping into Mill Bay, Cowichan Bay, Maple Bay, Chemainus and returning to the Trans-Canada Hwy at Ladysmith. Continue north through Nanaimo, Parksville, Courtenay, Campbell River, west into Gold River, back to Campbell River and north again to Sayward, Woss Camp and to the turnaround at Port Hardy.
- Turn around, retracing the route back to Ladysmith.
- Then, instead of following the northward route in reverse, stay on the main highway back to Victoria and the finish, through Duncan.
_