2016 Canada Day Populaire - 149 km
The 2016 Canada Day Populaire will be 149 km long to celebrate Canada's 149th birthday.

The Start / Finish will be Yorkston Community Park in Langley. Because 84th Ave is now a through road, we will not be able to marshal riders on the street as we have in past years. We will set up the registration tables in the park and have riders marshal in the parking lot. To help with this, please plan to park in the adjacent school lot, on one of the side roads, or at the Park & Ride on 86th Ave.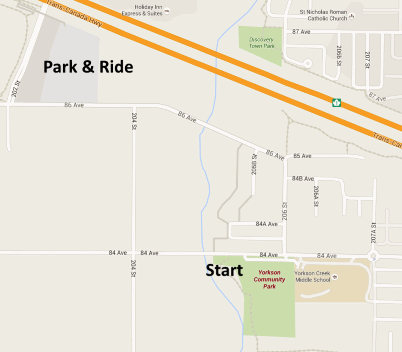 There will be 3 staffed controls along the route and each will have water, Gatorade, fruit and sweets. The route offers a mix of terrain and mostly quiet roads taking you from the start through scenic Fort Langley, site of the official proclamation of British Columbia in 1858, onwards to Matsqui and quaint Old Clayburn, across Sumas Prairie, up Sumas Mountain, through Veddar Crossing, returning across Sumas Prairie via Huntingdon and Aldergrove returning Walnut Grove.

Gravel Alert: This years route includes a section of gravel path that takes you under the Mission Bridge. It is 1.5km long and is flat, hard packed gravel. Should you choose, there is an alternate route that avoides the gravel path at the expense of an extra 400m. To avoid the gravel continue on Harris Rd past the listed left hand turn on Gladwin. Instead make a left hand turn on Riverside St, go under the bridge and make a right on Page Rd, rejoining the route.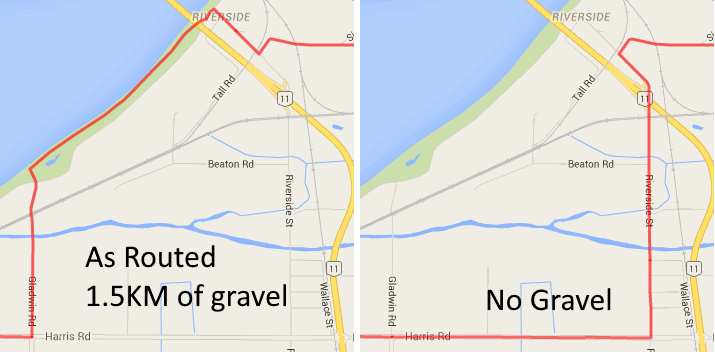 To ride a Populaire, you do NOT need to be a member of the BC Randonneurs Cycling Club. To enter, complete the entry form and waiver on-line or available at the start, pay the $30.00 entry fee and ride. The start window is from 7:00 am to 8:30 am on Friday July 1st. You may start at any time during that window. Slower riders are encouraged to take advantage of the early start time.There will be a Control Card and a route sheet with a simple map given to each rider as the route and roads are not marked.

We encourage participants to preregister onine as this greatly speeds up our ability to get riders started on July 1st. Prerigistion before June 15 is $20. June 16 - 28 is $25. Ride day registration is $30 .

We look forward to seeing you on Friday July 1st.
Andy Reimer
Ride Organizer